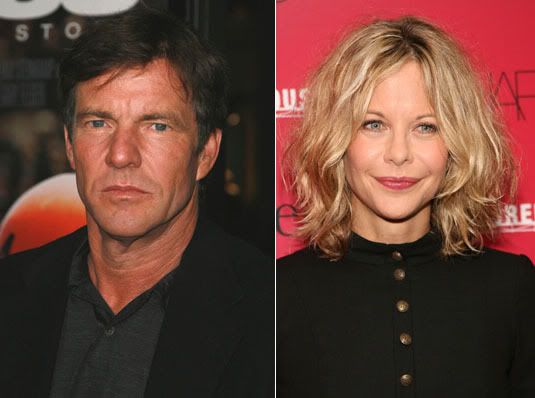 Meg Ryan's ex husband is pissed that she dug up all the old dirt surrounding their eight year old divorce in order to promote her new film. Ryan claimed that Dennis Quaid "was not faithful to me for a very long time," but that she "found out more about that after I was divorced." Ryan's divorce from Quaid was often blamed in the press on her relationship with her Proof of Life co-star Russell Crowe, although as many of you pointed out there were rumors of Quaid cheating on Ryan for some time.
Now Quaid is saying that he's amazed Ryan is still talking about all that and that he finds it hurtful to their son Jack, 16. Quaid says he's moved on from their divorce and suggests that Ryan is still focusing on the past. He doesn't exactly deny Ryan's claims in his statement about it and just harps on the fact that she shouldn't have said it:
Now Quaid is returning fire.

"It was eight years ago, and I find it unbelievable that Meg continues publicly to rehash and rewrite the story of our relationship," the actor tells us exclusively. "Also, I find it regrettable that our son, Jack, has to be reminded in a public way of the turmoil and pain that every child feels in a divorce."

Quaid, who went on to marry real estate agent Kimberly Buffington and have twins last November, adds: "I, myself, moved on years ago and am fortunate to have a happy, beautiful family."

Meg's discussion of their marriage has prompted others to fill in some gaps. One source tells us that, under their divorce pact, Quaid's custody and visitation rights hinged on his sobriety. "Meg came to believe he was drinking again and wanted full physical custody of Jack," says the source.

Quaid maintains: "Meg and I have always had joint custody of Jack without any stipulations whatsoever."
[From The NY Daily News]
The News goes on to say that they have sources that state that Meg Ryan's much talked about trout pout is the result of removing fat from her butt and having it injected into her lips. They also add the detail that Ryan cut her agent's percentage on her 1999 film On The Ropes from 10% to just 5% of anything she made over $2 million. Do you think Quaid gave those other details to the Daily News in order to make sure he made his ex wife look bad? Both stories are about things that happened before the divorce.
Dennis Quaid is shown at the premiere of "The Express" on 9/25/08. Meg Ryan is shown at the premiere of "The Women" on 9/11/08. Credit: PRPhotos