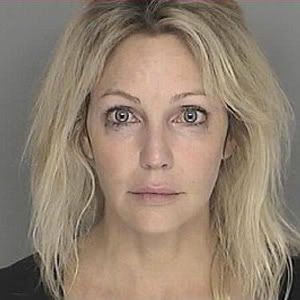 More details are out about the Heather Locklear DUI bust this Saturday. It turns out that someone spotted her running over a pair of sunglasses repeatedly in a parking lot. It sounds like they followed her to see how she was driving and once they saw that she had pulled over and wandered into traffic they called the cops. (E! words it like they just happened to run into her again – yeah right.) Police determined that she was under the influence of something, not alcohol, and arrested her for DUI:
According to the incident report, a "concerned citizen" called police after witnessing Locklear, 47, "driving forwards and backwards over a pair of sunglasses and revving her engine" in a parking lot.

The witness then came upon Locklear again on the road.

"The citizen became concerned when Ms. Locklear exited her vehicle and stumbled into the traffic lane…the citizen called 911 and reported the entire incident to CHP Ventura Dispatch."
When officers arrived Locklear appeared disoriented, per the report, and after giving her a sobriety test they determined she was not suffering the side effects of a booze binge.

"Although obvious impairment was exhibited during the tests, alcohol was ruled out as a factor," the CHP said in a statement. Locklear was arrested for suspicion of driving under the influence and taken to the Santa Barbara CHP office.

"She was evaluated by a drug recognition expert, who concluded Ms. Locklear was under the influence of a controlled substance, and could not safely operate a motor vehicle," CHP said in a statement.
Locklear's publicist declined to comment on the arrest.

The former Spin City fixture was booked at the Santa Barbara County Jail. She was released at 11 p.m. Saturday on $5,000 bail.
[From E! Online]
Have you ever called the cops on someone who looked like they were driving drunk? I've done it twice. In one case the guy was ramming into the barrier on the side of the freeway repeatedly and in another a woman was weaving back and forth very drunkenly. Usually you can tell if someone is just driving like an arrogant jerk as if they have to get wherever they're going yesterday or if they're too wasted to drive. With those super aggressive drivers I just try and stay out of the way unless they look like they're going to get into an accident. Some people just drive like that and by the time you think to do something about it they're gone anyway.
It sounds like rehab in July didn't really take for Locklear and she's still struggling with some kind of prescription addiction.
As JayBird mentioned yesterday, this is very sad for Locklear's daughter Ava, nearly 11. Now both of her divorced parents have been arrested for DUI.