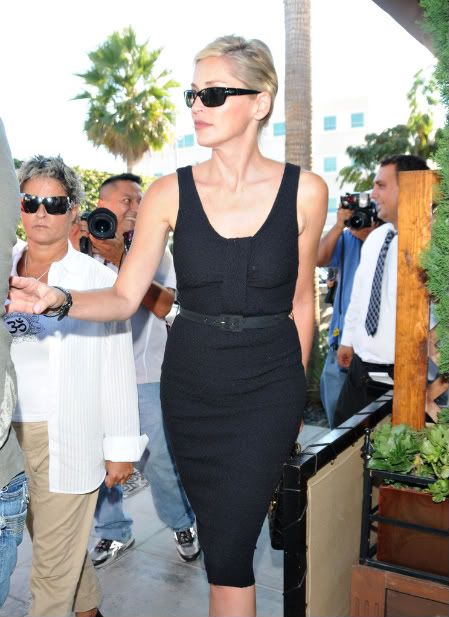 Sharon Stone was really slammed by the judge in her custody case. Last week it was reported that Stone had lost custody of her oldest son Roan to ex-husband Phil Bronstein. However what actually happened was that she'd petitioned the court for a change in custody and requested that Roan move in with her full-time, which the court denied.
The judge said Stone was such an over-reactive and inattentive parent that she was clearly harming Roan. She also sounds like she's mother f*#&ing stupid, too. For example Roan has a problem with stinky feet, like a lot of kids (and adults) do. Stone thought the obvious solution to this problem was to botox the kid's feet. While this will stop the sweating (excessive sweaters also use it for palms), she had not tried anything else. This was her first solution. Bronstein pointed out that he had Roan wear socks with his shoes and use a foot deodorant, and the problem went away. You know, like what a normal, sane, rational person would do You don't even need to be that smart to solve this problem, you just need to be smarter than a complete moron.
Sharon Stone is an alarmist parent who has gone off the deep end over and over, according to the judge who rejected her request to move her son down to L.A. The court has released what it calls the "Tentative Statement of Decision." It is a highly sensitive document, which outlines a bitter, ongoing battle between Stone and ex-husband, Phil Bronstein.

Among many things, the judge says, "Mother appears to overreact to many medical issues involving Roan." In one case, the judge describes Stone believing Roan had a spinal condition, but "there was no evidence to support this allegation."

And then the court says, "Another example of an overreaction is that Mother suggested that Roan should have Botox injections in his feet to resolve a problem he had with foot odor. As Father appropriately noted, the simple and common sense approach of making sure Roan wore socks with his shoes and used foot deodorant corrected the odor problem without the need for any invasive procedure on this young child."

The judge goes on: "Unfortunately, the problem caused by Mother's overreactions is painfully real for this child." There are many other specifics that we won't publish. The judge says at one point, responding to Stone's argument that she put her career on hold for Roan, "if Mother has, in fact, limited her career to make herself available for Roan, she has done little to make this evident to Roan, his school or this Court."
[From TMZ]
Ouch. Just as an aside, if TMZ is withholding potentially disturbing information from the public, it must be pretty bizarre stuff, because you know they'd be all over it if they could. The saddest part of that statement was that it wasn't evident to Roan that his mother has done much of anything for him. It's not relevant but I'm sure it's not evident to the public as well. I bet if you asked a hundred people on the street to list twenty things they know about Sharon Stone, not one would list that she's a parent.
Sharon Stone has built a career on being crazy and bizarre, and though I've never been able to stand her, she made it work for her. But it crosses a huge line when you're self-centered narcissism leads you to act this way towards your child. She clearly has some severe mental health issues, and it seems like she's got some kind of personality disorder going on. Maybe she should spend less time trying to botox her kids and a little more time with a shrink.
Here's Sharon and her assistant at the Coffee Bean and Tea in LA on Saturday. Images thanks to Fame.