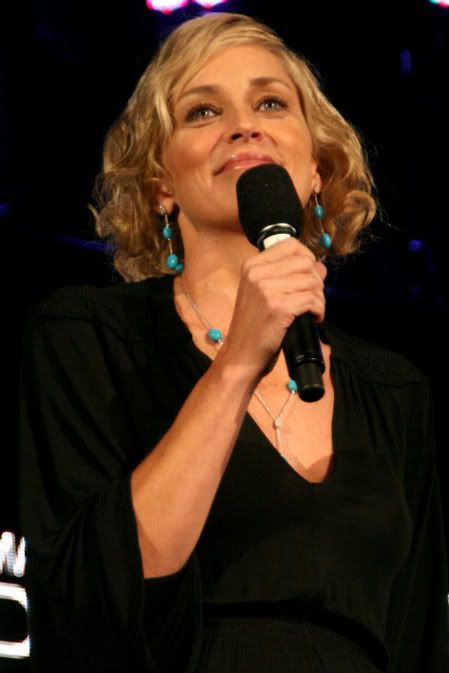 Sharon Stone is all sorts of crazy. I think that's safely been established – long before the nutball was cited in legal documents as wanting her 8-year-old son Roan to get Botox injections in his feet to stop them for sweating. To Stone, this was the logical first step – before telling the kid to put on socks or trying a foot deodorant (which her ex-husband Phil Bronstein luckily did, and managed to solve the problem in a non-crazy way).
Now Stone is denying that she ever even considered such a thing. Which makes it sound like she's accusing the judge of lying – though she doesn't bother to defend or explain a thing. Apparently just a "nope" is supposed to be a sufficient and all-encompassing rebuttal.
"This week it was reported in connection with Sharon Stone's custody dispute that she wanted to have her young 8 year-old son undergo Botox treatment at this time for his feet. Sharon Stone never made this statement. It is a complete fabrication," her attorney Martin Singer tells Entertainment Tonight. "Sharon loves her son Roan and only wants the best for him."

The statement comes days after a San Francisco judge claimed in new Superior Court papers that the actress, 50, "delegates many of her parenting responsibilities to third parties" and has "simply refused" to participate in counseling unless her "schedule is accommodated and her demands are met."

"Such conduct on the part of any parent … is unacceptable and does not serve the child's best interest," said the judge, who added that she tends "to overreact" to many medical issues involving her son.

The judge's remarks were a tentative statement on Stone's motion to modify custody. The judge has turned down Stone's request to move her son Roan to Los Angeles, where she lives, from his father Phil Bronstein's home in San Francisco. She is allowed visitation time with the child, including weekends and holidays.
[From Us Weekly]
I don't know, when it comes down to the word of a judge who was smart enough to keep Sharon Stone away from her kid, and a crazy, shockingly self-centered actress who was not smart enough to keep Sharon Stone away from her kid, I'm going to believe the judge. Several of our commentors pointed out that Stone is a member of Mensa. I'd think if she's half as smart as she says she is, she should know better than to let herself be responsible for another living creature. I wouldn't trust Sharon Stone with my houseplant. Though to be fair, I have tried to Botox those wrinkles out of its leaves.
Here's Stone at the Macy's Passport 2008 Gala in Santa Monica on September 25th. Photographer: Faye Sadou. Images thanks to WENN.