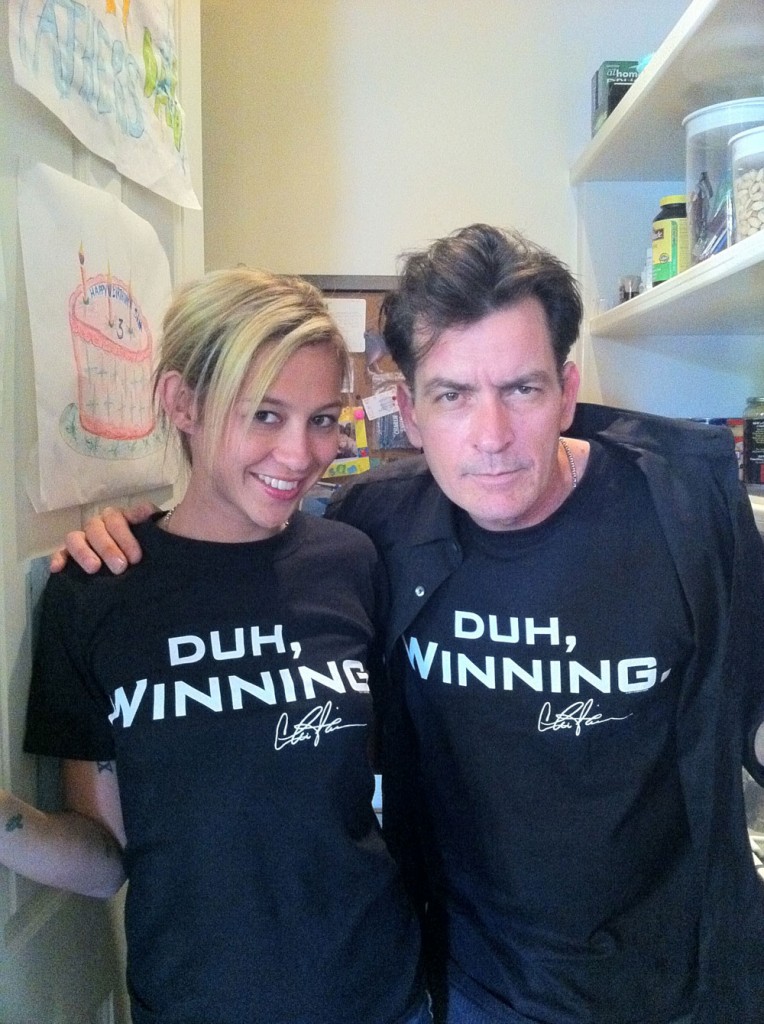 In news that seems entirely predictable but still made me roll my eyes, TLC is going to air a one hour Charlie Sheen special called Charlie Sheen: On the Brink on March 20. It's being co-produced by NBC and it sounds like they're just going to repackage some of the footage he gave them. The show will also include segments from some of the countless other interviews he's done in the past few weeks. The format sounds similar to an E! True Hollywood story in that they're featuring "original interviews on [Charlie's] rise and fall."
Here's more:
TLC is getting into the Charlie Sheen business.

The Discovery-owned cable channel, famous for putting on shows like Jon & Kate Plus Eight and Sarah Palin's Alaska, has ordered an hour-long documentary entitled Charlie Sheen: On the Brink.

It will chronicle the very public unraveling of the recently fired Two and a Half Men actor's career and public image.

With behind-the-scenes footage and brand-new expert commentary, including MacKenzie Phillips discussing life as a celebrity who has dealt with drugs and recovery, the show takes viewers inside Sheen's home and examines the relationships with the women in his life and his children.

The special will also highlight other celebrity meltdowns that have captured public attention and offer insight into what drives this bizarre behaviour.

The special, which is being produced in association with NBC News, is slated to air on March 20 at 10 p.m. (EST).

It is expected to include news footage from Sheen's 24-7 media blitz, as well as original interviews on the actor's rise and fall.
[From The Star Phoenix via Fark]
It's a great idea for a documentary and will surely earn a lot of viewers for TLC. I just wonder how they're going to fit it all in to a single hour.
An ten minute animated special on Charlie recently aired on Spike TV. It tells Charlie's story as if all his outlandish claims are true, and really captures his absurdity. (You can watch it on SpikeTV here.) It was produced by that brilliant Taiwanese animation company, Next Animation, who regularly chronicle celebrity foibles in computer animated skits. According to Reuters, the special counted "down 10 to 12 of Sheen's most outlandish moments, including: Charlie wrecks a hotel room and loses a $150,000 watch; Charlie Sheen rents a mansion and fills it with porn stars who live as one big happy family; Charlie Sheen does the drug Charlie Sheen." I almost totally forgot about the hotel room incident after all that Charlie's done since. He redefined the celebrity freak out and then capitalized on it.
Charlie is now offering T-Shirts through his website. They retail for $19.95 and feature Charlie's wacky slogans like "Tiger Blood," "Duh Winning," "Gnarls Gnarlington," and "I've Got One Speed Go!"
What's next for Charlie – a TLC reality show? You know they would offer it to him, but they probably can't afford his salary requirements, hence the documentary.
In other Charlie Sheen news I'm not prepared to recap he's:
– Moving next door to Paris Hilton and moving out of his "Sober Valley Lodge"
– Supposedly about to film Major League 3 any day now
– Created a short spoof movie for Radar Online with a military theme and featuring music from The Bourne Identity. It shows Charlie dressed in camouflage and going with his buddies to steal his Two and A Half Men trailer. They're successful at the end, and I was left baffled as to why Charlie was allowed to keep the keys to the trailer. You would think they'd keep that thing on lock down.