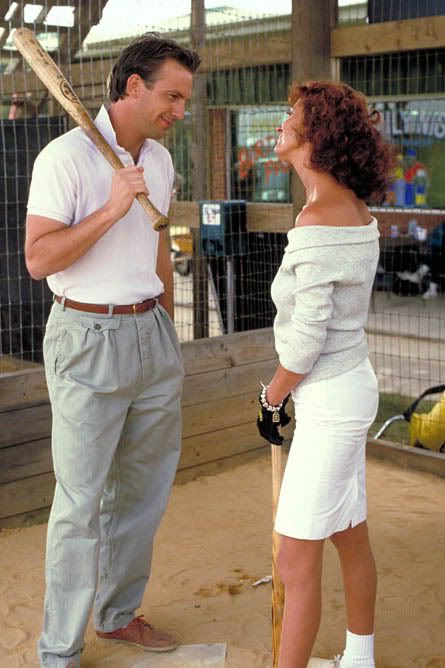 Susan Sarandon and Kevin Costner really heated up the screen as a veteran minor leaguer and his oversexed lover in the 1988 baseball classic Bull Durham. Tim Robbins also starred as a doofball pitcher that was sleeping with Sarandon and getting unwanted coaching from Costner's character. Bull Durham went on to become a box office hit and a classic. Sports Illustrated even ranked it the number one Greatest Sports Movie of all time. The NY Post reports that there may be a sequel in the works twenty years later and that Kevin Costner had a meeting with the director to talk about it. Real-life couple Tim Robbins and Susan Sarandon, who met on the set of the film and have two sons together, are also said to be interested:
THE long-awaited sequel to "Bull Durham" is finally getting off the ground. A spy tells us Kevin Costner recently met with director Ron Shelton at Trader Vic's in LA to discuss reprising the role of carousing catcher Crash Davis from the 1988 baseball flick. Tim Robbins and Susan Sarandon are also expected to return as pitcher Nuke LaLoosh and baseball groupie Annie Savoy, who are now married and owners of a Major League team that Costner manages. Kristen Kerr, recently seen on "Dexter," is being eyed as one of Crash's love interests, our insider said.
[From The NY Post]
I have mixed feelings about this. On one hand a sequel with the original characters could be funny and well-made, but there's also the potential to ruin an amazing film with a crappy follow-up. There's money to be made with it, though, and a new Bull Durham is likely to attract the older people who saw it in the first place along with baseball lovers from the younger generation. You can see how they would be interested in making a sequel, but in these uncertain financial times there's a lot less investment capital in Hollywood and we'll have to wait and see if this ever gets to first base.
[Some details from Wikipedia]