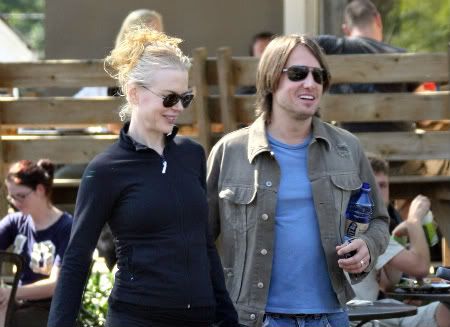 Both Nicole Kidman and Tom Cruise have managed to handle themselves with a lot of grace regarding their marriage and divorce. Though they did eventually discuss some of their deeper disappointments, neither of them did it in a salacious or defamatory way. They also seem to have been very gracious and congratulatory with each other when they moved on to new phases in their lives: getting remarried, having new children, etc.
Nicole was recently asked by Elle magazine about her relationship with husband Keith Urban. Said that she never dreamed that she'd meet someone that she felt something deeper for with than she felt for Tom, but she did. She also said Tom has that same deeper connection with Katie.
"I didn't foresee it, that you can meet somebody who you have a deep and more profound love with," the actress – who divorced Tom Cruise in 2001 – tells November's Elle.

"I don't mean to take away anything with Tom, but I would hope that he has the same thing – I know he has the same thing with Katie," Kidman adds. "You move into a stage where you're able to be a more fuller [sic] person in your relationship."

She continues, "I want to be really careful with that because I don't want to take away from 11 years with that man that were really important. Really, for our kids — they were amidst a lot of love. It wasn't bad. And now we're amidst a more evolved love."

Does she have any regrets about marrying Cruise at the young age of 22?

"Um, no. Would I want my kids to get married at that age? No!" Kidman says. "But that was an extraordinary thing for me. [Tom] taught me an enormous amount — as a girl into a woman. Absolutely, I would do it again."
[From Us Weekly]
It's interesting that there clearly isn't the same level of interest in Nicole and Keith's relationship as there is in Tom and Katie's. Almost every article that talked about this headline was titled something like "Nicole Kidman: Tom Has a "More Profound" Love With Katie Holmes." Which is technically what she said, but completely misses the context. But Tom and Katie probably sell more because their relationship confuses and intrigues people. Though Nicole and Keith seem a little unusual, they don't seem whacky by any stretch. Tom and Katie's relationship seems so superficial – at least the part that they show to the rest of the world – that you're just left sitting there befuddled, trying to figure it all out.
Nicole also talks about giving birth for the first time at 41 and the ways it's different to be a mother at this age than when she was younger. The way she puts it, it sounds like there's a lot more anxiety for her now, and like she actually feels more intensely about motherhood.
On becoming a mother later in life:
"At 41, it's a more painful love. I look at that little girl, and I'm, like, Oh, no, what's going to happen? It's almost like my heart is stretching; I'm feeling all these muscles stretch with emotion. It's a beautiful love but there's a lot of fear and pain for her life, and for Bella's and Connor's life. I like to believe that nothing was stopping Sunday from coming into the world."

On natural childbirth:
"It was the most beautiful thing to go through with him [husband Keith Urban]. I had a great team of women, too. At one point there were nine women in the room and Keith."
[From the Huffington Post]
Nicole seems to have to catch herself every so often and include Conner and Isabella in her statements. In the one above, it sort of seems like they're added in there as an afterthought.
Nicole pays the ultimate compliment to Keith in the article, saying, "'He's the greatest man besides my dad I've ever met,' the actress says. 'He's loyal and he's a soul searcher.'" It sounds like they're clearly a much better fit for each other, and have an entirely different kind of love than Nicole ever had with Tom. If nothing else, it seems like they're both really happy in their lives and their families.
Here's Nicole and Keith stopping for coffee in Nashville on Saturday. Images thanks to Fame.