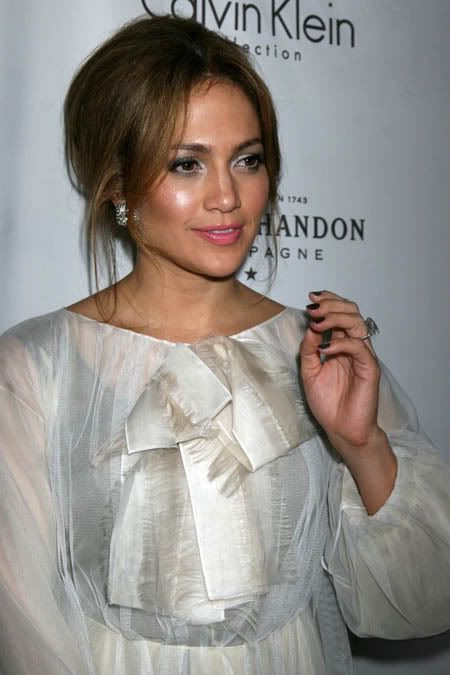 Tina Brown, the former editor of Vanity Fair and The New Yorker, has launched a celebrity website featuring original interviews called The Daily Beast. One of the site's first interviews, with new mom Jennifer Lopez, 39, shows that their journalists aren't afraid to ask the questions most of us are wondering about – like would Lopez send her kids to a Scientology school? Lopez is a longtime Scientology sympathizer, if not an avowed member of the notorious cult. Her father has been a Scientologist for 20 years, and her best friend, Leah Remini, is also a member. Lopez says people just don't understand what it's about and that she would trust her kids to the cult. She also opened up about a nervous breakdown she suffered in 2002, and said that she had postpartum depression after the birth of her twins.
J Lo on the Mommy Blues
"At the tenth day after giving birth all that chemical stuff did peak—that hormone thing—and I did cry a lot that day because I was having so much trouble moving. I couldn't get up fast enough to feed the babies…Marc was helping out a lot and I was crying and crying and going, 'Oh, Papi…they're going to know everybody more than me…They're going to love everybody more than me!' [Lopez also says in the interview that she's not breastfeeding, but doesn't elaborate.]

On Her Breakdown
"I don't get nervous. I don't get depressed. Blah, blah, blah…There was a time when I was very overworked and I was doing music and movies and so many things. I was suffering from a lack of sleep. And I did have a kind of nervous breakdown. I froze up on a set. Well, not on a set, but in my trailer. I was like, 'I don't want to move. I don't want to talk. I don't want to do anything.' It was on that movie Enough [in 2002]. Yeah. I did. I had a nervous breakdown.

"There were no signs leading up to it. You really don't know what's happening at first. I was going, 'What's going on?' It was about five in the afternoon in my trailer and I just sat there. I remember telling my assistant at the time, Arlene, to go get the director, Michael Apted, and I asked if I could go home because I was feeling so sick and weird. I kept saying, 'I'm not weak. I'm not weak.' It's funny what tricks your mind plays on you. I just didn't want people to think I was falling apart. But when I look back on it now it's so odd to me that those are the words I chose to say: 'I AM NOT WEAK.'

"Michael let me off and when he left I just sat there and started crying and felt frozen. I didn't want to move. My bodyguard, who had been with me for many years, picked me up and put me in the car and they took me to a doctor…Right away they want to give you pills. But I have never liked the idea of pills and kept saying no to that and just kept asking what was wrong with me. 'I'll tell you what's wrong,' the doctor said. 'You're sleep deprived. You're overworked. Go home and go to bed.' He told me to go back to work on Monday after a weekend of sleeping because if I waited longer that I would only get more panicked about working. So that's what I did. I've still never been to a shrink. I'm not a shrinky person."


On Scientology: it's 'very helpful'
Lopez's father has been a Scientologist for more than 20 years, and she is frequently seen with converts including Tom Cruise, Katie Holmes, and Leah Remini.
"I do know a lot about Scientology. And I know about the practices. I know all about what the technology is and all that kind of stuff. It's very helpful. So in a sense, yeah, you do call on it."
"Do you consider yourself a Scientologist?"
"No…I wouldn't have a problem saying [I was] because I know what it is. I have no problems with it and it really actually bothers me that people have such a negative feeling towards it."
"That it is too exotic? Too cultish?"
"Just negative feelings."
"Would you consider schooling Emme and Max in a Scientology school?"
"Yeah. I wouldn't mind. Not at all. Because I know that the technologies that they have are very helpful…It's all about communication. That's the thing I really don't like about talking about this. I do know so many great people who do do it, who choose it as a lifestyle and really follow it and it is their religion…I just wish that people wouldn't judge it without knowing what it is."
[From The Daily Beast]
Lopez sounds a lot like a Scientologist when she says she's "not a shrinky person" and swears that she's never been to one, as if there's shame in it.
She also revealed that she saved the $6 million she received for the first photos of the twins, and said "We gave a little bit and I saved the rest for them." The money was widely rumored to have gone to her husband Marc Anthony's tax debt. In early 2007 it was reported that he owed NY State $2.5 million in back taxes. When asked if she wasn't rich enough not to need the millions for her baby photos, Lopez said "Hmmm… I wouldn't believe everything I read."
She's not my favorite celebrity. Even when she reveals perceived vulnerabilities it's like she's bragging about how well she handled it all. If Lopez became a full-fledged Scientologist I wouldn't really care. She would just be another fool handing the cult money to strip her of all critical reasoning skills, which she doesn't seem to have in the first place. She probably already gives them plenty of cash through her father and we just don't hear about it. She should have seen the psychiatrist six years ago. If she ever got a dose of humility by smelling her own bullshit she might have wider appeal.
Photo update: I don't know how I missed these photos of Lopez at the Elle's "Women in Hollywood Event" last night. Credit: Nikki Nelsen/WENN. The other photos are of Lopez hawking her latest perfume for men, Deseo, at Macy's on 9/29/08. Credit: Janet Mayer / PR Photos