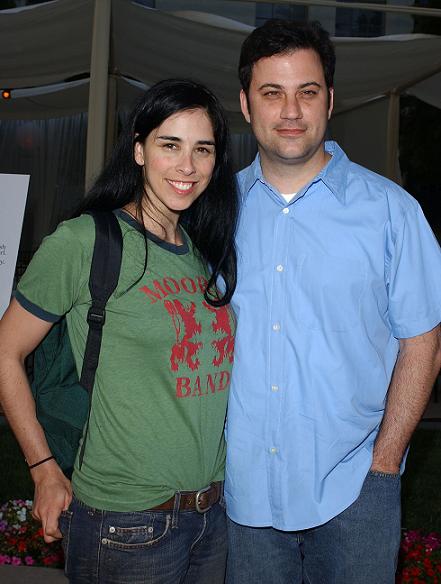 Sarah Silverman and Jimmy Kimmel are absolutely intent on keeping the rest of us guessing about the state of their relationship. Last week it seemed that the pair were back together after they were caught outside a restaurant holding hands. Yes it's okay to make those second grader kissy sounds and smash your index fingers together like they're making out right now. Because that's about how old I feel when I make a big deal out of two people holding hands. But let's be honest – how many of us hold hands with people we're just friends with?
The pair attended Howard Stern's wedding together this past weekend but are still working the "we're just good friends" line – but People swears they're back together.
Sarah Silverman is reluctant to state whether she and ex Jimmy Kimmel are back on. "We talk every day. It's fine, it's great," she tells Tuesday's New York Times. "I'm doing his show at the end of the month. We're very Demi and Bruce." Over the weekend, they attended Howard Stern's wedding together, had brunch at NYC's Spitzer's Corner and hit a Saturday Night Live afterparty.

Despite the string of dates, she declined to give Barbara Walters a relationship update on Tuesday's The View. "In total respect to you and your legendness," Silverman said, "I do not feel beholden or compelled to define my personal relationship …"

"Oh, come off it," Joy Behar interrupted.

Replied Silverman: "It's not like a big drama thing, we're just not defining it. We're just being right now. Is that okaaaay?"
[From Us Magazine]
But People – who generally has pretty good inside sources – has it on good authority that Silverman and Kimmel are indeed back together. Of course just about anyone with eyes could have told them that.
Jimmy Kimmel and Sarah Silverman are back together. "They're taking it slow," says a source. "They're on the road back to being together again."

[At Howard Stern's wedding] Kimmel was spotted wrapping his arms around Silverman's waist and playfully grabbing her backside in plain view of photographers.
[From People]
I don't really understand why they won't just say they're back together again, since it's not exactly like they're going to great lengths to hide it. All I can guess is that maybe they don't want a lot of pressure right now and want to see if things are better and more likely to work out this time. When a couple reunites it seems like the press has them "about to walk down the aisle" immediately. So that could explain some of the reluctance. Until then we'll just over analyze their every interaction.
Pictures are older images from when Silverman and Kimmel were "officially" together in 2005. Images thanks to Bauer-Griffin .