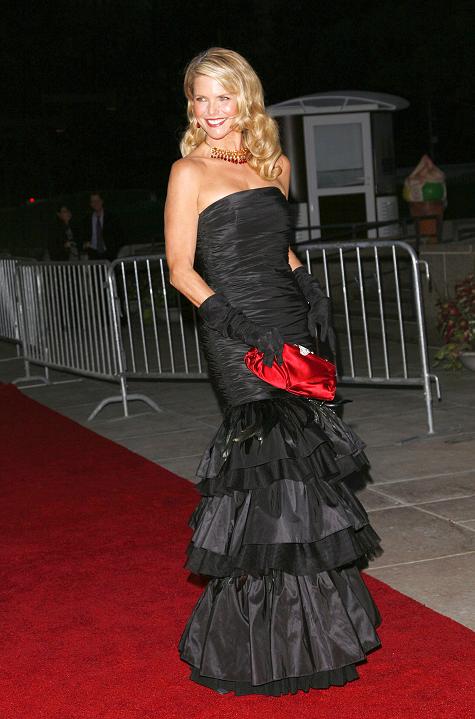 Christie Brinkley's ex-husband Peter Cook decided to defend himself by giving a "pity me" interview to Barbara Walters. Unfortunately it didn't go so well for Cook, as he just came off as a whiney, pathetic guy who can't handle people seeing him for who he really is. He did all this despite having signed a confidentiality agreement as part of his divorce proceedings.
Brinkley fired back, but in a dignified and appropriate manner. Once again it's clear who has all the class and who has none in this situation.
Supermodel Christie Brinkley faced a highly publicized divorce from her husband Peter Cook three months ago — now she's re-arming to fight Cook's claims about their nasty split.

"Extra" has obtained a statement from Brinkley's attorney, Robert Stephan Cohen, on behalf of the supermodel. It reads: "It is a measure of Peter Cook's character that he has breached the confidentiality agreement that is in the divorce settlement and has sought to present this distorted one sided view of his marriage. Mr. Cook had his days in court, testified on his own behalf and ultimately agreed with the view of the children's court appointed attorney and psychiatrist that the children should live principally with their mother and that she should be the sole custodial parent."

Cook, who was blasted in court for an online sex addiction and an affair with his teenage assistant, insists he's been unfairly labeled. "I'm not the pervert that I've been painted to be," Cook tells Barbara Walters in a "20/20" interview. "The misinformation that came out during the trial is the elephant in the room. It's the elephant in the room for my kids."
[From Extra]
That man is so full of bullshit I'm surprised it's not leaking out of his ears. I feel sorry for their children in this situation, but it seems like Cook is almost jealous of the empathy they're getting. Brinkley was even gracious enough to say she felt sorry for the 18-year-old girl Cook slept with, pointing out that she was taken advantage of. And it didn't sound like PR bull, it seems like she really meant it. It takes a pretty forgiving nature to feel that way, even towards a young girl who might not have enough experience to fully understand the ramifications of her behavior.
All in all it's clear who deserves to be publicly chastised in this situation – and telling everyone how hard he had it being married to Christie Brinkley isn't going to help him out any.
Here's Christie and Peter at the "Boogie Nights" premiere in the beginning of their marriage. Header of Christie at the opening night of The Metropolitan Opera on September 22. Images thanks to Bauer-Griffin.