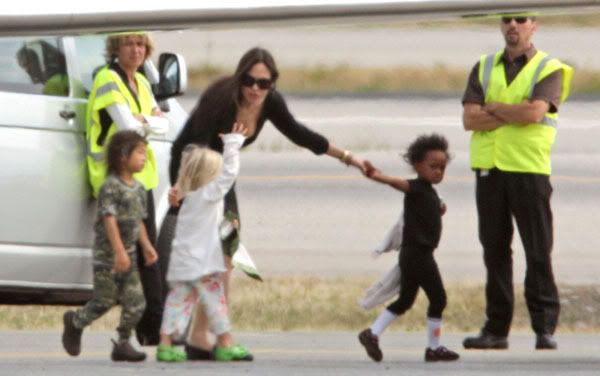 Brad Pitt, Angelina Jolie and their six children landed at the airport in Nice, France yesterday. The family has certainly been around the globe this summer. They settled in an enormous estate in southern France around late May, headed to Berlin two weeks ago while Brad was filming Inglorious Bastards, jetted off to NY for the weekend for Angelina's premiere and were most recently in New Orleans checking over Brad's work with the Make It Right Project. It was thought that they might return to Berlin, but it looks like they're in France again for the time being. The kids probably appreciate returning to their home base and they all look a little cranky in these photos.
Dad Brad Pitt's highly anticipated family photos are due to come out in the upcoming issue of W Magazine, which hits newsstands on October 21. Life and Style reports that one of the photos is a "tasteful" picture of Angelina breastfeeding. The couple told People Magazine that Angelina often nurses both babies at once to save time, but that "it gets a little crowded at the bar." I wonder if we'll see both babies' heads in the photo.
Life and Style also promises to have an exclusive interview with the couple in their upcoming issue. The title reads "How we make it work." Can't wait to see what they have to say about it.
Update: Here are some more photos, including some blurry faraway pictures of one of the twins.
Photo credit: BauerGriffinOnline.