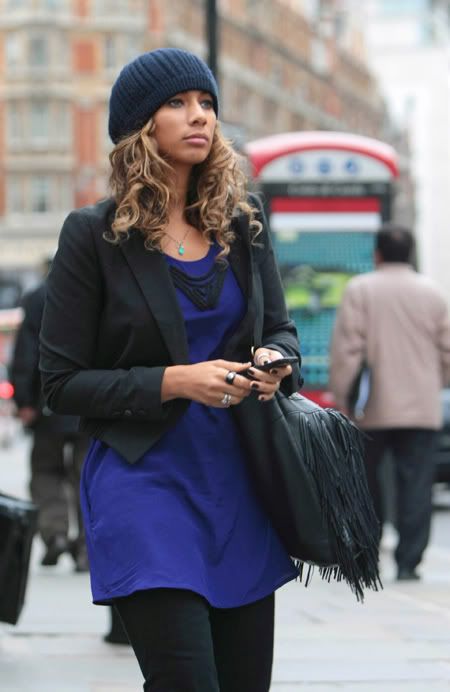 Pop singer and staunch vegetarian, Leona Lewis turned down a personal offer of £1 million from Mohammed al Fayed, owner of the uber posh London department store, Harrods, to open this year's summer sale.  According to the Daily Mail, Harrods is the only department store in the UK that still sells fur, and Leona Lewis wanted nothing to do with it.
The X Factor winner turned chart-topping recording artist Leona Lewis rejected a £1m offer from Harrods boss Mohammed Fayed to open this year's summer sale because the department store sells fur.

A staunch vegetarian since the age of 12, the Bleeding Love singer stuck to her principles and turned the lucrative offer down, the job going instead to 52-year-old Sex And The City star Kim Cattrall.

Lewis, who was this year voted animal rights campaign Peta's World's Sexiest Vegetarian Celebrity, said: 'I'm totally against animal cruelty.

'I don't have clothes, shoes or bags made from any animal products.'
[From Daily Mail]
You have to respect anyone, especially a fledgling recording artist, who would turn down £1 million for their beliefs, even if you don't share them.  Harrods isn't exclusively fur and someone who wasn't dedicated to their convictions could justify taking what is considered by many as an honor.  Victoria Beckham, Eva Longoria, Sarah Michelle Gellar, Christina Aguilera and Lucy Liu have rode the horse drawn carriage through Knightsbridge to ceremoniously open the sales season for the department store.
Harrods, of course, had no comment and Kim Catrall probably appreciated the work.  Lewis, meanwhile, is currently in talks to develop a line of animal product-free shoes, handbags and accessories to be sold at popular UK clothing store Topshop. 
Picture note by Celebitchy: Leona Lewis is shown in the header shopping in London on 10/3/08 with her boyfriend, Lou Al-Chamaa, who is carrying her bags. Are those leather boots she's wearing? Her bag also looks leather. I guess they could be synthetic. Credit: BIG PICTURES/bauergriffinonline.com. She is also shown on 9/16/08 on MuchMusic in Toronto. Credit: Robin Wong/PRPhotos