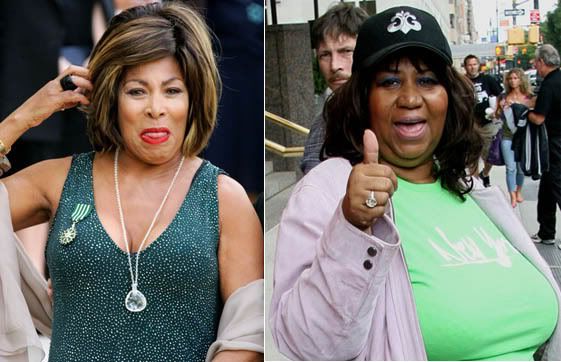 Tina Turner and Aretha Franklin, two of music's most lasting and influential women vocalists, are in a war of words, focusing primarily on one: Queen. Turner, 68, performed with Beyonce at the Grammy's last year and was introduced by Knowles as "the queen" when she joined her onstage. This did not sit well with Franklin, long known as the Queen of Soul, and she set off what has turned into a war of words by issuing a statement the following day.
The day after the Grammy telecast, the 66-year-old 'Respect' singer released a statement that said: "I am not sure of whose toes I may have stepped on or whose ego I may have bruised between the Grammy writers and Beyoncé. However, I dismissed it as a cheap shot for controversy."

Turner told USA Today that she wasn't surprised by Franklin's overreaction to the incident.

"Aretha has always been like that. We've always accepted that from her. She's the queen of soul, and I'm the queen of rock 'n' roll. There were so many kings and queens there that night. Her ego must be so big to think she was the only one," she laughed. "That's how queens are!"
[From Urban Music 2000]
Not to be outdone, because, evidently, that's how queens are, Aretha, 66, has responded in kind to her rival in music royalty.
"I have always appreciated what Tina Turner has to offer and had quietly cheered her on after Ike and her subsequent success. However, with respect to her statement concerning my ego (in saying, 'Her ego must be so big to think she was the only one … that's how queens are') clearly she was talking about herself as she described herself as the 'Queen of Rock' and saying 'that's what Queens do' — particularly since she does not have a clue as to who I am in view of the fact that we have never met.

"I never figured her to resort to tacky press just to sell a few tickets. I understand and I know that the concert market is down where ticket sales are concerned. I really had put her in a different class — higher than that.

"Finally, no one has been more gracious or complimentary to their peers than I have and I am confident and secure enough to do so, unlike some others. I wish Ms. Turner all the best, as I always have. Perhaps one day we will meet."
[From USA Today]
I was surprised to read that Tina Turner and Aretha Franklin have never met. Two legendary icons of R&B music would seemingly have been at the same place at the same time at some point over the last 40 years. But maybe old rivalries we never knew about die hard and they've made a point of not being on the same billing or guest list.
Turner's response to the 8-month old incident came last week during a USA Today interview for her newly launched "Tina Turner Live" tour. Franklin has a holiday album, This Christmas Aretha, coming out on Monday. Something tells me Franklin and Turner might know each other a little better than they're letting on. These women are clearly old pros at garnering publicity when the time is right.
Tina Turner is shown on 7/3/08 in Paris with Giorgio Armani. Credit: WENN. Aretha Franklin is shown on 9/11/08 in NY and 8/27/08 at the US Open with Billie Jean King and Kelsey Grammar. Credit: Ray Filmano / WENN; HRC/WENN