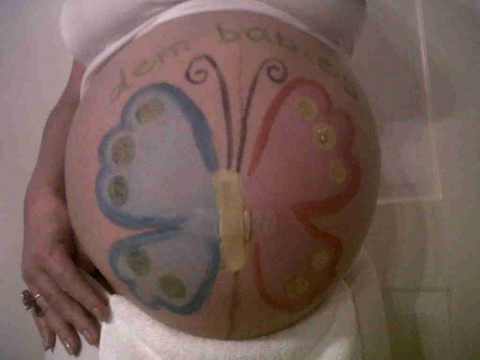 You may have already heard that pregnant Mariah Carey went to the hospital on Sunday after suffering contractions. Mariah is pregnant with twins, and from what I can tell she's due soon so it might not have been that dangerous to the babies if she had them at this point. Mariah was sent home, though, which is good news, and she celebrated by having her belly painted (with a blue and red butterfly, natch) and tweeting the photo above. On Mariah's belly over the butterfly was written "Dem Babies." It turns out that Mariah went to the hospital right before her third wedding anniversary with Nick. (Wikipedia has their anniversary as 3/30, but she's tweeting anniversary wishes already so it could be earlier than that. Update: It was her 41st birthday – thanks BiteMe for pointing that out!)
Mariah Carey, who in October announced that she is pregnant, was hospitalized on Friday night with contractions.

"So #dembabies really wanted 2 celebrate w/us/share the anniversary! I started having contractions last night..went 2 the hospital-" Carey tweeted on Saturday. "Finally they said I could come home after they got it under control but.. They almost came on 3/27- happy anniversary in deed!!! We have a few more weeks 2 go but- wow!!!: ) #soreadyallready!"

The singer… tweeted a photo of a butterfly painted on her belly on Monday. Along with the photo, she wrote, "My attempt @ festiveness on 327! For ATLITL thank u + I♥U! Comin soon #dembabies! LYMA+thanx 4 making me happy:)."

Carey announced in October that she is pregnant; she'll be having twins, one boy and one girl.
[From Huffington Post]
Those babies can't come out on Mariah and Nick's anniversary Mariah's birthday! Don't they know that date is sacred and that their birthday will cut into Mariah's Disney and Hello-Kitty themed parties?
Mariah has since deleted that tweet and photo from what I can figure out, so I guess she's kind of embarrassed by it and regretted putting it out there. Either that or Nick told her to take it down because it was too personal.
I know Mariah is excessive as all get out, but that's part of the reason I really want to see a photo spread of her with the twins. She's sure to have one of the most elaborate and expensive nurseries that was ever made. Mariah's twin baby photos will put J.Lo's poser couture spread with the twins to shame.
Photos from Mariah Carey's twitter and WENN.com