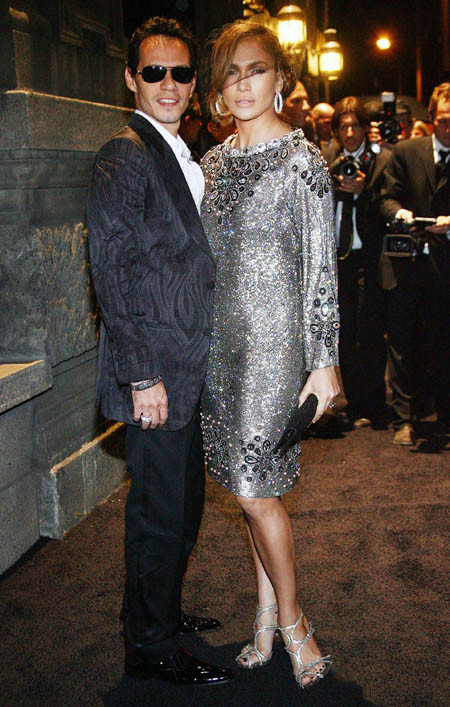 There's something about late night partying in Vegas that works like a magnet to the 24-hour chapels in the city. Early Sunday morning, Jennifer Lopez and Marc Anthony found themselves bored at Pure Nightclub at Caesar's Palace and decided join friends Carlos Beltran and his wife, Jessica, in renewing their vows.
More than four years after saying "I do", Jennifer Lopez and Marc Anthony secretly renewed their vows in Las Vegas early Sunday morning, PEOPLE has learned.

Witnessed by two friends, the duo renewed the vows at Caesars Palace's Forum Tower Penthouse at 3:15 a.m. Sunday after a night at Pure Nightclub, a rep for the hotel confirmed to PEOPLE. The service was officiated by Rev. Steven Smith.

"It was totally a spur of the moment thing," a source said. "They decided around 12:30 in the morning that they wanted to do it and started calling for ministers."
[From People]
Said to be in Sin City for Marc's birthday, the couple spent Friday and Saturday nights at Vegas nightclubs and Criss Angel's show, Believe. They were the first people to stay in Caesar's Palace's renovated Forum Tower Penthouse, which had just opened back up on Saturday. The two re-weddings took place in the suite's rotunda.
Jennifer's parents were unable to attend because they were with Max and Emme.
Anthony and Lopez have been married for a little over four years. I love the thought behind a celebration of dedication to each other by renewing your vows after 10, 20, 50 years, but what does renewing after 4 years and 4 months mean? We renew our driver's licenses, our passports, and our library cards when they expire. I haven't yet figured out the reason to renew marriage vows since they should still be pretty current after less than five years.
Oh, wait, I just thought of one. Negative press calling you a Scientolgist and a published interview you didn't want public. Because there's nothing better than love and a 4:00 am Vegas vow-renewal to boost your public image.
Jennifer Lopez and Marc Anthony are shown in the header in Milan on 9/25/08. Lopez is shown below shopping on Robertson Boulevard on 10/10/08. Credit: WENN