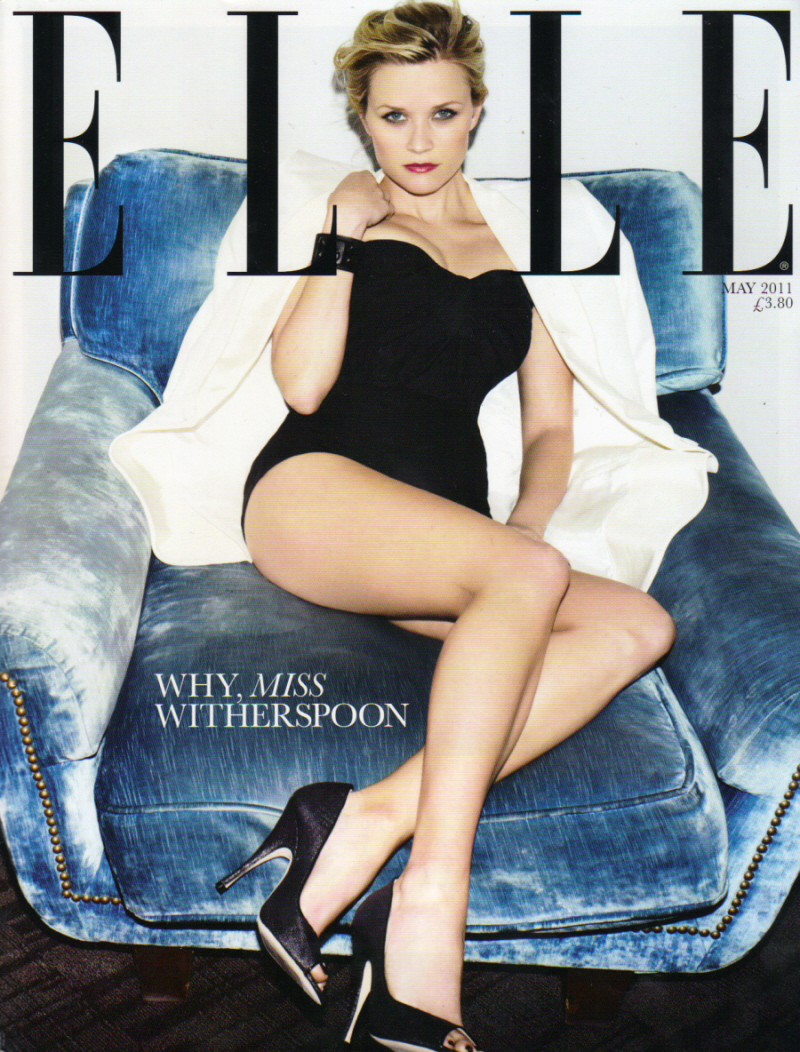 This is Reese Witherspoon's cover for the May issue of Elle UK. She's promoting Water For Elephants, so I'm thinking that Reese is going to be on the cover of several May issues. I like this shot a lot – Reese's appeal is as a "normal" mom and now wife who is somehow beyond the average Hollywood junk. She's usually styled as such too – big Southern hair, big smile, kind-of Southern, pageanty dresses. I like her when she changes it up – and this is such a sexy shot. Sexy, and clean and minimalist. Love it!
There are some excerpts from the Elle cover interview too – it sounds like Reese is really talking about marriage and Ryan and Jim… very interesting:
Reese Witherspoon tied the knot with Ryan Phillippe in 1999 when she was 23. They have daughter Ava, 11, and seven-year-old son Deacon together, but got divorced in 2007. Last weekend Reese married Hollywood agent Jim Toth at a ceremony in California. The two are very happy together, but that doesn't mean Reese regrets her first wedding. She is still friends with Ryan and says being with him enriched her life.

"Oh, I was so, so young. I was, like, ridiculously young. I learnt a lot, though. It was a good opportunity for me to really find out what it means to be a partner and to be in a marriage and it's not anything that I thought it was," she told the May edition of UK magazine Elle. "You can't say, 'I don't want to talk about that.' You just can't. You've got to talk about it all."

Reese, 35, is amazed she's managed to find happiness again. She was thrilled when Jim proposed at the end of last year, revealing the moment completely took her breath away.

"It's an exciting feeling. [Somebody saying], 'You're the one.' And it's a surprise. You know, I'm surprised when people who aren't related to me see my movies," she explained. "And you're surprised somebody wants to be with you because, boy, I've got a lot of quirks and wrinkles."

Reese feels "lucky" to be with Jim because she finds the whole dating process hard. Being with someone in the same industry has made things easier, and she admits feeling "happy" she no longer has to worry about finding someone.

The actress has a small group of friends she calls on when times are hard and lasting friendships are important to Reese. Her good pals are people who don't care that she's famous and have known her for a long time, so she can trust them.

"Friendships are work. You can only have a friend if you are a friend. You've got to be there. I really want to be the person who shows up for people when they need me," she explained. "[My friends and I] tell each other everything. Stuff is hard to deal with, and we've gone through a lot together. I have an incredible support system."
[From Music Rooms]
I like the way Reese talks about her first marriage – and she has never sugar-coated that junk. The subtext – for me – is always "My first marriage was such a disaster that I kind of hated the institution for years." That's something I always appreciate about Reese – she manages to convey her feelings on her disastrous first marriage while still sounding diplomatic and nice, and never bitter. I also appreciate that she doesn't talk in self-help speak or mealy-mouthed platitudes.
A few more things – Reese stepped out with her new wedding band on, and you can see the photos here. They're pretty boring. Also, last night Reese went out partying with Chelsea Handler. There are photos to prove it! UGH. They're going to be working together on a movie. DOUBLE UGH.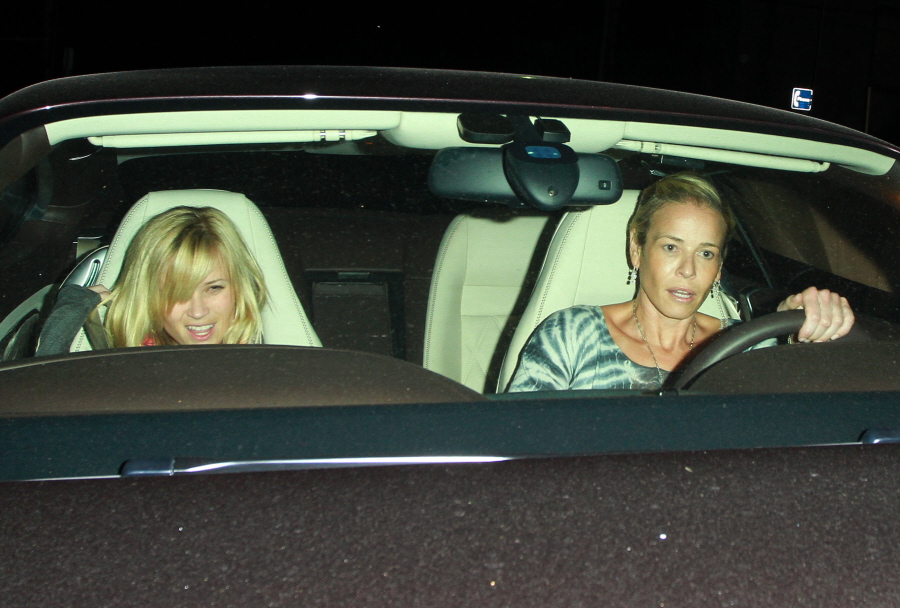 Elle cover courtesy of The Fashion Spot. Additional pics by Fame.