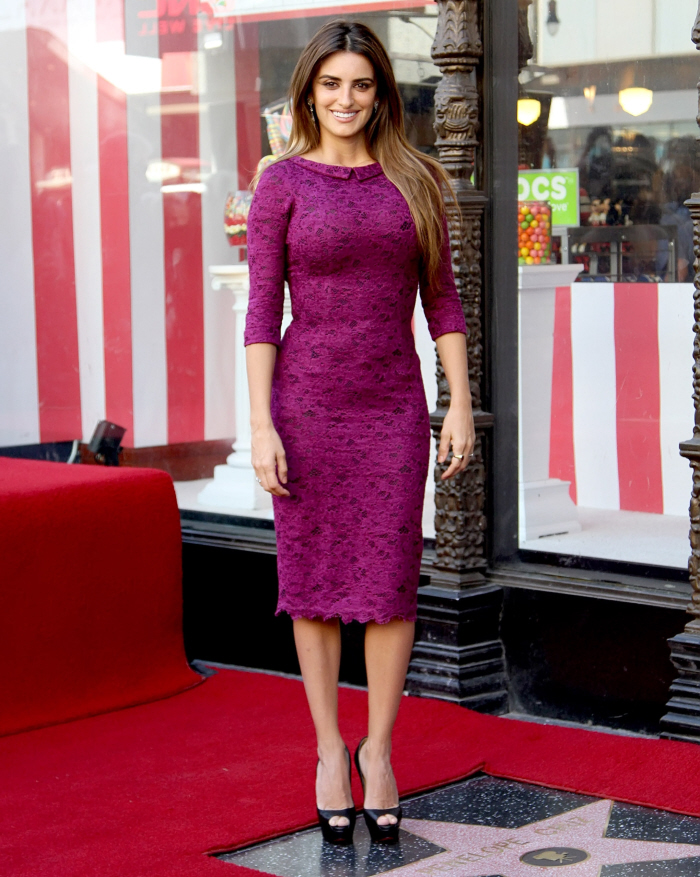 On Friday, Penelope Cruz got a star on the Hollywood Walk of Fame. Lately, lots of bigger celebrities gave been getting their "stars" which is kind of cool – I mean, I'd rather Penelope get a star than, like, Snooki. I like that many foreign celebrities have been getting stars too – because I think the international celebrities feel more honored, and seem truly moved by this symbol of Hollywood acceptance. Colin Firth practically wept at his Walk of Fame ceremony, and Helen Mirren invited her family, including her step-kids and step-grandkids, to come and celebrate her foot and hand-prints at Grauman's Chinese Theatre. Penelope seemed genuinely happy too – her husband, Javier Bardem escorted her to the ceremony, and Johnny Depp gave a nice speech, as did Penelope's Nine director Rob Marshall. Surprisingly A-list for such a cheesy ceremony, right? I love it.
Johnny Depp can't say enough good things about Penélope Cruz as an actress, costar – and as a new mom.

"She's an inconceivably phenomenal mommy, which I've witnessed firsthand, and it's pretty incredible," Depp said on Friday of Cruz, who gave birth to a son in January. "She's as loyal and true a friend as anyone could ever dream of and I'm very privileged to be able to have her in my life."

Cruz, who was honored with a star on the Hollywood Walk of Fame in front of El Capitan Theater on Friday, feels just as lucky to have worked with Depp. In fact, she credits the actor with improving her language skills.

"I came to Los Angeles for the first time in 1994. I spoke no English. I only knew how to say two sentences: One was, 'How are you?' The other was, 'I want to work with Johnny Depp,' " Cruz, 37, said Friday. "In the last 10 years I've worked with him twice, and that has improved my English."

The Oscar winner worked with Depp on Blow and most recently on The Pirates of the Caribbean: On Stranger Tides, and she calls her costar a prankster on set.

But how would Depp describe their time together?

"It's been a long road of giggles," Depp added. "There's nothing bad to say. I've even tried to provoke her into some fit of anger, it doesn't work, I get nothing. Giggles, more giggles."

Cruz has certainly had a lot to be happy about recently. The actress married Javier Bardem in July 2010 and the pair welcomed a son named Leo earlier this year. Cruz, the first Spanish-born actress to receive a star, was grateful for the honor and thanked her family "and of course my wonderful husband and my son for making me so happy every day."
[From People]
The first Spanish star? Then it's especially nice. Good for Penelope! And considering she just recently had a baby, I'm not going to talk about how much I dislike this L'Wren Scott dress. It's kind of cheap-looking, right? Whoops, I guess I talked about it. Since I'm being bitchy and over-critical, I also dislike Penelope's cheap-looking too-light highlights. They look so trashy! And since we're talking about clothes, I'm so glad Johnny put on his grossest-looking pair of jeans and his dirtiest flannel shirt.
By the way, Penelope and Javier's son is named Leo. I mean, I don't know it for a solid fact, but all of the reports claim the name is Leo, and Penelope and Javi haven't denied it.
Oh, and Penelope's heels were so crazy she almost feel down as she was walking to her star. I would love to see her do a ditzy comedic role where she had to do pratfalls – look at her face! She's so funny.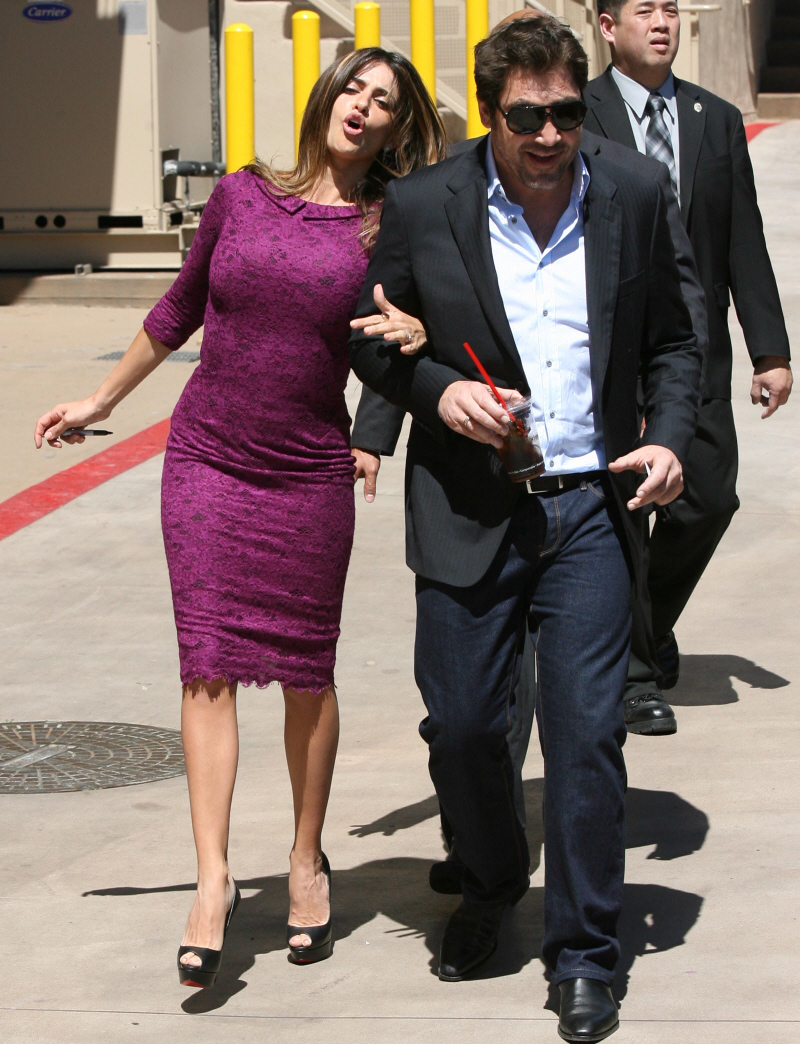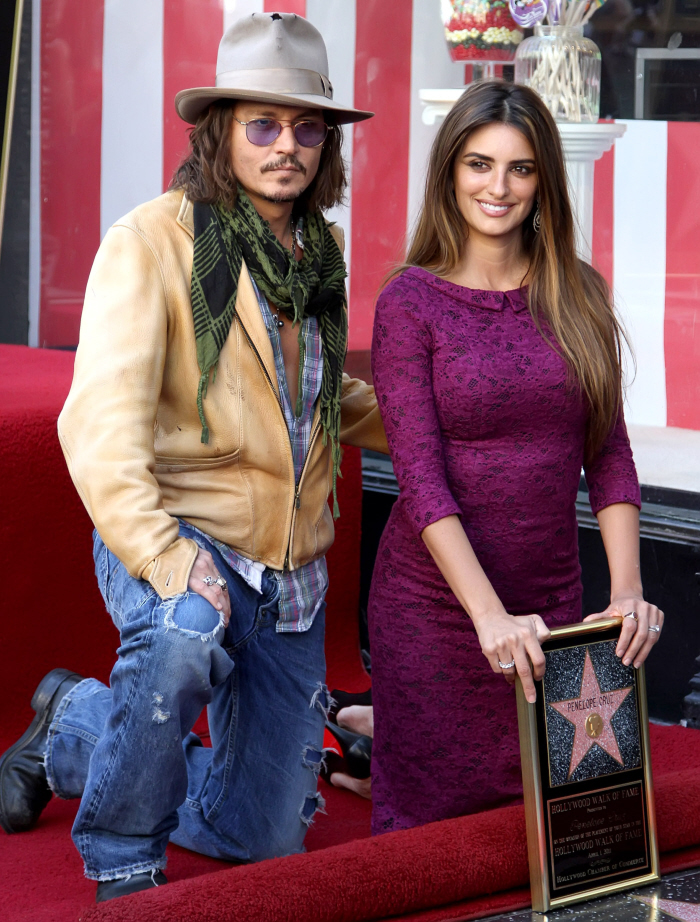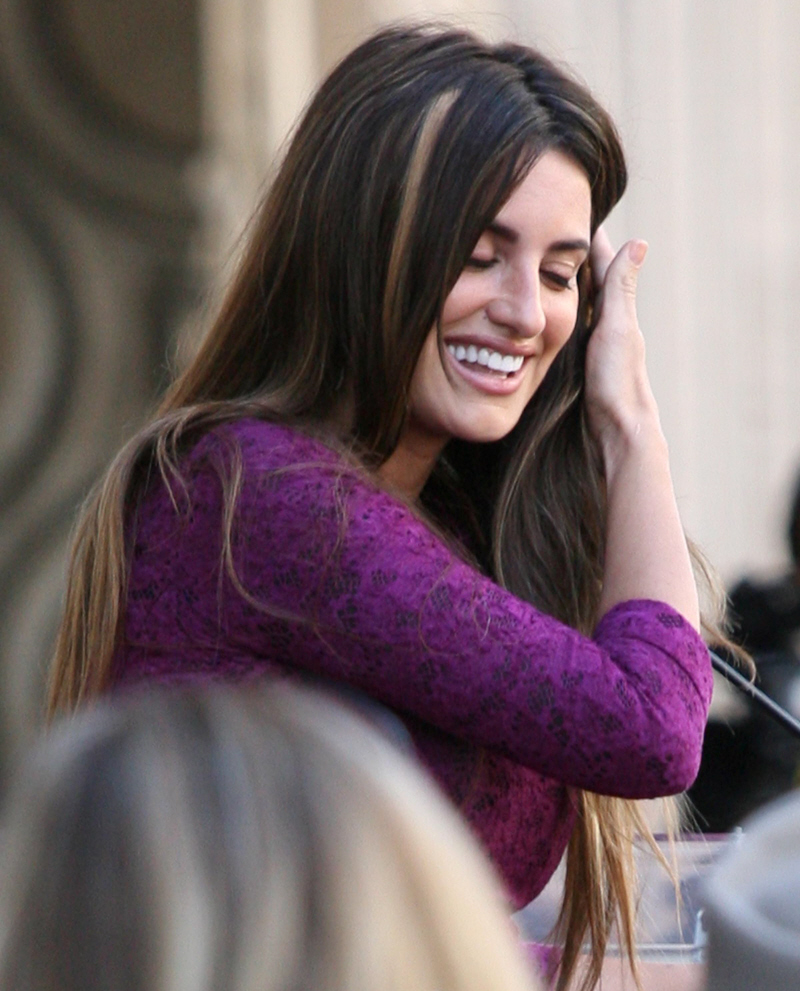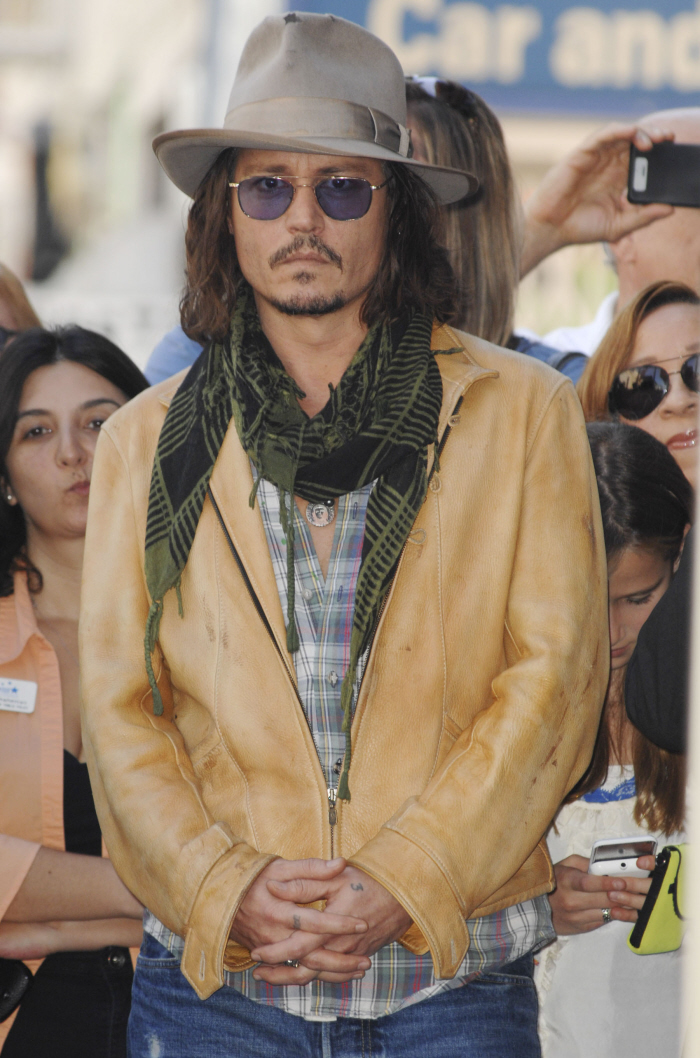 Photos courtesy of Fame & WENN.