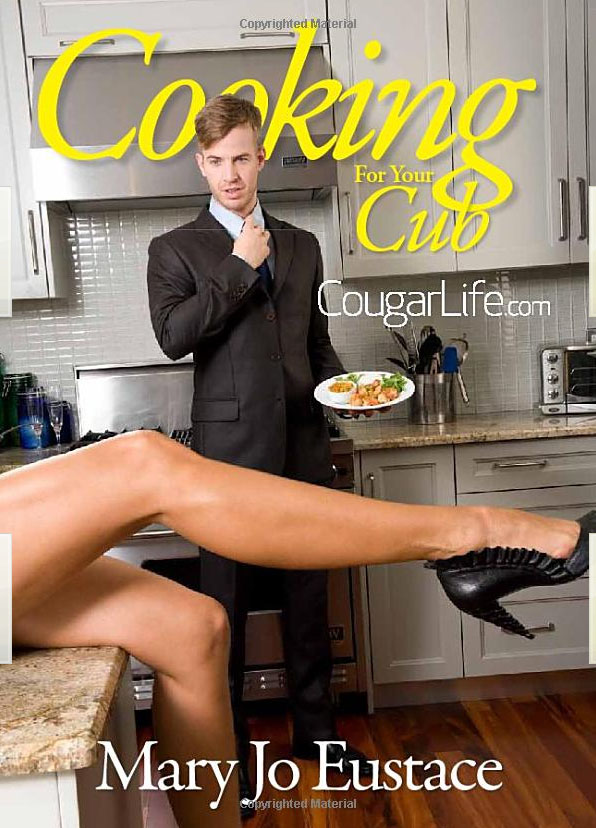 Here's a weird story. The last I heard of Dean McDermott's ex wife, Mary Jo Eustace, she was telling the story of how Dean, her then-husband of over 12 years, had heartlessly dumped her for his "soul mate" Tori Spelling, just three weeks after meeting Tori and right after they'd adopted a baby girl. Things seem to be looking up for Mary at this point, despite the prospect of having to see Dean and his sour-faced wife on television for years to come. Mary, who hosts a cooking show on Canadian television, has penned a cookbook in conjunction with dating website Cougarlife.com* called Cooking for Your Cub.
Eustace instead sought revenge of a different kind, penning multiple books including the controversial "Divorce Sucks." And now her latest culinary venture "Cooking For Your Cub!" is ready for release – a "cougar cookbook" peppered with gourmet recipes, food aphrodisiacs and tips for "being saucy."

"I wanted to do something really fun and an anecdote to the whole divorce saga. This is for women who are in their 30s and 40s and are starting again, making a great living and don't necessarily need men financially," Eustace told FOX411's Pop Tarts column. "The whole idea of the book is to have a woman who is secure, dating a younger man, and cooking for romance and fun."

In keeping with her own Hollywood experience, Eustace has named each of the 24 recipes after famous females who have been through a marriage break down. There's everything from Jennifer Asparagus Soup, Courteney Coconut Lemongrass Soup and Oysters A La Madonna, to Mariah Bananas Brandy, Proscuitto Halle Basil Sandwich, Roasted Leg of Lamb (Demi Glace) and Beef Tenderloin with Sarandon Shallots Over Blue Cheese Mash.

"The concept of being a cougar is becoming a lot more mainstream, we've got people like Demi Moore who is beautifully preserved and at the top of her game choosing to be with a much younger man, and it is becoming really acceptable that you can have that choice," Eustace continued. "Then there is the likes of Kim Cattrall who was on 'Sex and the City' and obviously with a younger man during the series so we are playing on that, and now Susan Sarandon has a young boyfriend. These women look fantastic. I think it just shows that women have more control and more choice and don't have to be obligated to a certain type of man."

Another concept behind the book, which was co-conceived by Claudia Opdenkelder, the CEO CougarLife.com – a niche dating website that caters to professional women seeking younger men – is for older women to help their significant other develop more "mature" tastes.

"I thought it would be funny to introduce them to adult food – introducing them to coffee lobster, maybe a liqueur, you're trying to sophisticate their palate," Eustace said. "I also want it to be fun and sexy but do-able. It's got to be fun and it can't be taxing to do."

Eustace also hopes the marriage-rocked celebrities honored by recipes in "Cooking For Your Cub!" which includes the likes of Jennifer Aniston, Olivia Newton-John, Madonna and Halle Berry, are flattered by the inclusion and intends to send them each a copy.

"It's a compliment – a cookbook with good recipes," she said. "It is a testament to older women who look fantastic and are choosing how they live their life. I think that's a good message for women."
[From Fox News]
Look, I get the urge to date younger guys after a divorce. More of them are single without ex wives, kids and the baggage that comes along with age. They're probably more willing to please and less set in their ways. Good for Eustace for getting hers and moving on. For the love of God, though, why is she calling the guys she dates "cubs" and talking about introducing them to new flavors and "adult food" as if they're toddlers? It's creepy and it sounds like she's talking about a son, not a boyfriend.
To be fair, the book jacket says that Eustace was approached by the CougarLife ceo about cooking for her cub, so maybe she's just on board for this idea and it wasn't something she came up with on her own.
The CougarLife lady probably has to cook for her "cubs" at home because it's embarrassing to take them out. You have the "he looks like your son" comments, along with the sticky issue of who is going to pay for dinner when your date is scraping by and you've got a lucrative career. May as well make some coffee flavored lobster and have sex at your place, that way you won't have to face the reality that your boyfriend is living with roommates in an apartment that needs fumigation. I remember the guys I dated in college and I remember scrubbing some nasty tubs before I was able to take a shower. Some of those guys were really hot, looking back, but life at that time was much less convenient on so many levels.
I guess it seems inevitable that someone has put out a "Cougar" cookbook, because a lot of those young dudes can't cook anything other than Ramen and it's not like they can pick up the check on a night out. Ultimately it's a marketing gimmick, just like the famous women that Eustace uses to name each recipe.
*Note: dating site spammers are the scourge of bloggers. I checked and no spammers from cougarlife have bothered us or I would not have reported this.