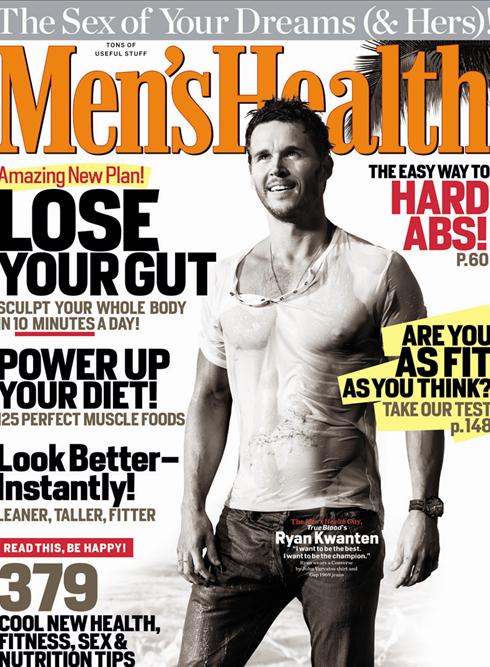 Ryan Kwanten, the gorgeous 34 year-old underrated Aussie actor who plays Jason Stackhouse on HBO hit True Blood, may be a true hero. Just Jared is reporting that Ryan rushed to the aid of an unknown man lying bloodied in the street in LA. Ryan is even said to have waited with the victim until paramedics got to the scene. It's unknown how the man was hurt or what his current status is, but if this is true we know that Ryan is an exceptional citizen along with being exceptionally buff (I could go on):
Ryan Kwanten drew a crowd on Friday night (April 1) at a busy intersection in Hollywood – but he wasn't the center of attention.

"There was a bloody guy lying in the middle of the street at Hollywood and Highland and no one was doing anything. Ryan pulled up, saw the man down, jumped out of his car, and raced over to see if he could help," a witness on the scene exclusively tells JustJared.com.

Our source says the 34-year-old True Blood star screamed they had to get the injured man off the street immediately, so with help from a few other guys, he carried the man off to the sidewalk.

"He stayed there watching him until paramedics arrived," adds the source. "There was a crowd gathering and people recognized Ryan but he was just focused on making sure this guy was okay."
[From Just Jared]
This could be true, although US Weekly asked Ryan's rep for comment and basically got a shrug. I love Kwanten and I want to believe this vague anonymously sourced hero story, but it also comes right around the same time that HBO announced the premiere date for True Blood – June 26! – still too long but at least a concrete date, along with a spoiler-filled teaser video that just happens to star Kwanten. So I'm skeptical, but I want to believe. Oh and here's another teaser for True Blood starring Pam, Tara and Lafayette. Still two and a half more months before the new season premieres, damnit.
I hate to say this because normally I love some facial hair, but that weird billy goat patch that Ryan has on his chin has got to go.
Ryan Kwanten is shown on 3/5, 2/27 and 1/22/11. Credit: WENN.com