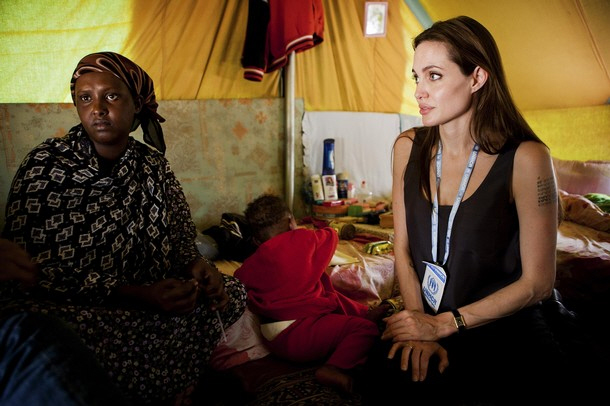 As we talked about yesterday, Angelina Jolie flew out of LAX on Sunday, reportedly to go to the Middle East on some UNHCR business. Now we know where – Tunisia. Thousands of Libyan refugees have flooded through the Libya-Tunisia border, and are now living in makeshift refugee camps. She also used the trip to focus on some gaps in the international financing to support the refugees – and she announced that the Jolie-Pitt Foundation would be picking up some of the slack, donating Foundation money to help give 177 refugees the right of return, as well as financing a new ambulance for the camps. These photos (courtesy of some Tunisian media outlets) are of Jolie meeting with some refugees, and arriving at the airport. Here's the UNHCR's press release:
RAS ADJIR, Tunisia The UN refugee agencys Goodwill Ambassador Angelina Jolie travelled on Tuesday morning to the Tunisian-Libyan border to urge greater international support for people fleeing Libya.

More than 400,000 people have escaped the violence in Libya in the last month, arriving in surrounding countries such as Tunisia, Egypt, Niger, Algeria, Chad and Sudan. Tunisia alone has received more than half of the outflow from Libya and has mobilized an outstanding relief operation.

The outpouring of generosity from the Tunisian people says so much for the future of this country, said UNHCRs Goodwill Ambassador. It is a sign of the openness sweeping across the region.

At the end of February, transit facilities were erected 7 km inside Tunisia to provide temporary shelter. At the same time, UNHCR and the International Organization for Migration began helping migrants home with a humanitarian air evacuation. Today, over 70,000 people have reached home safely with help from UNHCR and IOM, but more continue to arrive. Some 11,000 third country nationals are still in transit.

The international community has done well to reinforce Tunisias remarkable relief effort, said Jolie. But with 2,000 people still crossing each day, we cannot let the funding dry up and need to sustain the momentum.

During the visit, an important contribution is being made by the Jolie-Pitt Foundation to help sustain the humanitarian evacuations being carried out. The Foundation covered the costs for a flight of 177 persons to return to their countries of origin and purchased an ambulance to help support Tunisian efforts on the border to assist the injured arriving from Libya.

We would encourage others, individuals and governments, to continue to support and assist with the needs on the ground, said Jolie.

While migrants make up the majority of these new arrivals, there are also some 2,500 people from war-torn countries who are unable to return home and thus require international protection.

They're waiting here with little hope, unable to return home and unsure of what's to come. This constant cycle of displacement must finally come to an end, said Jolie.

In conversations on Tuesday with people who had recently left Libya, UNHCRs Goodwill Ambassador was told of heavy fighting inside the country. She listened to harrowing stories of checkpoints, harassment and assaults. She appealed for measures that would allow the UN and non-governmental organizations to access Libya, and to distribute urgent assistance, including food and medical supplies.

Jolie also heard dramatic accounts of eastern and sub-Saharan Africans being deliberately targeted inside Libya. Many remain in hiding in desperate conditions, unable to move for fear of violence. Jolie called for a humanitarian corridor to facilitate the safe access of these populations to points of refuge.

Without this corridor, thousands of eastern and sub-Saharan Africans are escaping Libya by sea, relying on unseaworthy vessels organized by smugglers. In recent weeks, there have been several landings on the small Italian island of Lampedusa as well as interceptions off the coast of Tunisia. There are also reports of some people not surviving the perilous journey across the Mediterranean.
[From UNHCR]
It sounds like Libya is becoming Europe's Cuba, right? Refugees making sea journeys on makeshift rafts and boats, trying to get someplace where their lives aren't in mortal danger. It's all so… sad. Ugh. Just what the Middle East needs, right? Another overwhelming refugee crisis.
Go here for the UNHCR Donation Page.
UPDATE: X17 talked to a photographer covering the goodwill trip, and the guy says Angelina caused a mini-riot. The refugees were chanting her name and they kind of went crazy when she got on the ground.
Oh, and I still think she looks pregnant.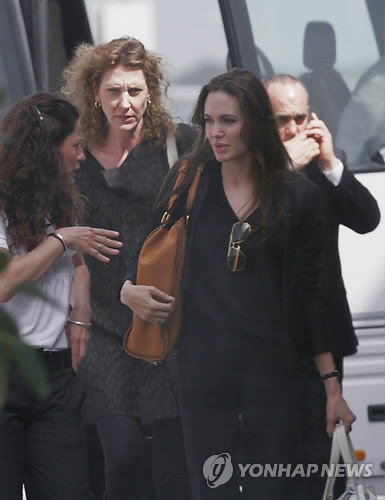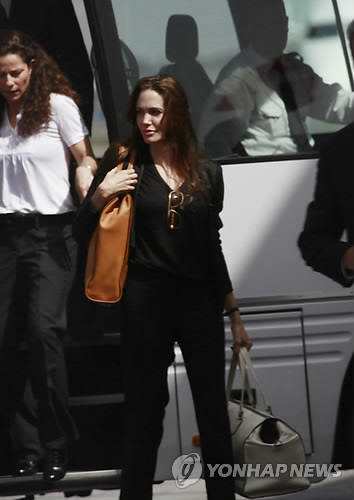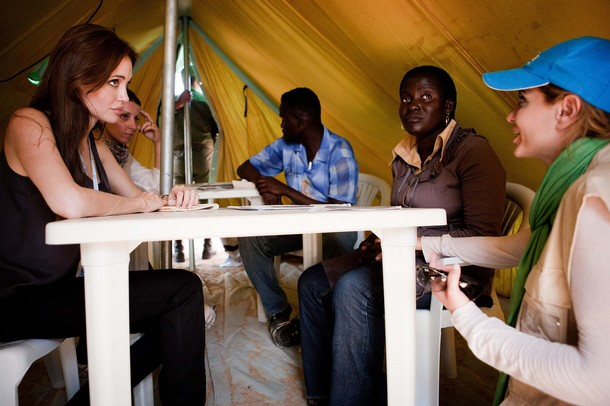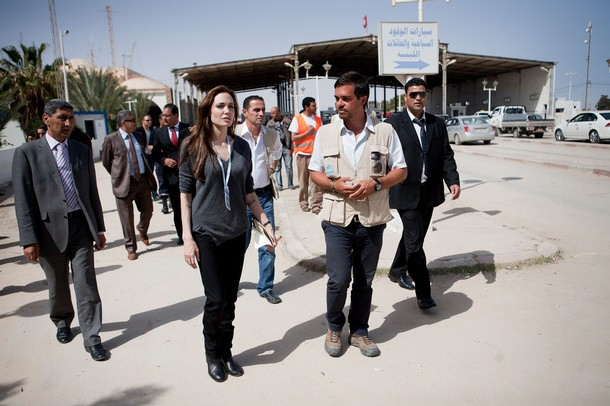 Photos courtesy of the UNHCR, Tunisian blogs & media outlets.