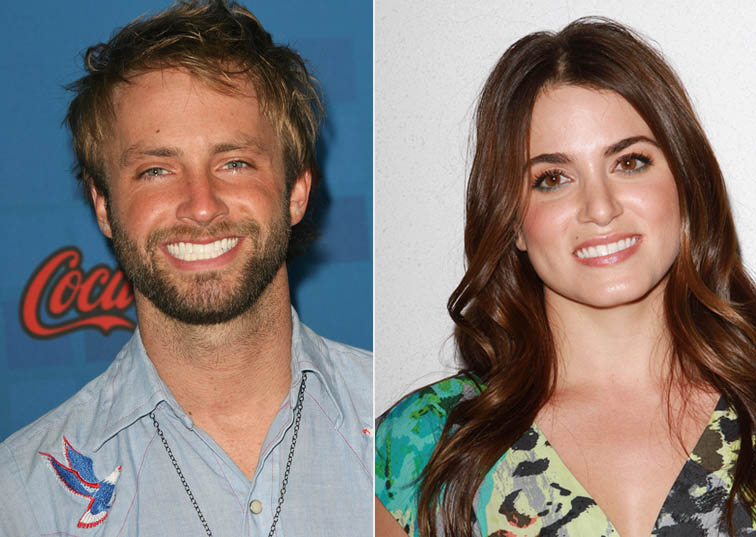 I guess we can't accuse Twilight's Nikki Reed of pulling the same famewhore stunts as her co-stars and hooking up with the most high profile guys she can find. Nikki is dating American Idol's Paul McDonald, the guy who looks like a blonde Chris Kattan and who I could have sworn batted for the other team. But these two supposedly locked eyes on a red carpet last month and have been going strong ever since. There's even video of the two of them meeting for the first time. (It's at :52 into that linked video.)
The Idol cameras were rolling as Nikki, in a strapless dress and flowing hair, gushes to Paul, "You're amazing. I'm blushing, I should go." Paul then says, "Wow, thank you" and the two awkwardly hug goodbye.

As soon as Reid is out of ear shot, Paul turns to the camera crew and asks, "Was she a famous actress or something? I'd hang out with her!"

And it turns out, the two have been "hanging out" since then. No word on who got whose digits, but these two are totally into each other!

So while Reed has been busy off filming Breaking Dawn and McDonald is obviously preoccupied trying to win American Idol, the two have been keeping in close contact via Skype.
[From E! Online]
That's cute! We'll have to see how far McDonald gets in Idol. I've been following it sporadically, but I haven't seen it in about a week. The show lasts too long and doesn't have enough drama to keep my interest. They drag out the results forever. I guess this week's elimination was a real upset (spoilers for past shows obviously) and everyone is shocked about it. I probably won't watch the show again until the final week though. I can see this guy making it that far, especially if he stages a few well photographed dates with Nikki Reed. That will raise his profile.
Nikki is shown on 3/7, 3/9, and 10/6/10. Credit: WENN. Paul is shown on 3/7. Credit: PRPhotos