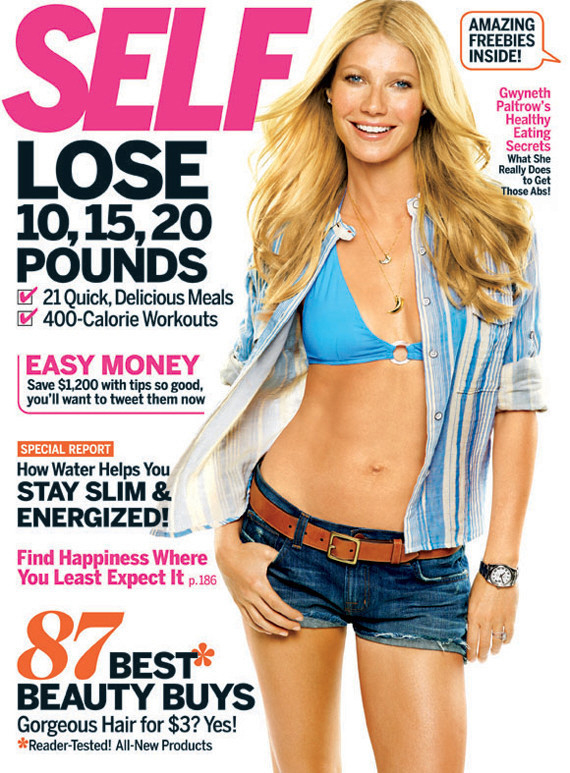 Another day, another ongoing Goop travesty. Why is it All Goop, All The Time lately? Don't say it's because she's promoting her cookbook, because Goop has been all over the place for MONTHS. My take is that she just really, really wants to be seen as a super-A-list, in-demand celebrity again. She wants the best scripts, she wants Goop supporters lining the streets demanding her precious vocals, she wants the world to shudder at her ever goopy word, she wants attention and validation. Perhaps because she's not getting it at home? Perhaps.
Anyway, Goop covers the new issue of Self Magazine. Now that I'm reading the interview excerpts and looking at the budget, peasant photo shoot – Goop scantily-clad, showing off her toned body against a bright white background – I'm wondering why it took Goop so long to do these kinds of health-fitness-type magazine covers. She's in her favorite zone: she gets to talk about herself and how everything revolves around her (of course), she gets to exhaustively discuss her beloved juice fasts (her insipid, elitist constipation), and she gets to condescend to everyone about her magnificent self-obsession and superficiality. Because Gwyneth only cares what's on the outside.
On her challenge areas:
"My butt! My butt, butt, butt. When Tracy met me, she said that I had a long, square butt that she was going to redesign, and I was, like, "Yeah? Good luck." The amazing thing is, she was right! And it's still changing!"

How she stays sane about her body:
"I've found what works for me. I know if I put in an hour and a half, five days a week, I'm good. If I'm on vacation and, like, "F— it, I'm not working out," I know what to do when I get back. A lot of women think, "Oh, my God, I could never get there," but I don't think that's true. It's simply relative to how much you put into it."

How consistent she stays, foodwise:
"I say I always eat right, but last night, I had fried clams, pasta with duck sausage and two glasses of red wine. When I want to lose, I eat less pasta, bread and potatoes. Before last year's Iron Man 2 premiere, I did green juices and salads for three days."

Gwyneth's fitness secret:
"I do 45 minutes of cardio five days a week, because I like to eat. I also try for 45 minutes of muscular structure work, which is toning, realigning and lengthening. If I'm prepping for something or I've been eating a lot of pie, I do two hours a day, six days a week for two weeks."
[From Self/Huffington Post]
"A long, square butt"? Gwyneth is so special, her ass isn't even a normal shape. Take that, peasants, with your dumb, peasanty round butts!
By the way, you know what I think about when I see photos of Goop barely clothed? I think about how strange it is that she's so utterly unsexy. Of course, there are times when I actually find her pretty, and there are many times when I admire how hard she works on her body, and what great shape she's really in, but at the end of the day, I think the biggest problem may be that no one actually looks at her and thinks "Beautiful, sexy, admirable woman." We look at her and think, "Wow, it took a lot of time, a lot of juice fasts and a lot of self-obsession to look like that. She must be really boring in real life."
Another observation: Gwyneth is stuck in the 1990s, when she was at the height of her fame. That's when she stopped growing as a person, that's where she is mentally, and that's why she's still flat-ironing her hair and parting it down the middle. She's incredibly dated, emotionally and physically.
Let's see, other Goop news… Dame Gwyneth invited the New York Times to her "dinner party" in which she prepared food for 60 people… all by herself! Go here to read the article, and here for Lainey's coverage of it. Also, there was an odd piece in People Magazine this morning – it's all about this dinner party too, but then there's this odd little aside where People Mag asks Gwyneth if her family ever cooked for her and she says, "Never. Not once." People: Not even a bowl of cereal for breakfast? "No," she said. Yeah… Gwyneth is really sad. She is a sad person, and I feel bad for her. But she doesn't want my pity, because she is so much better than me, and obviously, she has pity for ME because I'm such a peasant. It's an odd conundrum.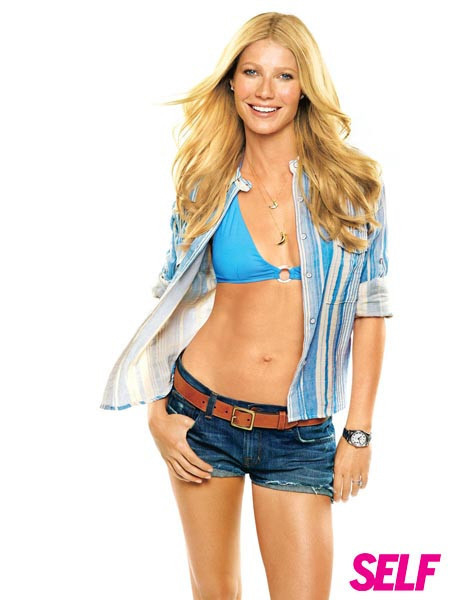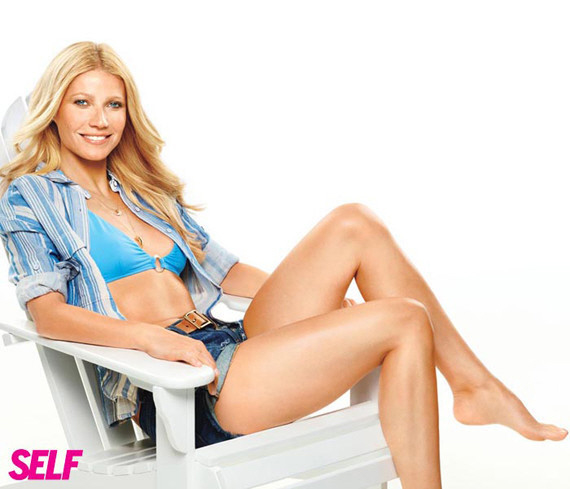 Photos courtesy of Self/HuffPo.