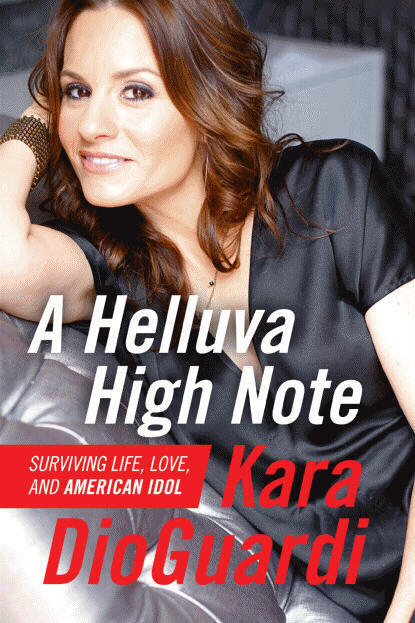 I hate hearing stories like this, because it makes me want to give the side eye to anyone who has anything to do with my child. Former American Idol judge, record producer Kara DioGuardi, has a new memoir coming out in which she reveals that she was molested by a teen neighbor when she was just 11 and was date raped by a producer when she was in her 30s. She also tells a disturbing anecdote about a rock star who made her watch porn and had strippers over when they were supposed to be songwriting together. I want to know who that one is about.
DioGuardi, whose new show Platinum Hit premieres on Bravo on May 30, reveals that she was repeatedly molested when she was just 11 years old by a family friend's son who was in his late teens. "On one particular day, he took me into the back shed of his house and put his hands all over my breasts and vagina," she writes. "I remember freezing and not knowing what to do."

By 2000, DioGuardi's career started to take off. It was about that time she says that a "fairly known producer" date-raped her after having what she thought was a friendly dinner. "[W]ithin a few hours, he was on top of me, pumping, sweating, and speaking to me in Spanish, not a word of which I could understand," she writes.

She repeatedly told him to stop, but didn't try to fight him because she was too scared he'd become violent. She never told anyone about the horrific incident because she feared he would ruin her career.

A few years later, DioGuardi found herself sexually harassed by a "hugely successful artist." She was invited to a three-day songwriting trip. But instead of working, she writes, "the trip's activities consisted of watching Russian porn, scavenging around the kitchen for food [and] leering at two strippers…as they performed sex acts in the living room."

DioGuardi says she continued to work with the artist because, she writes, "I wasn't gonna let this bastard deter me from doing the job." She eventually walked away after he chased her around the basement of his suburban home and forced her hand on his privates.

DioGuardi also opens up about her difficulties getting pregnant during her final season of American Idol. After learning on the Internet that her job was on shaky ground because Ellen DeGeneres was leaving the show, DioGuardi asked producers to let her out of her contract. "I wanted a child and there was no way I could get pregnant under the stress of eighteen-hour work days and live TV," she writes, adding, "I had undergone three unsuccessful rounds of IVF during Season 9."
[From E! Online]
It sounds like she's gone though a lot, and I hope the guys who did that to her know who they did and feel guilt and shame about it for the rest of their lives. They deserve to be prosecuted, but that's not going to happen for these incidents. She surely wan't either of those creeps' only victim and it makes you sick to think about it.
I'm not buying that it was Kara who wanted out of her Idol contract. Her dad said that his daughter was disappointed that Idol hadn't contacted her after there were rumors that she was being let go. It sounded to me like Idol wanted her to leave and that producers did it in a passive aggressive way so that she was forced to resign. I don't think that Idol lost much with Kara leaving.
You also wonder what kind of interest there is in Kara now that she's not on Idol. She wasn't that likable and didn't really stand out in the two years she was on the show. She has a new songwriting reality show coming out on Bravo called Going Platinum where contestants compete for a $100,000 prize. Jewel will host. She's still got a great career in music, too. Kara is the executive vice president of talent development at Warner Brothers.
Kara is shown on 4/7/11 and 2/18/11. Credit: WENN.com