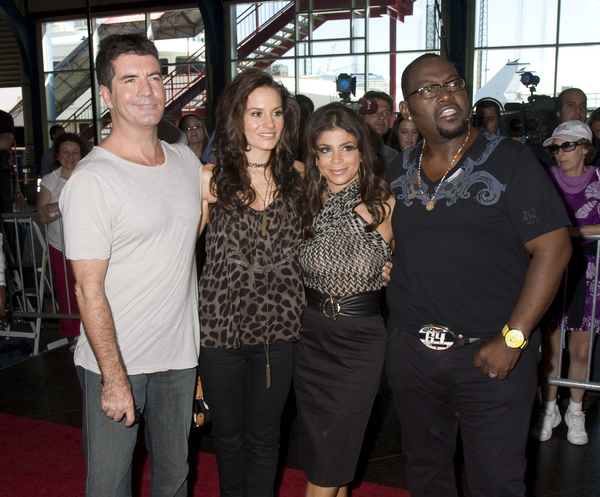 Neither Hillary Clinton nor Sarah Palin could put enough cracks in the glass ceiling for Paula Abdul. Nigel Lythgoe, former "American Idol" executive producer, revealed recently that there is a bit of a disparity between Paula's salary for her work as a judge on the hit TV show, and Simon Cowell's for the same job.
"American Idol" former executive producer Nigel Lythgoe recently revealed that Simon Cowell is earning $36 million a year from the show.

It's not news that Cowell makes some serious coin — he's been ranked in Forbes — but the approximately $22,000 per minute (according to Lythgoe's calculations) that Cowell earns has fellow "Idol" judge Paula Abdul especially angry. Rumors put Abdul's salary at closer to $5 to $8 million per season.
[From MSNBC Scoop]
Paula Abdul is not the most stable person, and those that know her are worried that this could cause some problems. Abdul knew Cowell was making more than her, but the gap was a lot more than anyone would have guessed. A source that works with the show says that Paula already feels underappreciated, especially after they've brought in another female judge to "even out" the panel. People around her are pretty sure they're going to be the one paying for it, too.
"If you thought she had reason to run late to the set now, imagine what the future may hold. I kind of feel for the assistants who are going to be made responsible for getting her on set on time. It's always a challenge, but now? I don't want to think about it."
[From MSNBC Scoop]
No mention was made of Randy Jackson's salary. I'm guessing it's somewhere between Simon's and Paula's, but closer to Paula's. Lythgoe also didn't say anything about new judge Kara DioGuardi's salary, either, but if Abdul's is only $5 to $8 million, she's a lot closer to DioGuardi than Cowell.
Get ready for the Abdul-crazy to be even crazier this year.
Header image is of a press conference to introduce the new judge Kara DioGuardi in NY on 8/26/08. Credit: Janet Mayer / PR Photos. Photo below is of Paula Abdul at the Entertainment Tonight Emmy Party in LA on 9/21/08. Credit: Chris Hatcher / PR Photos