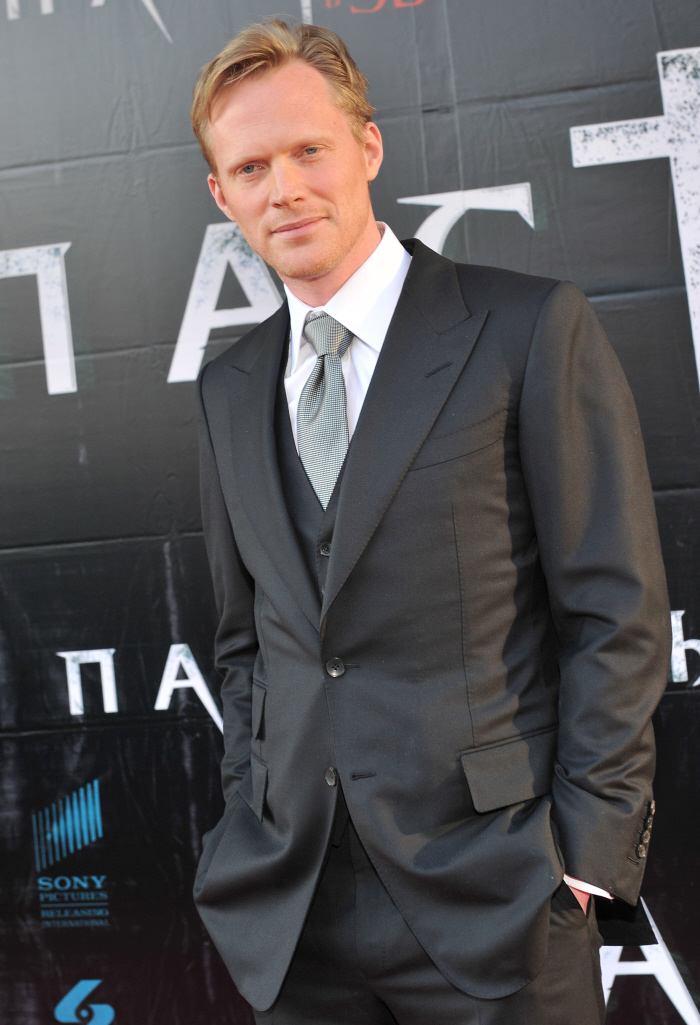 These are photos of Paul Bettany working the hell out of a beautifully-cut three-piece suit in Russia yesterday. He's promoting Priest, and the man looks… AMAZING. I love him so much, and I was just thinking about how weird it is that I now have this ginger fixation as I get older. I'm seriously obsessed with Paul, Prince Harry, Damian Lewis and Michael Fassbender, all of them gingers. Sigh… my Kryptonite these days is men with firecrotches. Anyway, Paul, Russia, Priest, etc.
In a recent interview on the Priest promotional trail, Paul went off on his fellow actors – specifically, the ones who whine about their jobs. I love him and his peeves about self-absorbed, self-pitying narcissists.
Brit Paul Bettany has taken aim at "whining actors", insisting they should "get a real job" and let a grateful wannabe take their place.

The straight-talking Legion star admits he cannot tolerate castmates who complain about trailers and services on film sets – because he thinks all actors and actresses should be thankful they are doing something they love.

Bettany, who is married to actress Jennifer Connelly, rages, "Something like 90 per cent of actors are not working and you are. That's why I hate hearing actors moan: 'I have to be in Mexico for five months… Oh no, I've gotta go to f**king Tokyo…' F**king grow up! Go get a real f**king job and let somebody else go."
[From Wonderwall]
Co-sign. Love.
In other Corpsey Hotness news, Paul also confirmed that he's still got a gig voicing Jarvis (or "J.A.R.V.I.S.") in Iron Man and The Avengers. You knew that was Paul's voice, right? The voice of Tony Stark's dry, witty computer? Paul's voice is a perfect fit – so English and sexy.
Even though "The Avengers" has begun filming, we're still learning about all the actors with roles to play in the film. Paul Bettany, who played J.A.R.V.I.S. in "Iron Man" and "Iron Man 2," recently confirmed his return as the voice of Tony Stark's computerized assistant.

While at a press conference for "Priest," Bettany was asked a few questions by a fan about his part in the Marvel movie universe.

"Well, I just met with Jon [Favreau] one time, talked things out and I've recorded some lines for the movie, not knowing anything about it," the actor said. "Then, one day, when 'Iron Man I' was released, my friends started to tell me: 'You're in 'Iron Man'!' and I kept saying 'What? No, I'm not!', and then, after I saw the movie, I've realized, that I've had quite an interesting part in this movie."

"With 'Iron Man 2′ it was kinda the same, but now I knew what I was working on. After I recorded another pair of lines with Jon, we would go to some place, have some drinks & fun. He's really a nice guy!"

Of course he was also asked about "The Avengers," and confirmed his involvement in the 2012 team-up movie.

"Yes, I am involved in this project," he said. "Don't know when we will start though, usually they [guys at Marvel] call me, when they're almost finished with the movie, so we will see where this goes."
[From MTV]
Cute, right? I love his interviews, I love his voice, love his ginger, love his corpsey hotness. I'm sorry to just be so flat-out gushy, but there you go. He's magnificent. I don't know when his wife Jennifer Connelly is due, but I suspect she's got another few months to go, that's why Paul isn't all over the place promoting Priest – because he wants to be at home with his family and his pregnant wife. And that's why we love him.
Here's the trailer for Priest: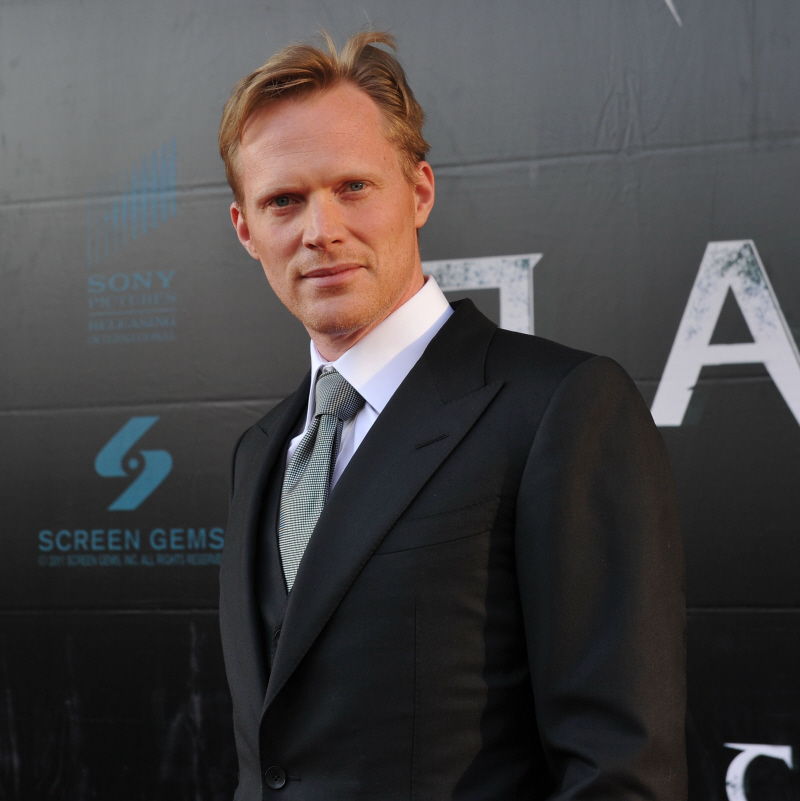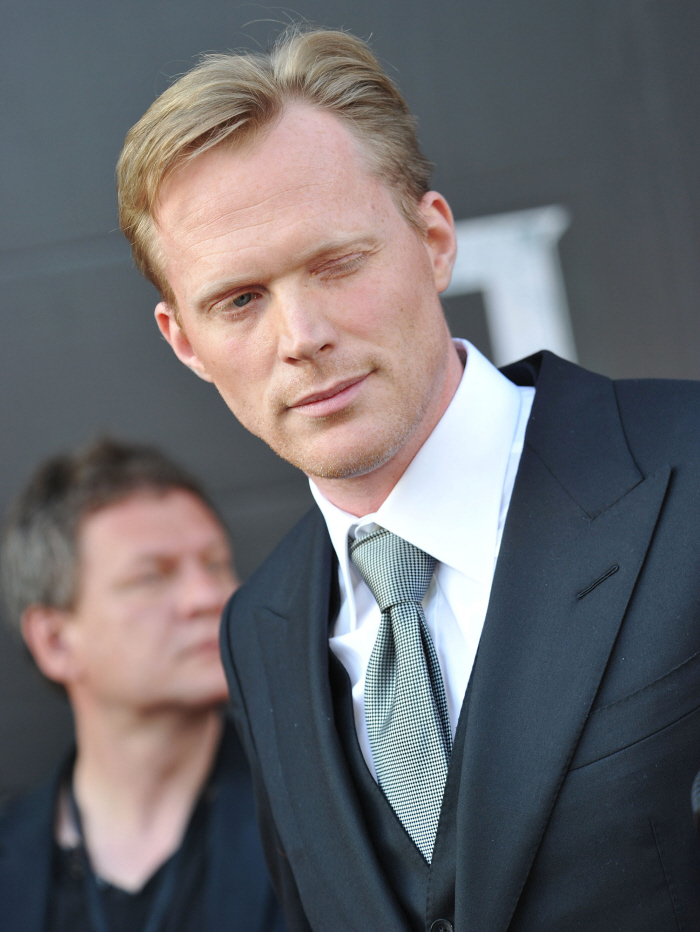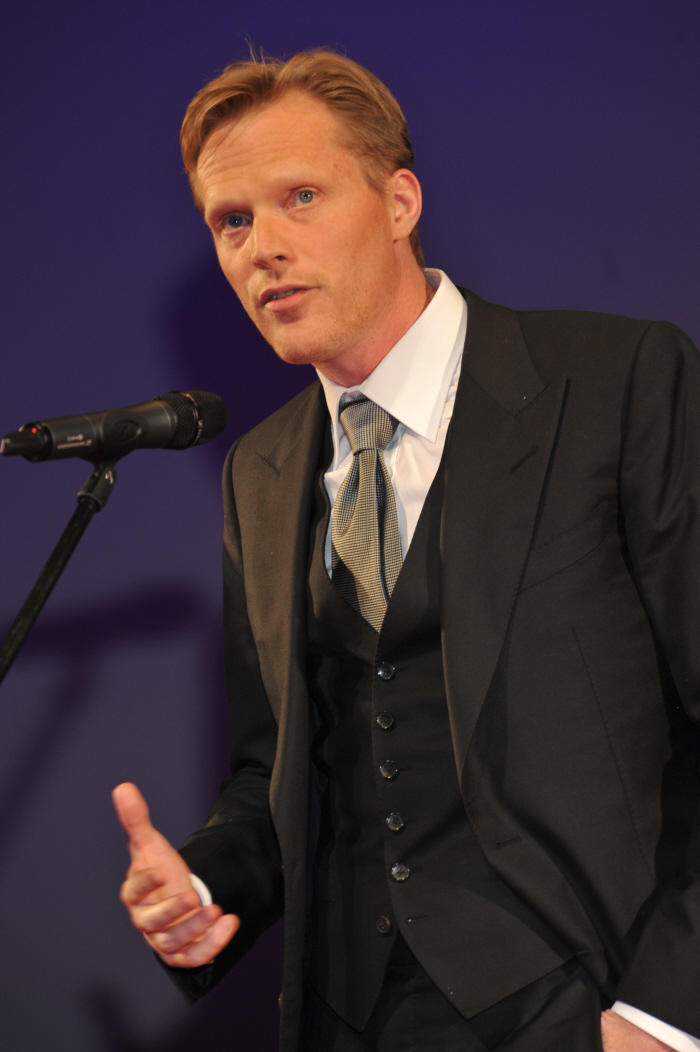 Photos courtesy of WENN.