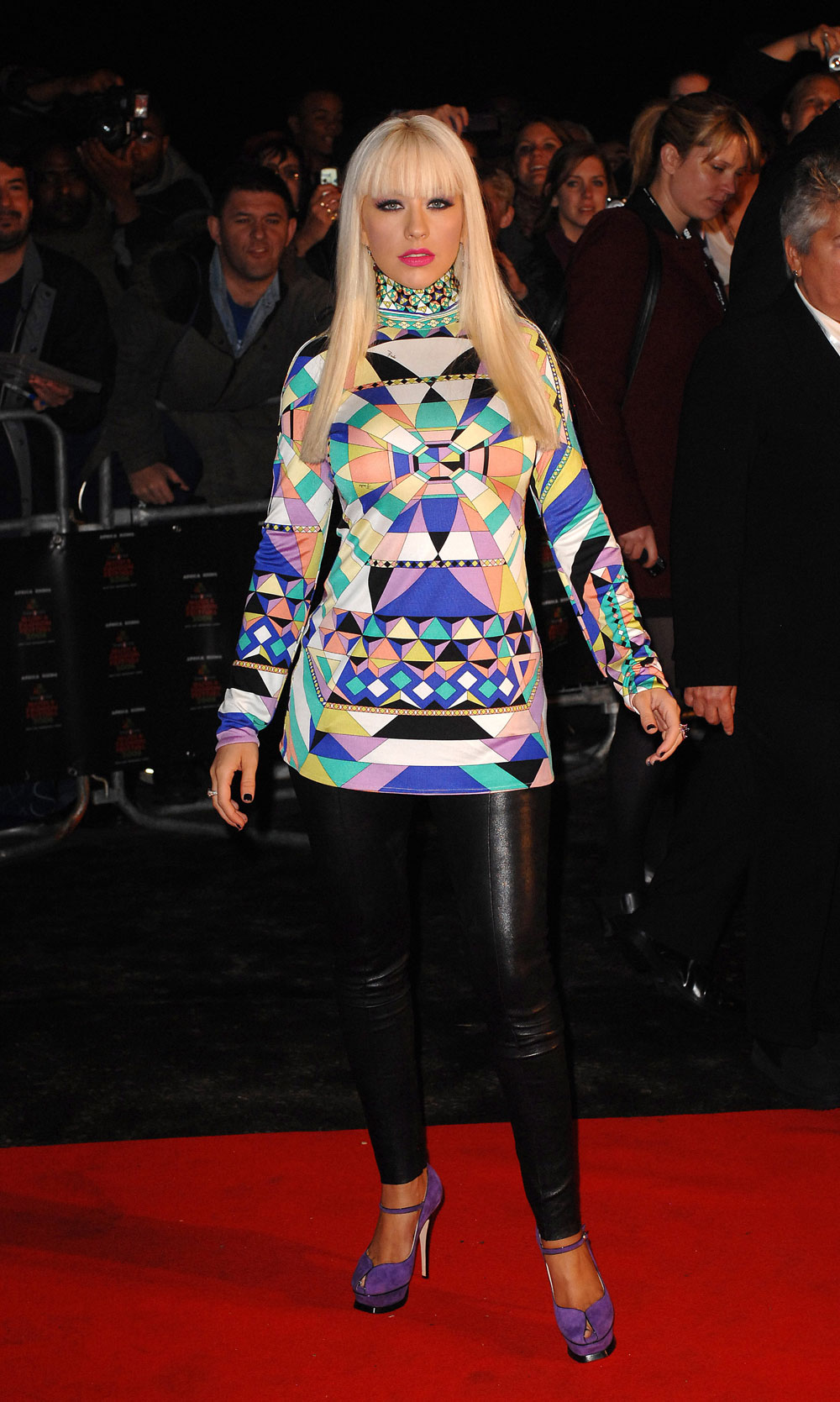 Christina Aguilera performed at the Africa Rising Festival in London last night. She showed up to her gig in a mesmerizing Pucci Kaleidoscope-style shirt paired with shiny black leggings and purple heels. The 27 year-old songstress who is rarely seen without pounds of makeup told reporters that she plans on having another child. She already has a ten-month-old son, Max Lion, with her husband of three years, music executive Jordan Bratman. She seems very dedicated to her son and talks about how much wonder he has for the world:
"Absolutely, we'll definitely have more kids," she told PEOPLE at the Africa Rising concert in London Tuesday. How many? "I don't know. We'll play it by ear."

For now, the singer, 27, is enjoying her time with Max.

"I'm in love with my life," she says, although parting with her son to perform can be a drag. "But Mama has to work, Mama has to do a job."

She adds, "I think it's important to share what I love – what makes me me – with my son. So. I change diapers and I breastfeed him and I play with him and then I work. I want to show Max everything about me."

Aguilera, who married music exec Jordan Bratman in 2005, says Max inspired her upcoming album. "It's all about color and life. Everything's a playground for him. Everything is color and fun."

How did Aguilera regain her body after baby? "You try," she says. "Working out. Trying to eat as healthy as possible. I'm a junk food queen."
[From People.com]
Aguilera is not my favorite celebrity, but she's definitely talented and you can tell that she really loves her son and cherishes him. It's nice to see stars once known for diva behavior, like Aguilera and Nicole Richie, soften up once they have children. And if they want more than one child, more power to them. Now that Aguilera's sweet little boy has changed her life she would do well to change her look up and lighten up on the makeup too. Just switching your lipstick from bright red to bright pink doesn't count.
Christina Aguilera is shown performing at the Africa Rising Festival at the Royal Albert Hall in London on 10/14/08. Credit: Samir Hussein/WENN