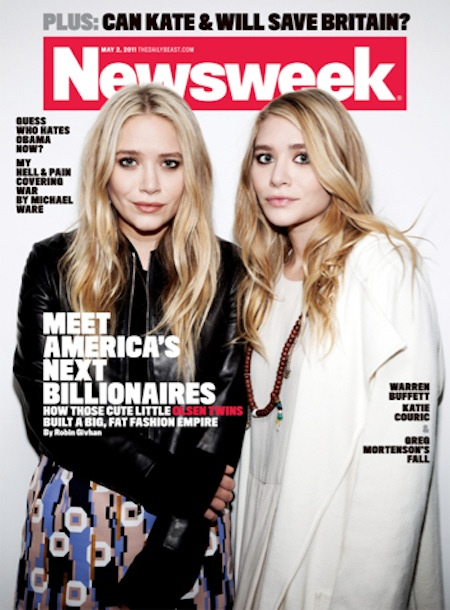 The Olsens made the cover of Newsweek! Can you believe it? They got the cover because of The Row, their luxury clothing line which is the crowning achievement of their billion-dollar company. You can read the full piece at Newsweek here – I was hoping for a good interview, but for the most part the piece just reads like dry copy about Mary-Kate and Ashley's company and what people think about it. The quotes are few and far between, but if you're interested in fashion, the business of fashion and entrepreneurship, it's definitely worth a read. Here are some highlights:
The collection [The Row] —embraced by older women with little patience for celebrity frippery—has been worn by business executives and first lady Michelle Obama.

Critical validation has come in the form of a nomination from the Council of Fashion Designers of America as the year's best new womenswear designers. They have been recognized alongside Joseph Altuzarra, who worked at Givenchy, and Prabal Gurung, a Bill Blass alumnus. The winners will be announced in New York on June 6.

The Olsens, who will be 25 in June, did not go to fashion or art school. They have built a considerable reputation by obsessing over darts (they hate them), gamely absorbing the blows of skeptical retailers, and keeping their celebrity mostly under wraps. They also have become champions in a longstanding effort to save this country's garment factories. In 1965, factories in America produced 95 percent of the clothes sold in this country, according to savethegarmentcenter.org. Today, only 5 percent of the clothes sold here are produced locally. The future of New York's garment center is no longer in mass production, activists argue, but rather in small-scale, high-end manufacturing that relies on skilled artisans.

The Olsens have taken up this blue-collar cause by producing their collection in factories in New York and, to a lesser degree, Los Angeles. (Their handbags are produced in Italy, as are a few of their superfine knits.)

"I really believe in our being able to create here and utilize the skills that people have here," says Ashley. "The skill set is here. Our main issue is that some of the machinery is gone, so some knitwear is produced in Italy. But whether it's clothing or cars, I believe in manufacturing as close to home as possible."

Their holding company, Dualstar Entertainment Group, was created with their then-manager, Robert Thorne, when they were about 6 years old as a vehicle for selling Olsen-branded merchandise and projects. By age 10, they had a line of clothing in Walmart; eventually they branched out with a contemporary line called Elizabeth & James, named after their siblings. At 18, they took over Dualstar, buying out Thorne.

"Thank God our parents wanted us to be involved," Ashley says. "Running a fashion company, it's just as important to understand numbers as it is to have a design point of view," Mary-Kate says. The company now has annual sales of $1 billion, according to Forbes.

The Row, founded in 2006 and named after Savile Row, began with Ashley's search for a perfect white T shirt: fashion's holy grail of fit, comfort, durability, and price. She was dissatisfied with what was available, and a business was born. That first collection consisted of jersey T shirts and knit leggings. It evolved into a line of intricately woven fox jackets, cashmere sweaters, wool and mohair dresses, and leather leggings for which women are willing to pay $1,700.

The Row might best be described as the Gap meets Jil Sander: basic, minimal, adult, and extremely expensive. A jersey T shirt: $290. A cashmere and mink sweater: $5,900. And for fall, while "debt" and "unemployment" are on the tip of everyone's tongue, the Olsens have introduced more fur, more cashmere, raising their overall prices by as much as 25 percent.

Their customers can afford it. While most designers thrill to say their core shopper is a 25-year-old woman, The Row's main customer is 35 to 45 years old. Instead of encouraging women to cling to their slacker years, the Olsens want them to luxuriate in their most productive ones. That point of view is rare. Most young designers create collections for their contemporaries—or some fairy-tale version of them. And even as designers grow older, they tend to shift their focus to women who are their junior. The Olsens seem to revel in the promise of maturity. Their work avoids high-society, leisure-class clichés. Instead, it evokes a professional, tailored, hail-a-cab-in-the-rain reality.

Instead of trying to leverage their fame, the Olsens hid it—most notably by not putting their name on the label. "Initially, I wanted someone else to front the brand," Mary-Kate says. "We wanted someone else to rep it. But we couldn't lie."

In their showroom, which is in the offices of Dualstar, the Olsens do business around a banquet-size table decorated with a bouquet of white roses and lilies. Ashley tends to zero in on the technical aspects of the collection. Mary-Kate is more likely to highlight pure aesthetics. Both, however, are adamant about what they want the collection to be.

"We really want The Row to be an American luxury brand," Ashley says. "We believe in not just American by representation but American by make."

To that end, the Olsens traveled to Washington last year, where they lobbied the East Wing on the importance of the garment center: fashion provides New York with 28 percent of its manufacturing jobs. It puts $10 billion annually into New York's economy.

Who knows… the next time the first lady wears a dress by an American brand, she might also make a point of saying it was made in America. In the meantime, the Olsens apparently have already won Mrs. Obama's respect in a very public way. She wore their pleated skirt when she appeared in April on The View.
[From Newsweek]
I don't think I realized the American clothing manufacturing statistics were so harsh. Yikes. Give the Olsens an award, damn it! They're bringing back American manufacturing, one $6000 t-shirt at a time! (Double yikes.)
By the way, while I think Mary-Kate was talking about taking themselves out of the equation as far as business, being the corporate face of the brand, I also think they would be wise to not be the FASHION face of the brand. Because while I think The Row is impeccably made, their clothes always look like hell on them.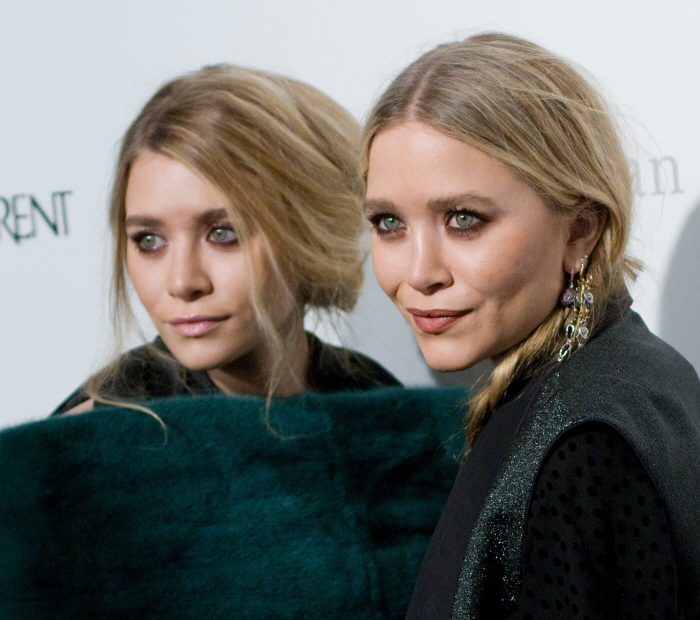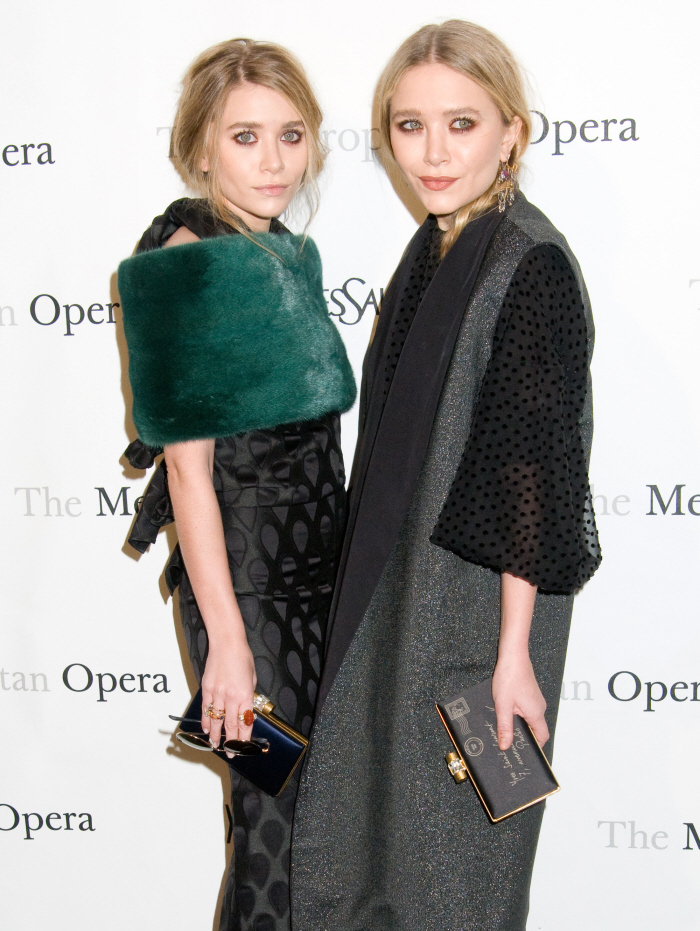 Photos courtesy of WENN. Newsweek cover courtesy of CoverAwards.