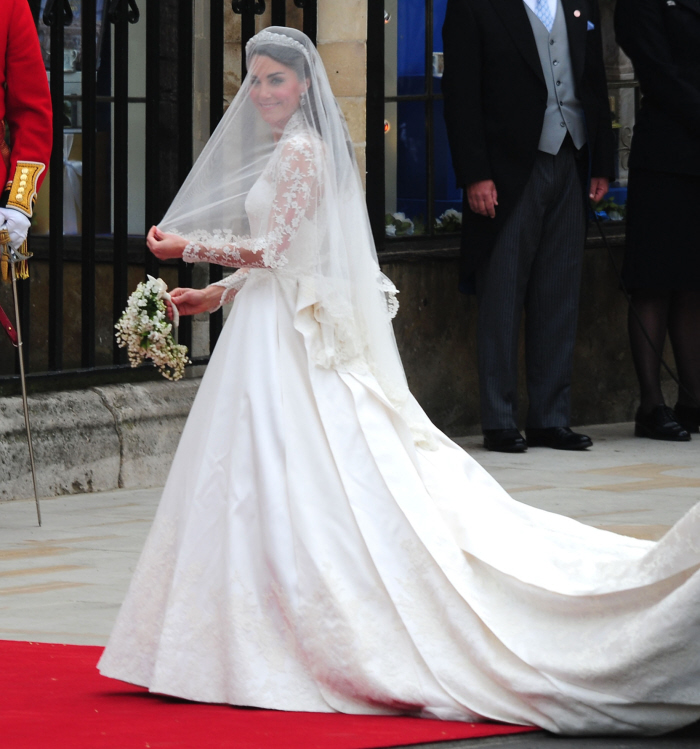 Ooooooooooooooooh!!!! Kate Middleton did choose McQueen (Sarah Burton for McQueen). There are lace sleeves, a flattering V-neck, a longish-train (but not super-long). Kate, HRH The Duchess of Cambridge (YAY!!!), is wearing the "Cambridge Knot" Tiara. Wait… People Mag says the tiara is the Cartier 'halo' tiara, which belongs to the Queen. Maybe it's both? I don't know.
Okay, I'll eat my words. I didn't think Kate would be fashion-forward enough to wear Burton for McQueen, but she did. Of course, this looks nothing like traditional McQueen. The dress looks quite a bit like Grace Kelly's famous long-sleeved lace-bodice wedding gown.
I appreciate the simplicity of Kate's gown, the austerity of her veil. She doesn't really look like a future queen to me, but she does look very pretty. Oh, and her hair is mostly down, but I think part of it is held back by the tiara…? Very nice.
More about the gown, from People:
The dress is composed of French Chantilly lace and English Cluny lace throughout the bodice, skirt and underskirt. The skirt, made of ivory and white satin gazar, was designed to emulate an opening flower: padded at the hips, it flowed out to the floor. The back of the dress was finished with 58 gazar and organza covered buttons fastened by Rouleau loops.

Kate wore her brunette locks in cascading curls. She topped the look with a ivory silk tulle veil, which was trimmed with hand-embroidered flowers. It was held in place by a Cartier 'halo' tiara, lent to Kate by the Queen. She also wore diamond drop earrings by Robinson Pelham, a gift from her parents. Her handmade shoes, also McQueen, were composed of ivory duchesse satin and lace.
Oh, yeah. THE MAKEUP IS HIDEOUS. HRH The Duchess of Eyeliner, Raccoon McWaity. I HAD to say it.
I LOVE Pippa's maid of honor gown. That would make a beautiful wedding gown.