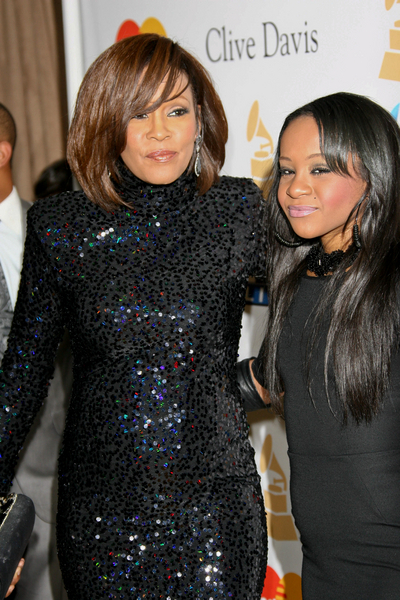 Before I get into this, let me say that the "gun battle" part is misleading in that a gun was drawn by Whitney's adopted son (allegedly to stop other kids from fighting) but it's not like they were caught in some crossfire. Still, both Whitney's son and her troubled daughter, Bobbi Kristina (aka Krissi), 18, were cited by cops after a fight with some of their associates in a gas station parking lot. Krissi faces charges for underage drinking and could potentially get six months in jail, although that probably won't happen. Whitney's son, Nicholas, 22, is facing more jail time under a weapons charge and Bobbi's ex boyfriend is charged with battery. Here's what went down, and it all sounds scary and like someone could have been shot.
The Enquirer has exclusively obtained the official police report… and spoke to a key witness to get the chilling details of the violent encounter.

It began when Bobbi and three male friends were in a Honda pulling out of a subdivision. They were spotted by Bobbi's ex boyfriend Max Lomas, who was in another car with Nicholas Gordon, the adopted son of Whitney Houston.

The Honda came to a stop at a red light, and the front-seat passenger Justin Walls claimed that Lomas approached the vehicle "and tried to punch him in the face while they were waiting on the traffic light to turn green," according to the police report.

Soon both cars pulled into a local Chevron station – and all hell broke loose. Walls charges that Lomas rushed him and hit him in the face several times.

According to the police report, Walls "was bleeding from the mouth and appeared to have a chipped tooth." A pal tried to help him "and was struck several times by Lomas."

Gordon told officers he waved a gun in the air, attempting to stop the fight, and also pointed it at another boy's legs. Police located a Glock 19 handgun in the glove compartment of his vehicle and also found ammunition.

The police were called to the scene [at about 4:00 am on April 1] by the gas station's terrified night manager Touray Bassiru, who spotted Gordon with the gym. The first officer to arriver at the Chevron station, which is less than a mile from Whitney's home, ordered Bobbi and five others to lie on the ground while backup arrived…

Officers smelled alcohol on Bobbi and she agreed to take a Breathalyzer. The test showed she was extremely drunk, with a .215 blood alcohol level – almost two and a half times the legal limit for driving. [Ed note: she was not accused of driving]. And since the drinking age is 21, 18 year-old Bobbi was cited as a minor in possession of alcohol.

She will appear May 24 at… court alongside her brother, 22 year-old Nicholas, and her ex-boyfriend Max, 21, who faces battery charges.

While Bobbi could do six months, her bother, Nicholas, if convicted of weapons charges, could serve up to one year.
[From The National Enquirer, print edition, May 16, 2010]
Nice crowd Whitney's kids are hanging with, but it sounds like her kids are just as bad as any of them. Meanwhile we've heard that Krissi, 18, is best friends with Laurence Fisburne's estranged daughter, Montana, 20, who made headlines last year by launching a career as a porn star and being super proud about it. Supposedly Montana wants to get Krissi into adult films too. Meanwhile Krissi has some sort of reality show brewing although I doubt there were cameras with her at this 4am gas station parking lot brawl.
photos are from 2/12/11. Credit: PRPhotos