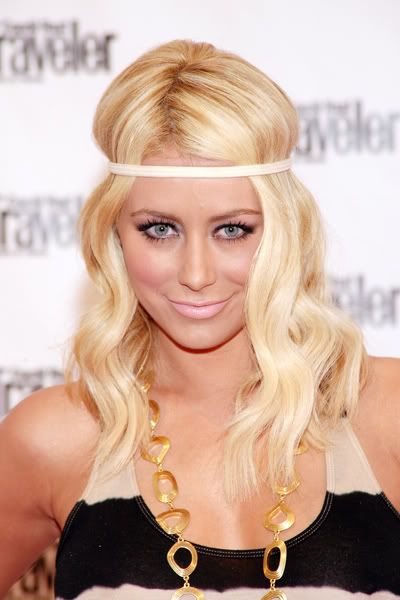 Aubrey O'Day achieved fame on Diddy's MTV reality show Making the Band, as the lead singer of girl group Danity Kane. O'Day has since done all she can to make a name for herself as a tramp. As we previously reported, Aubrey recently granted an interview to Complex magazine, and posed for some questionably hygenic pictures for the write up. Diddy has since decided that Aubrey isn't what the mogul ordered.
Danity Kane members Aubrey O'Day and D. Woods got the boot on Tuesday night's live season three finale of Making the Band.

"Puff did not like [O'Day's] image…where her image was going for the group," Dawn Richard – one of the three remaining bandmates – tells Usmagazine.com exclusively.

"It wasn't a personal thing," Richard continues, saying her sexy look (the singer posed topless in Complex last month) was alienating young fans.

"We had just did a signing with Dollhouse Teen, which is for 13, 14-year-old young girls," Richard says. "So we can't do that one day and then the next day do an obnoxious cover…. [Diddy] wants the fans, and he says he can't do that if we can continue to go in the direction that we were going."

Diddy pointed to O'Day's attitude as a reason for getting fired.

"I just want to work with the young lady that I signed, not the person that fame has made her," he said via satellite on Tuesday's show:
[From US Magazine]
I'm not going to argue the decision. Aubrey O'Day outgrew the interesting phase about 10 minutes after she entered it, and that's being generous. She has pushed her celebrity far past where it should have been by cultivating the image of not just a sexually liberated woman, but a tramp. It's her schtick and just about all she has going for her. Her vocals are completely generic and Danity Kane will have no problem replacing her.
Replace? Yes, replace. Danity Kane will stay together and continue on without O'Day and one other member of the group. That brings this back to what I speculate is the real reason for the dismissals, Season 4 of Making the Band. Diddy wasn't labeled a mega mogul for nothing.
Aubrey is shown at at Conde Nast event on 10/15/08 in NY. Credit: Sylvain Gaboury / PR Photos