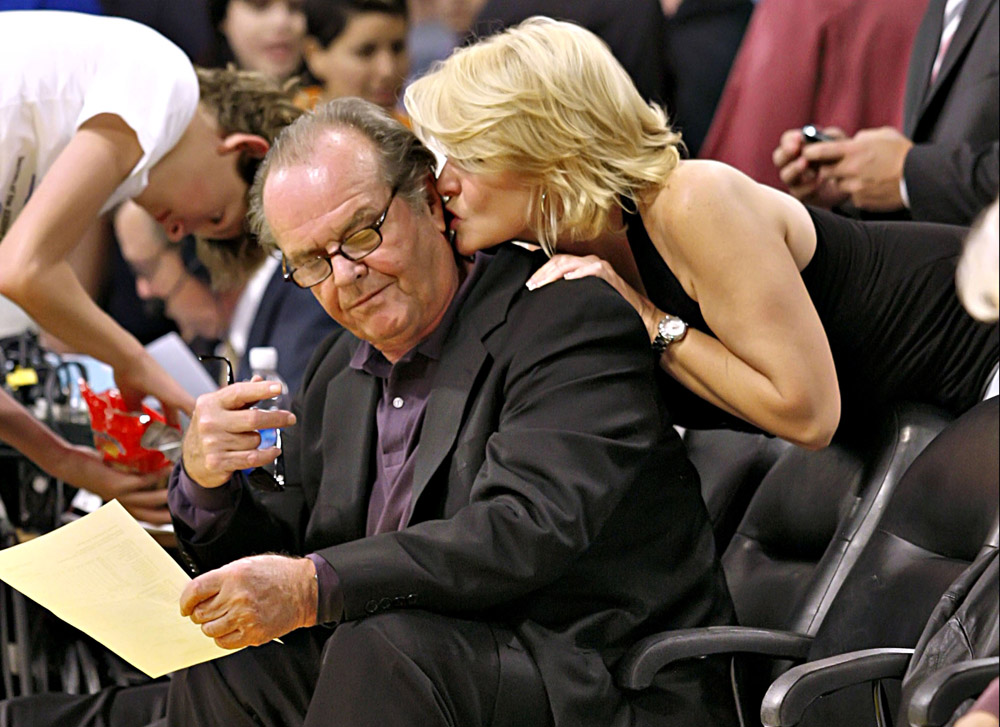 Jack Nicholson at a Laker's game on 6/12/08. Credit: Fame
Jack Nicholson has come to a realization that comes to all of us at some stage of life, but for most of us it comes a little earlier. When you start getting on in years, you get a bit tubby and you lose your hair, and it can be hard to pick up chicks and still look respectable. Or even just not pathetic.
The womaniser believes it "doesn't look right" when he tries it on with women who are usually half his age.

The "shy" Oscar-winner said: "It's not so nice when you are 71 and looking for some action.

"I feel uncomfortable doing it in the limelight — so from now on I'll do it when it's right.

"Happily, when it comes to girls hitting on me, I'm not undernourished."
Maybe Jack could try and approach women who aren't half his age?
The good news for Jack is that women still approach him. I'm not sure that the women are as young as they once were, and I suspect his 'Living Legend of Sex' title doesn't do him any favours. Maxim awarded this to Jack, suggesting that he had an impressive 2,000 sexual partners, and at least 6 children by 5 different women. Jack himself has said he could have as many as 9,000 children. Frankly, when a man confesses this, It just makes me want to find the world's biggest piece of latex and protect him from himself.
Still, Jack gives hope to us all. I like the fact that at 71 he's still at it, the tiger. We should all be so healthy, and lucky, in our 70s.
Here are some classic images of Jack Nicholson. Thanks to BauerGriffinonline