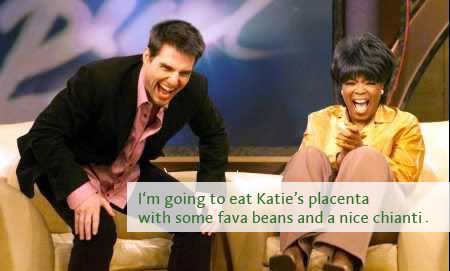 Tom Cruise brought his crazy public image to new heights by declaring in his GQ interview that he's going to eat Katie's placenta:
He told GQ magazine: "I'm gonna eat the placenta. I thought that would be good. Very nutritious. I'm gonna eat the cord and the placenta right there."
But, it seems Tom may have bitten off more than he can chew with his bold declaration.
The interviewer pointed out that a placenta is rather large, so Tom replied: "OK, maybe I won't."
He obviously realized how scary he sounded and tried to back down. He'll have to chow down and leave right afterwards. He plans to promote the hell out of MI3, and will appear next Monday in Rome for the film's first premiere.
Here's Katie shopping in Beverly Hills. [via]
Was she impregnated with L. Ron's sperm?! It seems more likely.