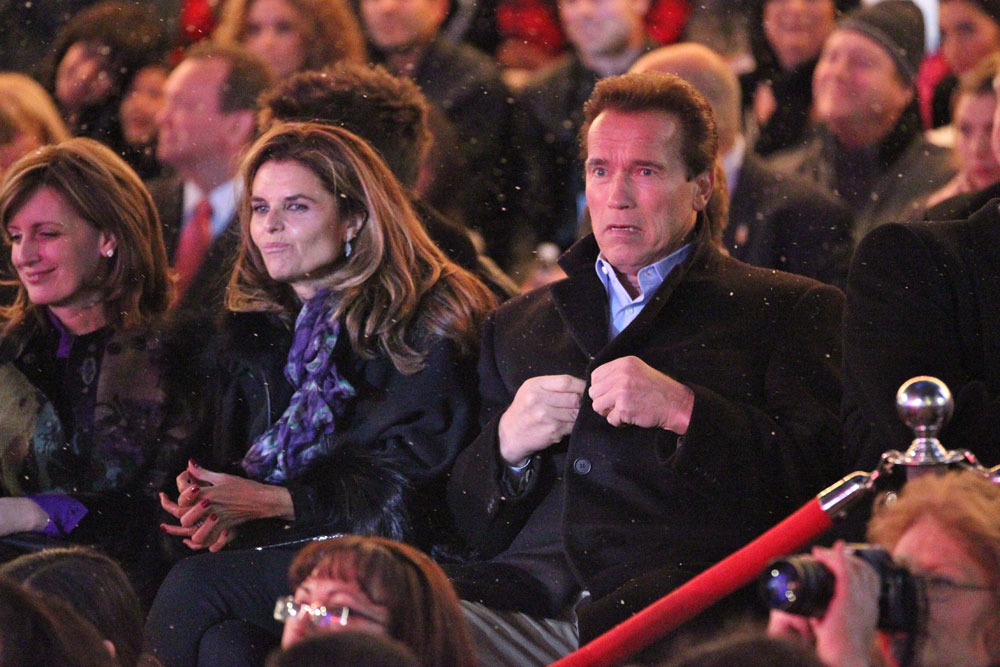 The Arnold Schwarzenegger and Maria Shriver divorce just got a lot more scandalous. The (former) Governator just issued a statement acknowledging that he has an over ten year old child with a member of his household staff. Arnold also admitted that he didn't inform his wife of this fact until after he left office in early January. Plus – the woman who had Arnold's illegitimate child worked for their family for 20 years and didn't leave her post until January! This explains why Maria moved out earlier this year. She probably knew and trusted this woman and to learn that both the staff member and Arnold had been hiding the fact that the child was Arnold's must have been devastating for her. Maria probably even knew the child! We've heard plenty of rumors that Arnold was a serial cheater, but this goes beyond all that. It looks like all those blind items were true.
Former California Gov. Arnold Schwarzenegger has acknowledged that he fathered a child with a member of his household staff, a revelation that apparently prompted wife Maria Shriver to leave the couple's home before they announced their separation last week.

Schwarzenegger and Shriver jointly announced May 9 that they were splitting up after 25 years of marriage. Yet, Shriver moved out of the family's Brentwood mansion earlier in the year after Schwarzenegger acknowledged the child is his, The Los Angeles Times reported Tuesday.

"After leaving the governor's office I told my wife about this event, which occurred over a decade ago," Schwarzenegger told the Times in a statement that also was sent to The Associated Press early Tuesday. "I understand and deserve the feelings of anger and disappointment among my friends and family. There are no excuses and I take full responsibility for the hurt I have caused. I have apologized to Maria, my children and my family. I am truly sorry.

"I ask that the media respect my wife and children through this extremely difficult time," the statement concluded. "While I deserve your attention and criticism, my family does not."

Schwarzenegger's representatives did not comment further. A spokesman for the former first lady told the Times she had no comment.

The Times did not publish the former staffer's name nor that of her child but said the woman worked for the family for 20 years and retired in January.

In an interview Monday before Schwarzenegger issued his statement, the former staffer said another man – her husband at the time – was the child's father. When the Times later informed the woman of the governor's statement, she declined to comment further.

The child was born before Schwarzenegger began his seven-year stint in public office.

Shriver stood by her husband during his 2003 gubernatorial campaign after the Los Angeles Times reported accusations that he had a history of groping women. Schwarzenegger later said he "behaved badly sometimes."

In his first public comments since the couple announced their breakup, Schwarzenegger said last week that he and Shriver "both love each other very much."

"We are very fortunate that we have four extraordinary children and we're taking one day at a time," he said at a Los Angeles event marking Israeli independence. Their children range in age from 13 to 21.

Since his term as California governor ended in early January, Schwarzenegger, 63, has hopscotched around the world, his wife nowhere in sight. While the "Terminator" star appeared confident about the future since exiting politics, cutting movie deals and fashioning himself as a global spokesman for green energy, Shriver, known for her confidence, seemed unsettled.

Shriver, 55, maintained her own identity when her husband entered politics, though she gave up her job at NBC. Their union was often tested in Sacramento, where the former action star contended with a rough seven years of legislative gridlock, a budget crisis and lingering questions about his fidelity.
[From AP via Huffington Post]
The tabloids really missed the boat on this one. The Enquirer ran a story last week that Maria caught Arnold cheating in 2001 with an actress named Gigi Goyette, but I'm sure there were plenty of others. Maria is also said to have been upset that Arnold was making movies again after promising that he'd spend time with his family after he left the Governor's office. Plus she gave up her career as a TV journalist to support Arnold, never knowing that he had a a child outside their marriage.
Can you imagine learning that your husband was not only carrying on an affair for years, in your house, with someone you knew and trusted, but that he had a child with her? I want to say that I hope Maria takes Arnold's ass to the cleaners, but that's not going to make a difference. She's wealthy in her own right and getting a chunk of his money might not help ease the pain and disappointment at all.
This makes me wonder why Arnold went public at this point though. Was the woman demanding a payoff? Did Maria put him up to it? I doubt she would want to make this public knowledge. The LA Times broke this story and interviewed the woman, so maybe Arnold thought he should own up to it before it hit the press.
Header photo is from 11/21/10. Other photos are from 5/11/11. Look at that swagger. Credit: WENN.com