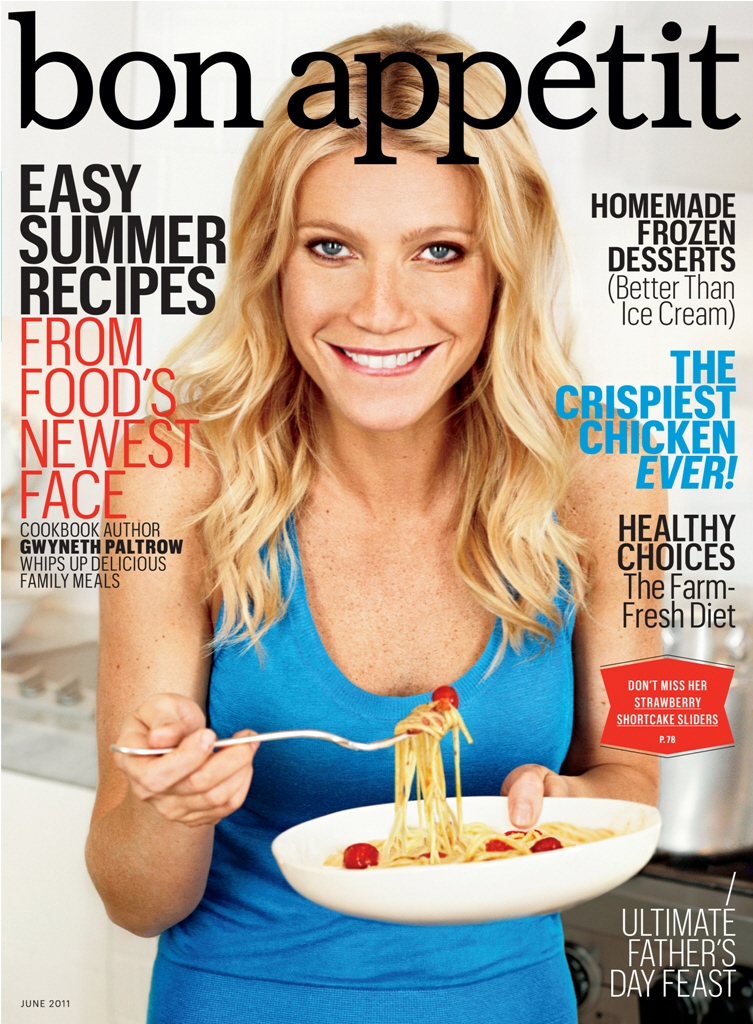 Gwyneth Paltrow covers the new issue of Bon Appetit, because, you know, she's a master chef now. The photo shoot is okay – it looks a lot like the one she did with Vogue last year, only there's less WHITE. Gwyneth looks colorful and healthy, like she isn't racked with vitamin deficiency and bird-like bones. I do like that she's biting her lip on the cover. It reminds me of Kristen Stewart. It also makes it seem like Gwyneth is just about to laugh at all of us for almost buying her "I'm one of you, I can act like a peasant too" act. She's having a giggle because she thinks she's pulled it off. You can read the full article here, and see the slideshow (of Dame Goop cooking) here. Here's an excerpt from the article:
She'll tell you herself: She's not Wonder Woman. "Don't know how that rumor got into the papers," she says of the magazine project. "It could not be further from the truth. I literally do not have time to bathe let alone start a magazine."

Oh, yeah—time. That can be hard to find when you're raising two kids and your husband, Chris Martin, is the lead singer in one of the world's biggest bands, Coldplay. (Martin makes a brief appearance during the shoot post-morning workout, breezing into the kitchen amid the lights and stylists to crank up a purple energy shake in the family's Vitamix blender.)

As a cook, Paltrow has vacillated between obsessively health-minded and just-like-the-rest-of-us indulgent, finally settling somewhere in the sensible middle. When her father, the late Bruce Paltrow, was diagnosed with throat cancer in 1998, she immersed herself in research of all things good for you, hoping, as she writes in her book, to heal her dad: "Of course I couldn't cure him, but I found that my body felt really good." She ended up going vegan for several years—that is, until she became pregnant, at which point grilled cheese and Baskin-Robbins Jamoca Almond Fudge ice cream won out. When she began raising her children, Apple and Moses, she wanted them to eat well and enjoy food. "Could I use some butter and cheese and eggs in my cooking without going down some kind of hippie shame spiral?" she writes. "Yes, I could."

Few of Paltrow's recipes—which she develops with her kitchen assistant Julia Turshen, whom she credits prominently in her book—are what you'd call complex. And that's by design. There's a fresh simplicity to them; they're healthy-ish without being preachy. In the book, for instance, she gives a great recipe for an oyster po'boy, but also provides a vegan option. And she has recipes for dishes like roasted fish with salsa verde, chicken and dumplings, and spaghetti alle vongole. If you like Jamie Oliver or the River Cafe cookbooks, My Father's Daughter will speak to you.

What's most engaging about Paltrow's recipes is that there's usually a reason and a story behind each. "It's how I think as a cook," she says while slicing grilled chicken breasts on the bias, just like a catering chef. "I wouldn't say I'm a very original thinker, but if I have a good experience with something, I'll want to take it further or adapt it in some way. I'm not going to be doing molecular gastronomy; I'm a wife and a mom and a home cook."

The only request Paltrow makes during the shoot is that it wrap by 3:00 p.m. so she can pick up her kids from school. At 2:58, we get the last shots of her. A few minutes later she reappears in beat-up jeans and a snug leather jacket, having transformed from cover girl to concerned mom. "You guys aren't going to let all this food go to waste, are you?" she asks the crew as she gathers up the chicken breasts and slides them into a mega Ziploc bag.

"Make sure you take some home with you. Okay," she says on her way toward the front door. "I gotta go! Gotta get the kids." And that's it. School's out, shoot's over. And the chicken is delicious.
[From Bon Appetit]
Several things surprised me in the article. One, Chris Martin made an appearance, and he didn't come across like a curmudgeon who despises his wife. Although… you notice that Chris isn't eating what Goop is cooking, right? Ha. Two, Dame Goop didn't name-drop anyone. It's been so long since I've read an interview with her where she didn't toss in a "My best friend Beyonce loves my spinach puree with sapphire truffle oil, but my dearest fishmonger told me that that I was the only one who could properly do the halibut with crème d'baby seal, which is what I did for my amazing friends Bill Gates and those Chilean miners."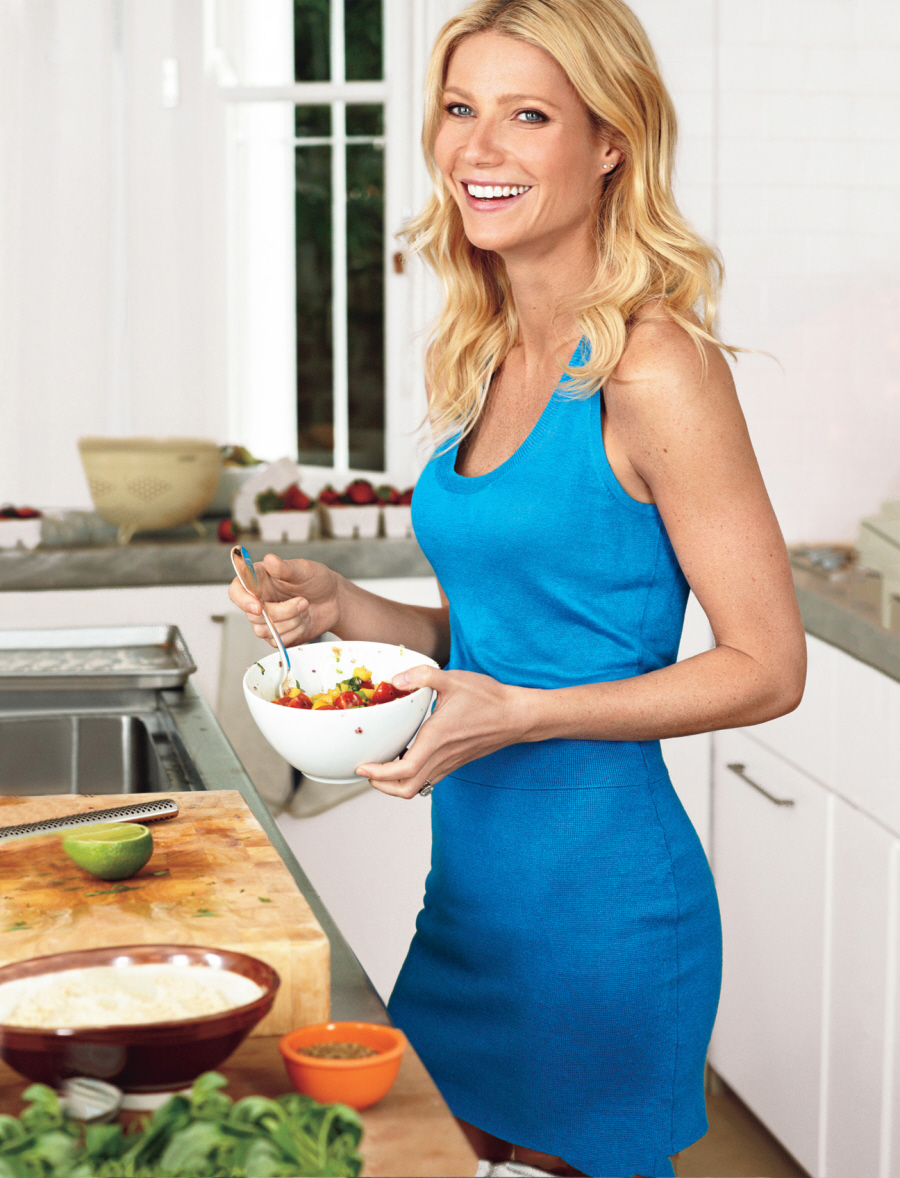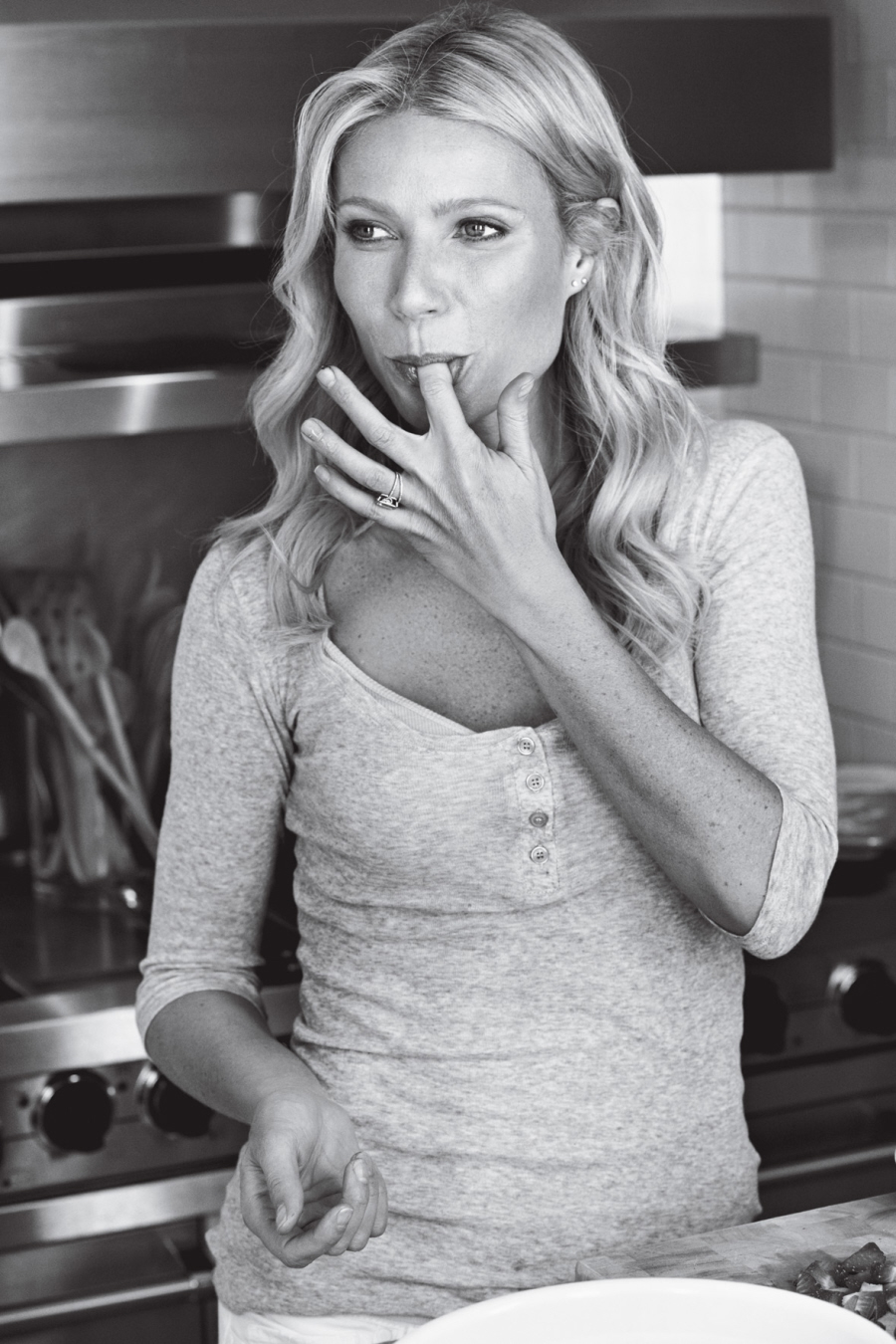 Photos courtesy of Bon Appetit.