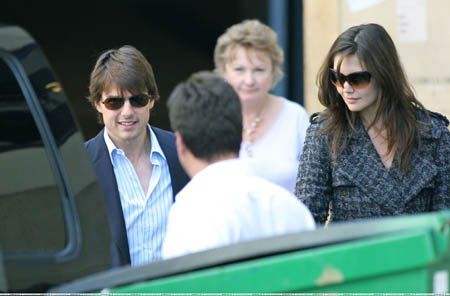 Tom Cruise has inked a production deal that could earn him $2-3 million a year for overhead. He will still have to find investors to make movies, however. This is a significant paycut for Cruise, who was dropped by his production company, Paramount, after its curmudgeon CEO cited his behavior as the reason for not renewing his contract. Blaming Cruise's antics seems to have been smokescreen. Reason dictates that Cruise wasn't worth the hefty paycheck and large amount of profits he demanded at a time when Paramount was cutting corners.
Cruise used to get $10 million a year for production costs from Paramount. When they cut their offer to $2 million he announced that he was starting his own venture. Now he has some unlikely investors, and insiders say this shows that his star value is fading fast:
The new deal is a fraction of the production contract Cruise currently receives from Paramount, underscoring the star's declining popularity at the box office. The investor group would provide Cruise with $2 million to $3 million a year to cover the overhead of his movie production company, according to a source familiar with the deal. Terms of the new deal were not disclosed Monday.
Cruise's new investors are Daniel M. Snyder, owner of the Redskins and chairman of theme park operator Six Flags Inc.; former ESPN programming chief Mark Shapiro, who now runs Six Flags; and real estate magnate Dwight Schar, a Six Flags director.
Cruise and his producing partner, Paula Wagner, must still find financing to make the movies they develop and a studio to distribute them…
"It all feels very knee-jerk," said an agency executive. "This feels very Plan C, maybe even Plan D. When you lose your studio deal and you get into business with amusement parks, that's a problem."
While I eagerly searched for evidence of involvement in the church of Scientology by Cruise's three main investors, I could find none. A Google search and search on TruthAboutScientology.com yielded no results for any of the three main investors. Dwight Shar, the director of Six Flags and owner of a home building company, is a big contributor to the Bush campaign, but that's the only cult he seems to be involved in.
Meanwhile research reveals that big-name actors don't deserve their huge paychecks. Besides, movies like "Harry Potter" do extremely well at the box office without featuring top stars.
New research shows what the rest of us already knew – actors like Mel Gibson, Nicole Kidman, and Lindsay Lohan make too much freakin' money. According to The New York Times, Sumner Redstone was correct in cutting Tom Cruise loose from Paramount Pictures last week, not because of his aberrant behavior, but because his star power doesn't deliver the box office goods.
"There is no statistical correlation between stars and [a film's] success," said S. Abraham Ravid, a professor of economics and finance at Rutgers University, who, in a study of almost 200 films released between 1991 and 1993, found that after eliminating other factors influencing the success of a film, a star had no impact on its rate of return.
First the end of swag, and now the death of the big movie star. What's the entertainment world coming to?
Here are Tom and Katie outside the Yahoo! offices in Santa Monica, in what I'm pretty sure are older pics, and some recent blurry ones of them having dinner at Orzo restaurant in Hollywood on 8/23.
Pictures from KatieHolmes.com.