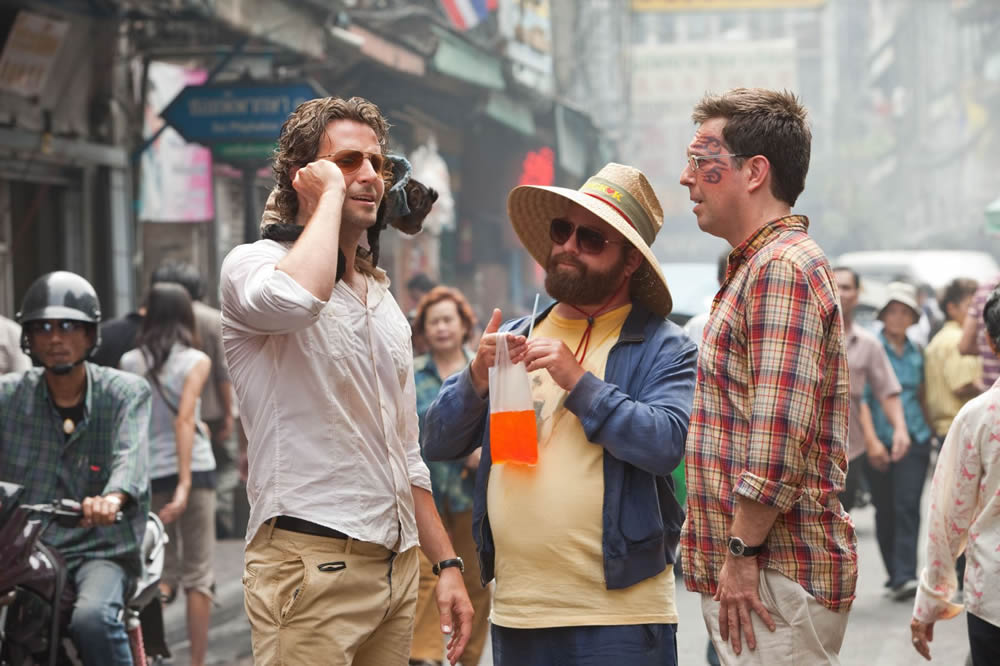 It was a weekend of sequels (which is quite indicative of what is to come during this summer's movie season record number of franchise follow-ups) at the box office. This holiday weekend's two new wide releases opened on Thursday instead of the usual Friday. In the end, The Hangover Part II landed an estimated $118.1 million for the four-day holiday weekend (not counting Memorial Day), which is significantly higher than the $80.5 million predicted by Box Office Mojo's derby game, which also predicted a second-place opening for the Bradley Cooper movie. In the end, Kung Fu Panda 2 summarily landed in second place with a $53.8 million four-day weekend cumulative take.
Naturally, these two sequels shall be compared to their respective predecessors. Kung Fu Panda opened in June 2008 to the tune of $60 million (with cumulative $215,434,591 domestic and $632 worldwide grosses) whereas The Hangover opened in June 2009 with an opening weekend of $45 million. However, positive word of mouth boosted Hangover's subsequent weekends to a fairly unprecedented hold that led to $277,322,503 domestic and $467,483,912 worldwide totals. So anticipation for this sequel was much higher than for the opening weekend of the first movie, and Memorial Day weekend did nothing but extend the party for The Hangover 2. Meanwhile, releasing on this particular holiday weekend probably caused Kung Fu Panda 2 to not live up to previous expectations because the vast majority of schools are still in session (unlike the home-schooled Jolie-Pitt clan), so a Thursday release didn't mean much in terms of kiddle-related ticket sales.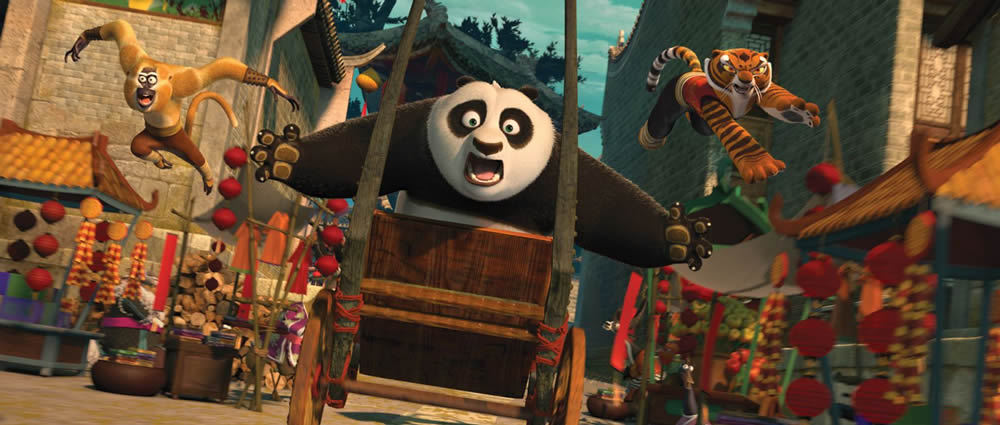 Also, Angelina Jolie as The Tigress mattered very little, since one can barely recognize her voice at all. She might very well be gorgeous and a talented actress, but Jolie's voice isn't very distinctive at all.
However, The Hangover Part II has not only won the weekend but also landed the weekend record as far as comedies go, which is sort of amazing considering that even the trailer revealed the film to be just like The Hangover itself. Indeed, the negative critical reception — 35% approval for the sequel vs. 79% for the first movie — reflects the near-universal consensus that the second film is a virtual carbon copy of the first one. Here's a particularly apt take from Dustin Rowles at Pajiba:
Movies can reshape our imagination, bring us to tears, render us lovesick, break our psyches, shock and horrify us, or draw out an emotional catharsis. The great power of film is its ability to inspire, to elicit laughter, to provoke thought, or to enable us to appreciate what we have or what's been lost. The great power of The Hangover II, on the other hand, is its immense ability to make us feel as though we've been robbed, ripped off, stolen from, sold a bill of goods, knocked out, anally violated and left for dead. It's not even that The Hangover II is a bad film; it's that it's a film we've already f&#*ing seen. Maybe you remember it. It was called The Hangover.

Sequels suggest continuations of stories; The Hangover II is not a sequel. It's a remake set in a different g**d*mn city. It's the same band singing the same song. All they did was add someone to play the wood block and tickle Brad Cooper's balls. The lyrics are slightly different, but no one even had the goddamn decency to change the chorus. It's not a new movie; they just repackaged the old one. It's like paying to replace your laptop with the exact same one, only the screensaver is an Asian tr-ny instead of a stripper Mom. It's like The Next Karade Kid starring Ralph Machio in the Hilary Swank role. You know what that's called? The Karate Kid.

What I don't get it, where is the outrage? People paid $13 to see something they'd already seen. Why weren't there reports from midnight screenings of audience members ripping out their seats, beating up old women, looting Rite Aids, and throwing batteries at movie theater managers? Have we grown so complacent that we will now idly accept a re-gifted movie? We're just going to shrug? That's what we're doing now? "Hey, why are you getting so worked up? Whaddya expect? It's Hollywood." You know what: Go f&@k yourself. Just because you're a f&@king [redacted] doesn't give that doucher Todd Phillips the right to treat us all like one.

If you've seen the first movie, then you know what's going to happen in the second film. The chief "difference" here is that it's Stu (Ed Helms) who is getting married, and the wedding takes place in Thailand instead of Vegas. And you know what they say about Bangkok? "What Happens in Bangkok, shut the f&@k up, douche."
[From Pajiba]
So far, it's only the critics who are complaining about the carbon-copy factor, so perhaps The Hangover fans just really wanted to rewatch the original? This would account for the lack of outrage coming from social media sites like Twitter. My suspicion is that The Hangover movies are such a departure from real life that they merely function as a stress-relieving two hours of comedy, and perhaps people don't care if they've heard all the jokes already. Then again, we'll really have to wait and see what happens with The Hangover 2 next weekend; if the drop off is steep, we'll know that (for the sequel, at least) word of mouth is negative rather than positive.
Meanwhile, Pirates of the Caribbean: On Stranger Tides landed in third place with $39.3 million for a two week domestic total of $152.9 million and $624 million globally, thanks to the worldwide appeal of one Johnny Depp. Bridesmaids $16.4 million for a three-week total of $85.0 million and Thor $9.4 millionfor a four-week total of $159.7 million.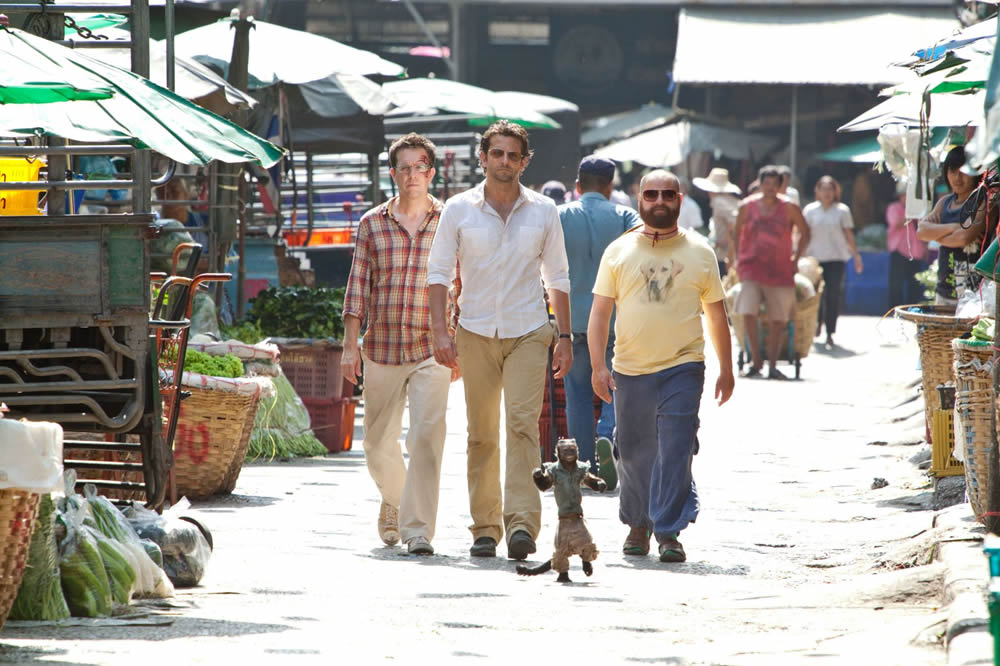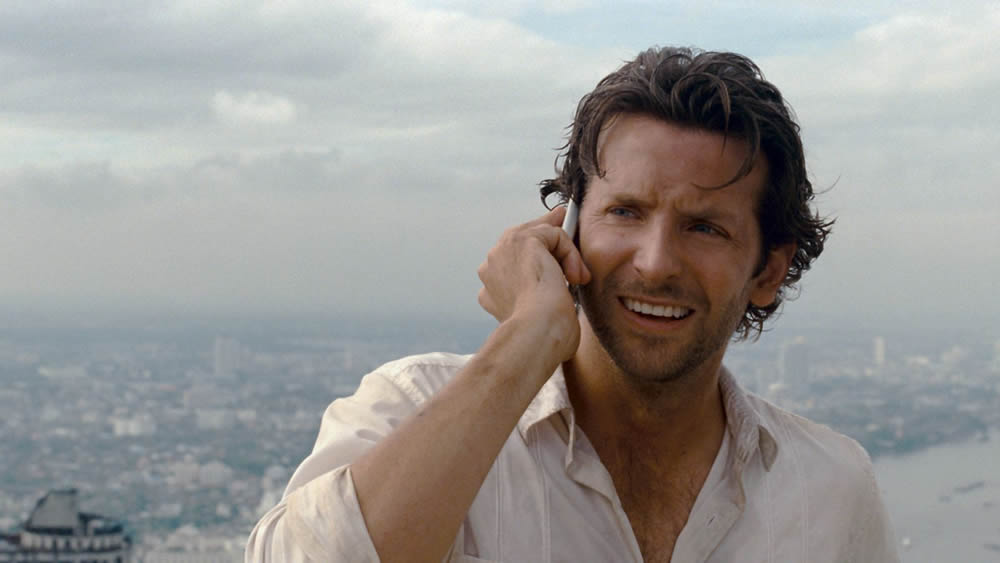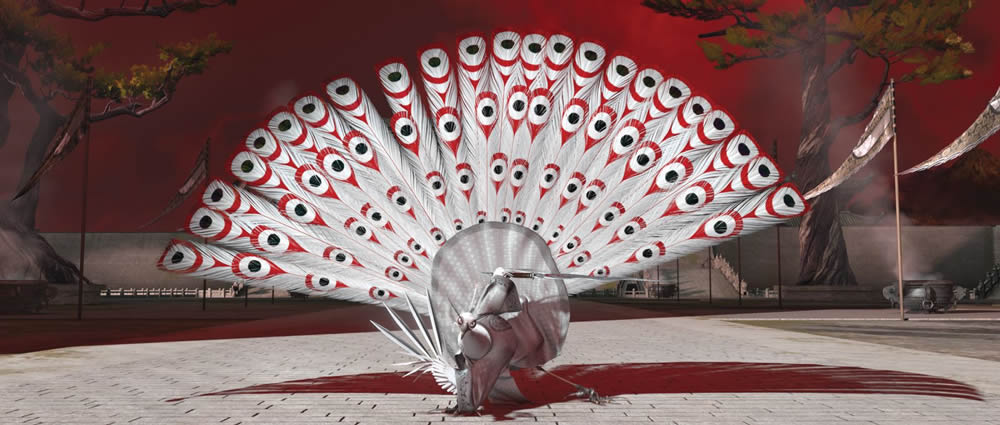 Movie stills courtesy of AllMoviePhoto