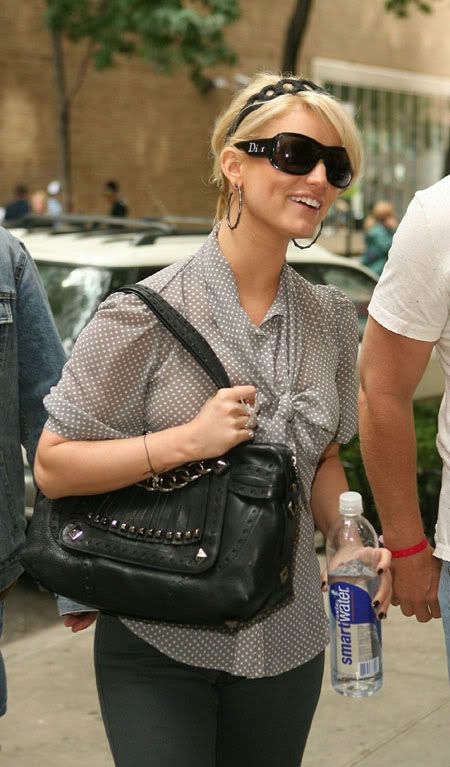 John Mayer posted an entry on his new blog on August 31st with the title "Really enjoying this song." The post was just the album cover from Public Enemy's "Don't Believe the Hype," an obvious reference to all the hoopla about his supposed relationship with Jessica Simpson, the news of which hit the tabloids at the same time as the the release of her new crappy album.
Mayer's website supposedly crashed as fans desperate for news about his relationship with Jessica Simpson swamped it, but it's up again now, and the entry is still there:
John Mayer's official Web site crashed Thursday, after the Grammy Award winner reportedly posted a mysterious message related to his new relationship with Jessica Simpson.
When rumors started circulating on the Internet that Mayer had posted something about Simpson on his blog, fans swamped the site, causing it to crash.
The singer simply had written "I'm really enjoying this song" and posted an image of Public Enemy's album cover for their song "Don't Believe the Hype."
The message said it was posted by the singer at 10:30 am on Thursday morning from New York City.
News broke about the budding relationship between the stars on Tuesday.
Simpson is reportedly telling friends she is in love with the singer.
A source close to Mayer tells Us Weekly, "They've only gotten together a handful of times over the last few weeks. But yes, they've made out."
A Simpson source tells the magazine that the couple have yet to consummate their new relationship.
Mayer's blog is thoughtful, but the prose is a little hard to digest. He writes in a psuedo-intellectual style that doesn't add much and just makes it a bit less accessible. He's into gadgets, sneakers, design, guitars, amps, old school funk and really loves the cancelled series "Huff." Judging from his blog, he's a busy guy who's just dabbling in Jessica Simpson and if there was anything between them it's not going to last. He needs a girl who's cool and intelligent with interests of her own. A bubbly blonde who likes shopping and working out isn't going to cut it for him.
Here's Jessica outside of her NY doctor's office on 8/31 and singing on The Today Show on 9/1. [via] Defamer has a short clip of her performance, in which she loses her voice for a moment. Simpson was put on vocal rest by her doctor and wasn't supposed to speak or sing for some time. At least she really sings though and isn't just lip synching, but she should be careful or the world will no longer get to hear her live breathy vocals.