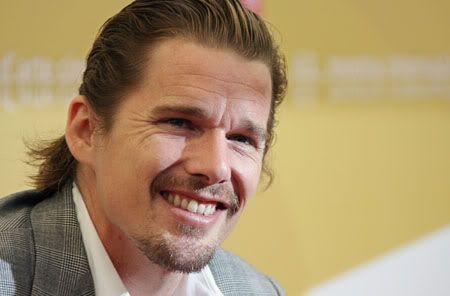 I saw "Before Sunset" on cable a few months ago, and emo Ethan Hawke melted my heart. He was so cute as he blathered on about politics while contemplating leaving his wife and child for a hot little Frenchwoman who stood him up years ago, haunting him ever since. What a difference two years makes.
Leaving Uma didn't do wonders for his career or looks. Maybe a better hairstyle, a shave and some fashion can restore him back to a shadow of his 2004 self.
Ethan says that he's grateful that things in his life have slowed down since his split with Uma, but seems to be all too aware of what he's missing:
Actor ETHAN HAWKE is pleased he is no longer married to an A-list star, because during his relationship with UMA THURMAN he was constantly pursued by the paparazzi. Hawke split from KILL BILL beauty Thurman in July 2004 after six years of marriage. He says, "One of the nice things about no longer being married to a movie star is that it quietens down a lot. "I never meant to complain about the photographers – if the paparazzi are bothering you, it probably means you are having a wonderful life."
Ethan is shown on September 2 at the Venice Film Festival, where he is promoting his film "The Hottest State" based on his novel of the same name. He directs and has a supporting role in the film, a drama about a struggling young actor who is jilted in love. He directed "Chelsea Walls" in 2001, to mixed reviews. Some called it pretentious, self-indulgent and overly ambitious, while other critics lauded its character development and intelligence. I didn't see it, but I love Linklater's films and bet "The Hottest State" will be an enjoyable thought-provoking film as long as Hawke keeps it from being too depressing.
Pictures from Hollywoods Best.