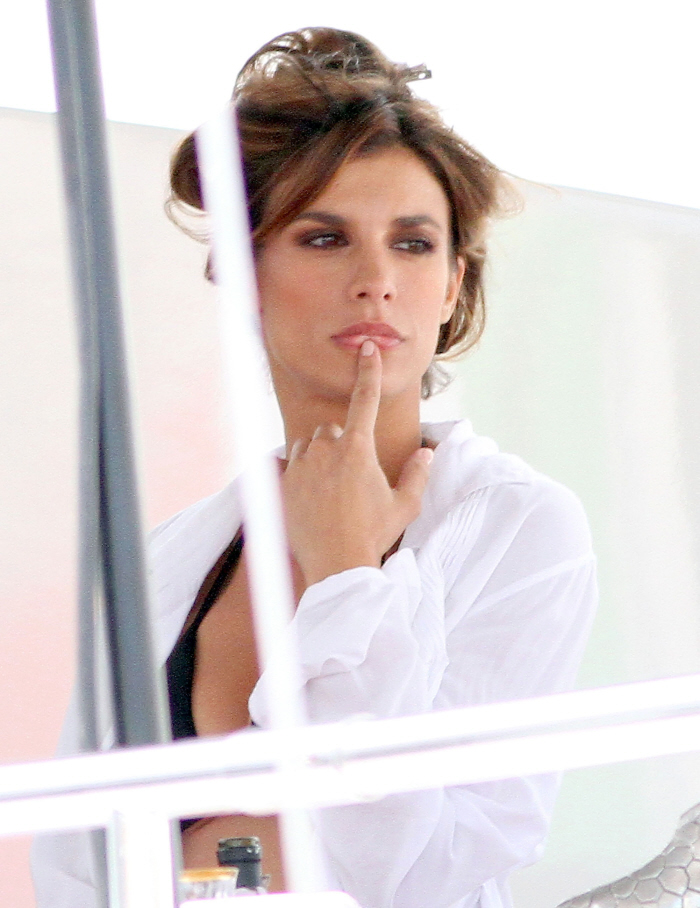 Remember this year's Cannes Film Festival, how Elisabetta Canalis all of a sudden appeared on Robert Cavalli's yacht and posed for the paparazzi for more than a week straight? We got bikini photos, we got evening gown photos, we got behind-the-scenes hair and makeup photos, all on the yacht. George Clooney was nowhere to be found, and yet Elisabetta was playing it like she's a celebrity in her own right. Which… yeah, maybe she is. In Italy. But to waltz into the Cannes Film Festival? Eh. Anyway, we now know one of the things Elisabetta was doing while in Cannes - she was posing for a photo shoot for Chi Magazine (I think it's an Italian gossip-entertainment mag), and giving an "exclusive" interview about her lover. And it's pretty great too. Eli is… ridiculous.
The future Mrs. George Clooney? In a new interview with the Italian magazine Chi, Elisabetta Canalis opens up about her relationship with the actor.

"I am very happy at the moment – thanks to my man and my fairytale is continuing," she says. "We are a couple that never gets bored."

The 32-year-old native Italian, who has dated Clooney for two years, is well aware that others speculate if the two will ever say "I do."

"Whenever I see my picture in a magazine I know what is being written. They all say that I spend my time organizing parties and that my boyfriend does not want to marry me and be with me anymore" she says. "My boyfriend has not given an interview on his private life since 1999 – everything that you read is just a rehash of stuff that has been written in the past."

So does that mean Canalis hasn't given up hope on marrying her famous bachelor beau?

"I am a firm believer in marriage, in the future I will be married, but for the time being I am happy as I am," she says. "I don't need anything to confirm how happy I am."

As for children, her "maternal instinct has not kicked in yet." However, she adds: "My mother says when it does, it will be like a lightening bolt."

Canalis, who's famous for her toned physique, isn't a fan of the unrealistic expectations magazines set for women. "I don't always have the stomach muscles I have and I get cellulite as well like everyone else," she admits. "I stay fit and I exercise, I go horse riding and I have discovered Asian food with rice and soya which keeps you in shape."

"Sometimes when I flick through a magazine and see these thin models I'm left wondering what effect they can have on an insecure person," she says. "But I say to girls: forget what you see in the magazines, that is a world which has nothing to do with reality, think of it as a cartoon. To prove it all you have to do is go out and see that men like healthy, fleshy real women."
[From Us Weekly]
…the hell? So much Eli Gold in one little interview. First: the marriage issue. She's so smart, honestly. She's playing it like she doesn't care about marriage RIGHT NOW, but she's letting it be known that she's up for it at some point. And when that time comes, Clooney will probably dump her. I'm just sayin', the man doesn't seem to like ultimatums from his ladies ("ladies"). Of course, he usually doesn't like when his girls give interviews about him, but Eli definitely has a hold on him. Next: Clooney hasn't talked about his private life since 1999? Er… no. He's talked about his private life in this century, but thanks for playing. What else? Eli thinks she's one of the "healthy, fleshy real women," right? I mean, I appreciate that she's giving lip service to healthy body image, but she's got a really nice, slender/athletic figure. She's not "fleshy". She's toned and very slim.
Lastly: "We are a couple that never gets bored." I could really have fun with that one, but I won't even go there. I'm sure they are able to keep "boredom" at bay with autoerotic asphyxiation separate bathrooms.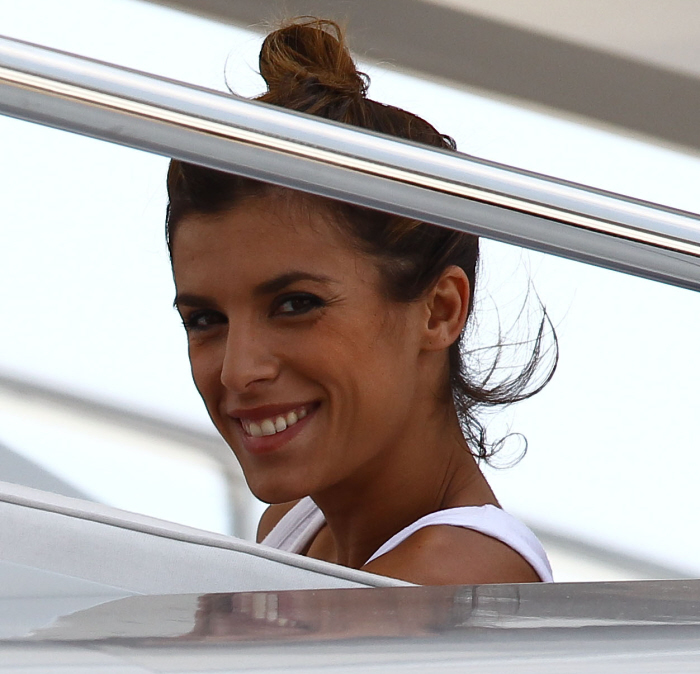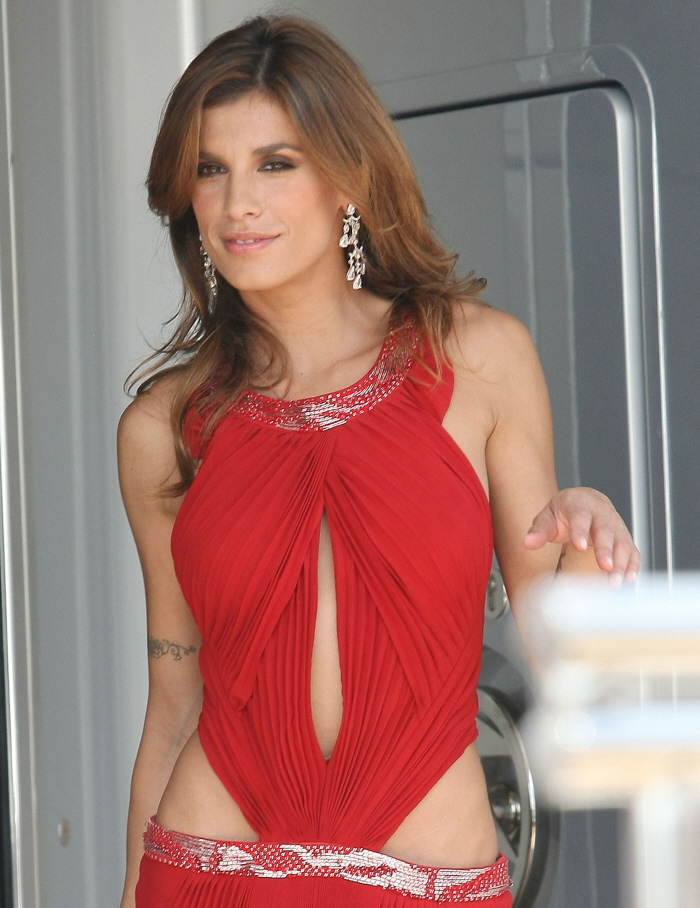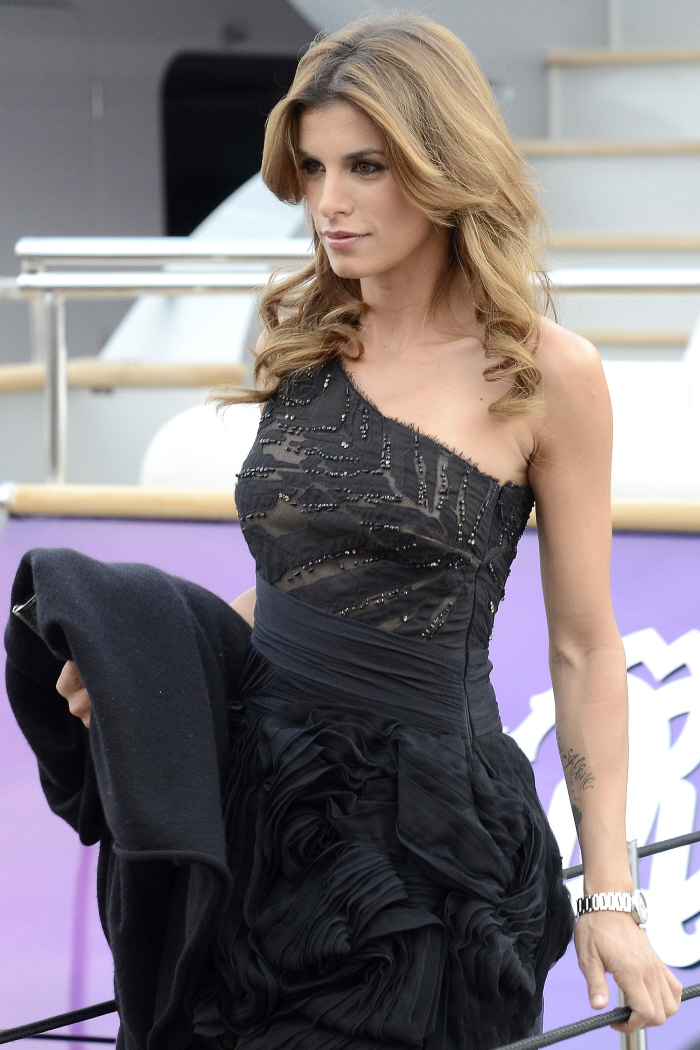 Photos courtesy of WENN.