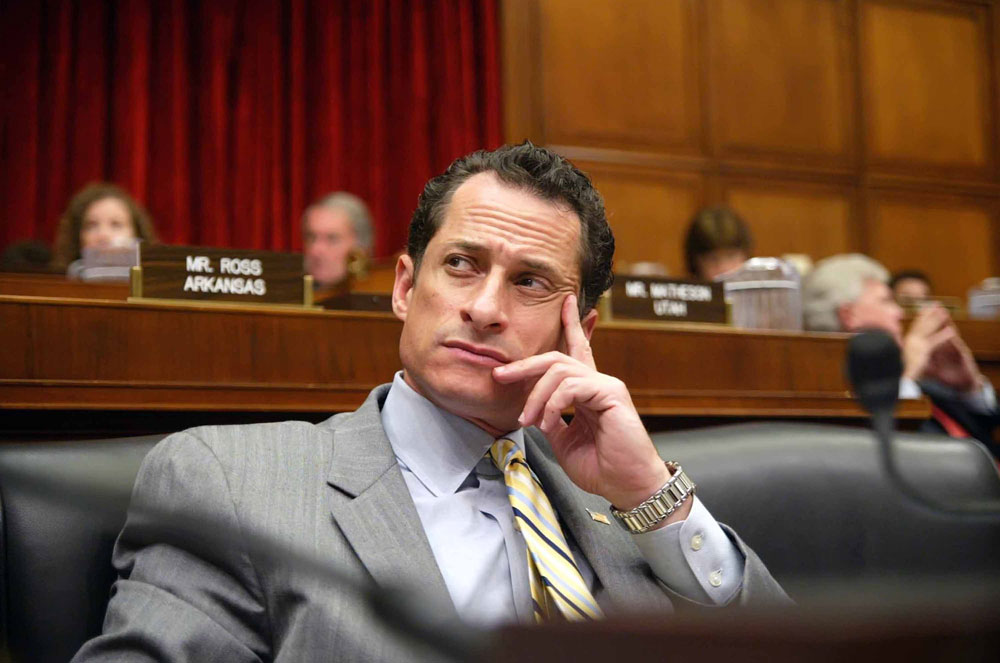 Congresspeople on both sides of the political aisle are calling for Rep Weiner (D-NY) to resign following the Weinergate scandal. We've seen plenty of evidence that the guy enjoyed getting his "ego" stroked online by random women through various outlets like Twitter, Facebook and I'm sure we can add instant messaging platforms to the pile. Maybe if he stuck to Skyping instead of sending out so many adoring photos of himself he could have postponed the inevitable scandal resulting from his online sexting addiction.
Weiner refuses to resign from Congress though, and like so many other idiots before him he's seeking "treatment" for his "issues" while trying to hold on to his political career. The dude wants us to feel sorry for him, even after the story that he was messaging with a 17 year-old girl from Delaware. We heard recently that police were investigating Weiner's twitter messages to the girl, which he claims "were neither explicit nor indecent." Apparently she messaged him after seeing him speak during a school trip to Washington, and he responded and added her as a follow. It's unknown if Weiner's messages to her were inappropriate, but given the context this new information is damning. So instead of admitting that the gig is up and that he should leave Congress, Weiner is requesting a leave of absence and issuing statements meant to elicit sympathy. No one is buying it and his colleagues are saying that he should face reality and step down.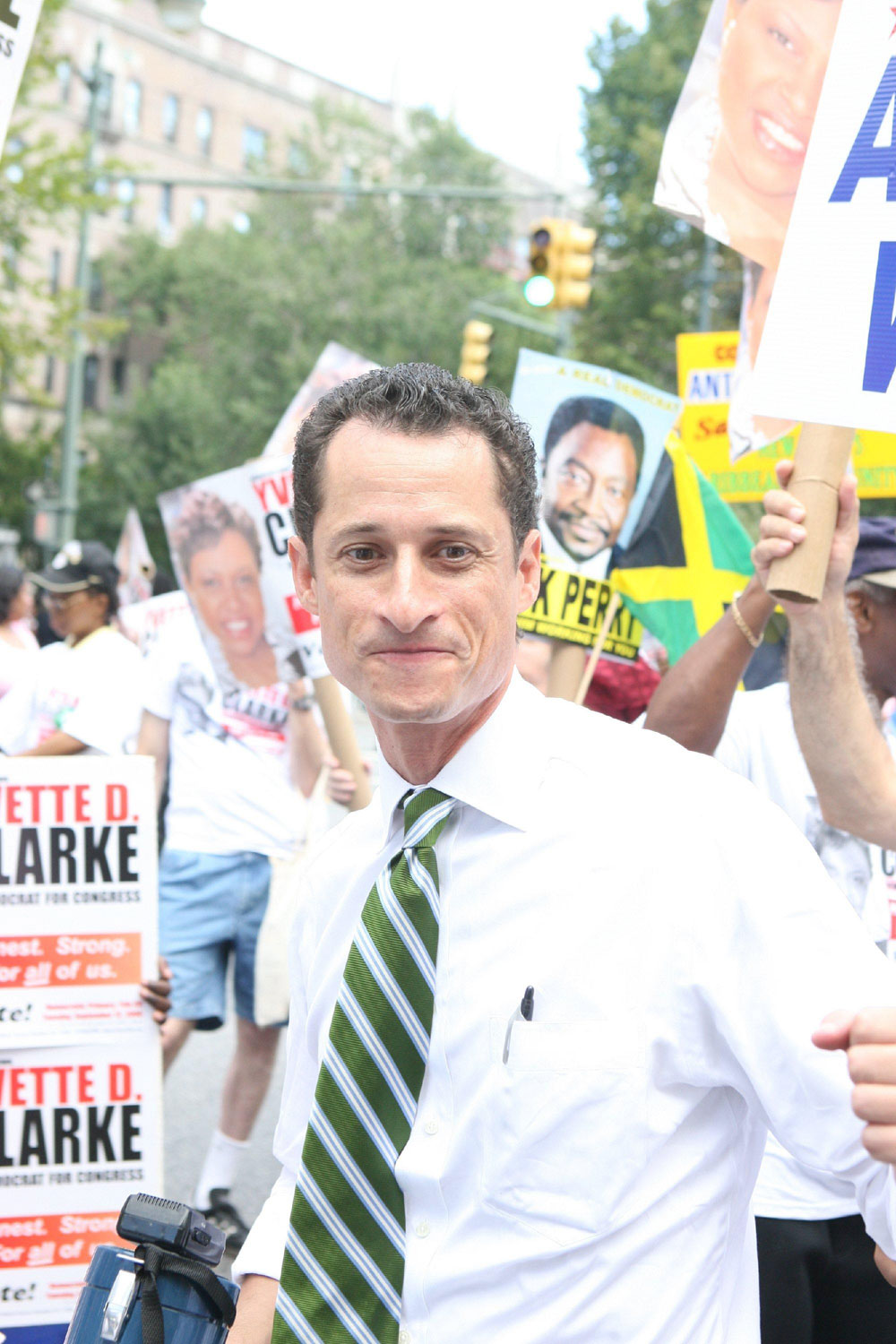 Defying forceful demands for his resignation, Representative Anthony D. Weiner of New York said on Saturday that he was entering a psychological treatment center and seeking a leave of absence from the House to deal with a pattern of reckless online behavior with women.

The announcement came as three top Democratic leaders declared that Mr. Weiner, 46, once a rising star in the party, needed counseling and should step down from Congress.

Pressure on Mr. Weiner to leave the House, and spare the Democratic Party from an increasingly embarrassing scandal, had been building all week, but intensified on Friday, after it was revealed that Mr. Weiner had traded private messages with a 17-year-old girl in Delaware.

Mr. Weiner, who friends say has become distraught and fragile in recent days, will use the leave to think about his future and whether to leave Congress, a possibility he has not entirely ruled out, a person close to him said.

But Mr. Weiner's plan did not satisfy exasperated Democratic leaders, who have been trying to persuade him that he is damaging himself, his family and his party by remaining a member of the House.

The House Democratic leader, Representative Nancy Pelosi of California, spoke to Mr. Weiner on the phone Saturday morning and, notably, released her statement calling for his resignation after he told her of his plan to get treatment and to take the leave. Mr. Weiner received a similar phone call from Representative Steve Israel of New York, chairman of the Democratic Congressional Campaign Committee, urging him to resign.

Mr. Weiner has been talking with a therapist in New York City over the past couple of days, as fallout from his online scandal worsened and he absorbed the message from his colleagues and advisers that his conduct reflected not just bad judgment but perhaps a deeper psychological problem.

"Congressman Weiner departed this morning to seek professional treatment to focus on becoming a better husband and healthier person," said his spokeswoman, Risa Heller. "In light of that, he will request a short leave of absence from the House of Representatives so that he can get evaluated and map out a course of treatment to make himself well."

Ms. Heller would not identify the facility or the precise kind of counseling Mr. Weiner, who has admitted having explicit communications with six women he met online, would receive. She stressed that he was carefully considering the calls from his fellow lawmakers urging him to give up his seat.

Mr. Weiner has been resistant in telephone calls over the past week with Ms. Pelosi and Mr. Israel, who have been warning him that if he does not quit, they will make their case publicly.

They were especially frustrated, according to one high-ranking Democratic official, when Mr. Weiner repeatedly told them he could not resign now because his wife, Huma Abedin, was traveling abroad with her boss, Secretary of State Hillary Rodham Clinton — an assertion they viewed as an unpersuasive pretext.

Ms. Pelosi had hoped that the congressman would reach the decision on his own to go. In addition to her concerns about the political distraction Mr. Weiner had become, Ms. Pelosi concluded that his behavior required medical intervention.

"When you are this self-destructive, there is obviously something deeper going on with you," said a Pelosi adviser who spoke on condition of anonymity for fear of being seen as betraying her confidence…

One friend said it had become abundantly clear that Mr. Weiner was no longer in a position to make clear-headed decisions about his career and health.

"He was falling apart," said a longtime friend, who spoke on condition of anonymity to protect the relationship.

Mr. Weiner, who prides himself on his dapper appearance and physical fitness, was losing weight, seemed run down and drawn and increasingly found it difficult to make it through telephone calls without losing his composure.

He began meeting with the therapist not only to discuss his online behavior, but also to cope with the fallout from the scandal. On Friday, with calls for his resignation multiplying, he agreed that traditional therapy was not enough. He told family and friends that he would enter an out-of-town clinic and made travel plans for Saturday afternoon. He will be evaluated before it is determined exactly what kind of treatment he will receive.
[From the NY Times via Radar Online]
Boo-f'ing-hoo. Meanwhile TMZ has a whole new crop of photos of the guy posing in the mirror at the Congressional gym. In some he's clutching a towel and cupping himself. In another the towel is barely hanging over his d*ck. As I've said before, it's not that he enjoyed getting off online with randoms, that's relatively harmless and is something between him and his wife as long as he keeps it quiet – it's that he lied about it repeatedly in the aftermath and was so arrogant and defensive. That is a huge reflection on his character, and shows that he has no qualms about lying when it serves his purposes. It's all about Weiner and his precious d*ck.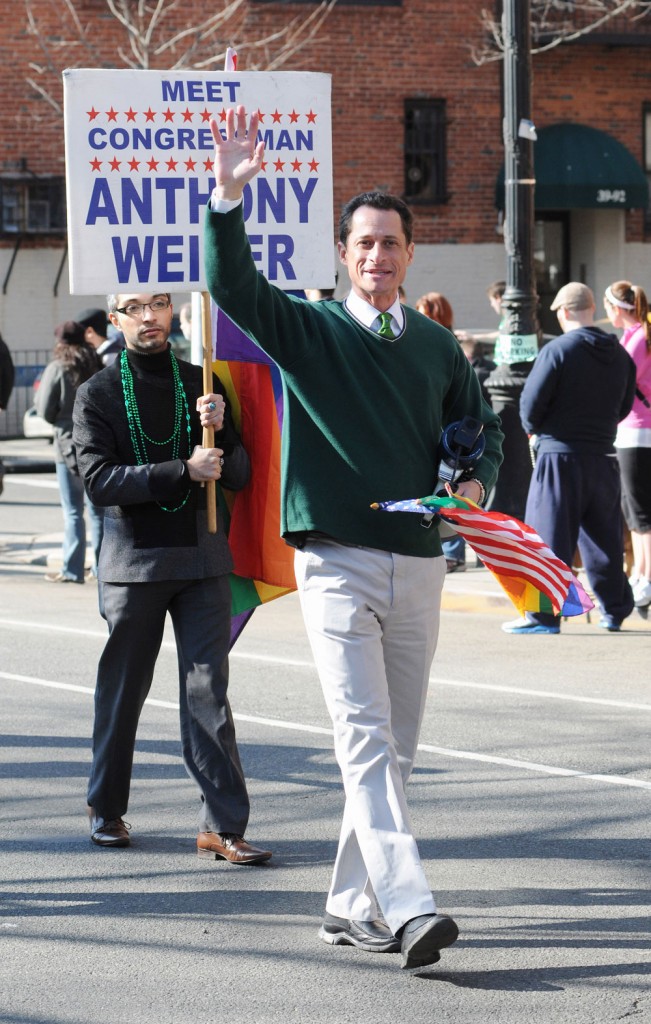 Photos are from 2006 and 2010. Credit: WENN.com