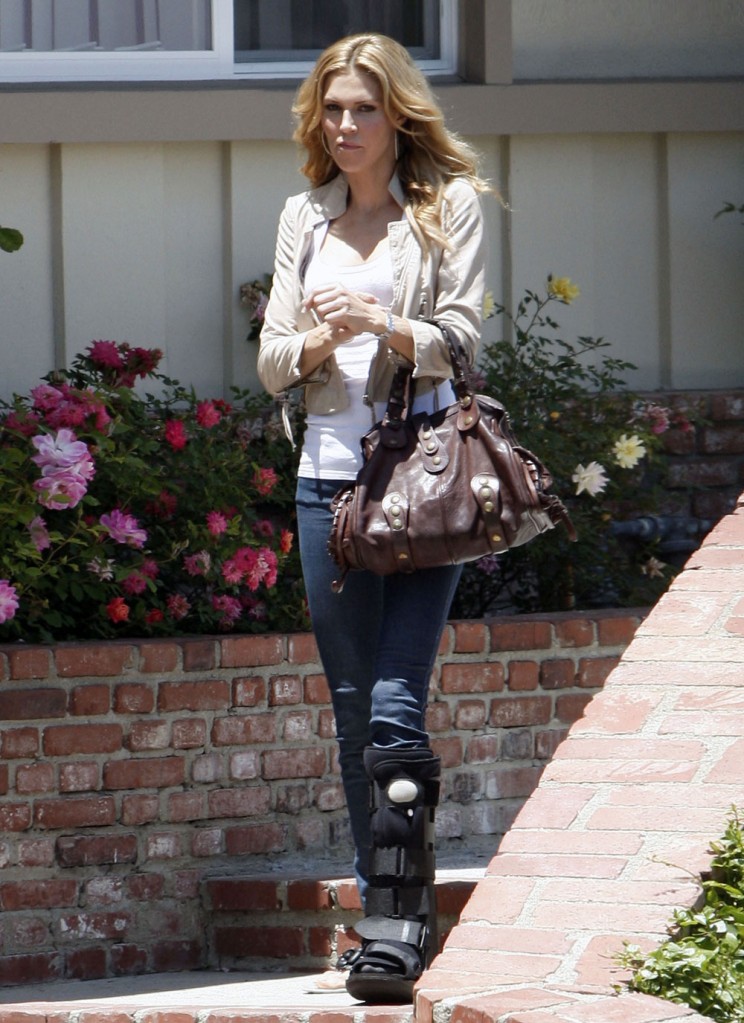 I don't really know Brandi Glanville, but I feel like I do since I've e-mailed with her a little bit (for this story). I know that doesn't count for much, but Brandi was very responsive and kind in e-mail, and she was also classy and gracious during the one interview I saw with her, on The Talk. So I've never had the impression that she was a bitch or particularly domineering. She fights back against her ex husband's insane new wife, LeAnn Rimes, but her tactic is usually just to tell the truth and remain as mellow about it as she can manage, which is most of the time. She's dealt with a lot of crap and has handled it better than I ever could have.
Anyway Brandi is the new castmember on the Real Housewives of Beverly Hills, which is great news for her considering that her ex husband is barely working (although he did get a new gig recently) and has cut down her child support payments while living off his new wife's millions. According to Radar Online, (which may be getting this straight from the source since they've run interviews with Brandi), Brandi is taking Camille Grammer's place as the villain on the show. This is good for Brandi's profile I guess, but it bothers me on some level. I don't see her like that, although I'll probably come around once the shows air. Producers can certainly edit and twist to portray the characters any way they please. (Look at what a raging bitch Kyle turned out to be.)
Kelsey Grammer's ex-wife, Camille, is no longer the villain on the hit Bravo show, Real Housewives of Beverly Hills, RadarOnline.com has learned.

Another actor's ex-wife has taken those reigns – Eddie Cibrian's first wife, Brandi Glanville – and by all accounts she's bringing the bitchiness… And some!

During the first season, Camille was seen sparring with Kyle Richards in virtually every episode, as well as butting heads with all the other housewives and generally being a royal pain in the ass!

Not surprisingly, Camille didn't like the way she was portrayed on the show and has worked hard to repair her image, our source tells us.

"Camille felt that she was made to be the resident villain during the first season and she is determined to not be seen that way again. Camille is getting along very well with Kyle this year, and they have had no arguments at all. Camille has enough drama going on with Kelsey, and she recognizes that she needs her female friends right now," the insider tells RadarOnline.com.

So… Cue Brandi, who is taking over from where Camille left off last year!

"Brandi is fighting with everyone on the show. Brandi makes Camille look like a saint," our source reveals. "Bravo executives brought Brandi in to spice things up because they felt there wasn't enough tension and it was very, very boring to watch. The executives were concerned that without Brandi, the ratings would suffer because there wasn't enough drama. Well, casting Brandi is paying off, big time. Brandi is all drama, all the time."

Also bringing some extra, unexpected, tension this season is Taylor Armstrong. As RadarOnline.com previously reported Taylor has had a complete turnaround after undergoing therapy and has gone from mild-mannered to in-your-face confrontational.

The large lipped lovely has especially been feuding with Adrianne Maloof, and not surprisingly, going head to head with Brandi…

Filming is currently ongoing, and Bravo is expecting to air the second season in October.
[From Radar Online]
Taylor only kisses people's asses with those giant fish lips of hers when they have something to offer her. I'm not surprised that she's fighting with Brandi too. I'm bothered, though, by how obviously manipulative the producers were being toward the end of last season. They had Lisa bring up the New York fight with the other women ad nauseum even though she wanted to move past it prior to that. It's clear they're telling the women what to say and do, and that's expected but I'd like it to be more transparent this next season.
I just don't see Brandi as a bitch but I love that she's pulling focus on the show, and that this will help her launch a career. She'll get paid for appearances and she can go on to write books or put out a fashion line or whatever she'd like. I would love to read a tell all from Brandi on the end of her marriage and dealing with LeAnn. She got screwed in the divorce, though, so I wouldn't be surprised if her divorce agreement includes a provision gagging her from talking about it.
Why do we have to wait until October for this show to come out? That seems like forever doesn't it?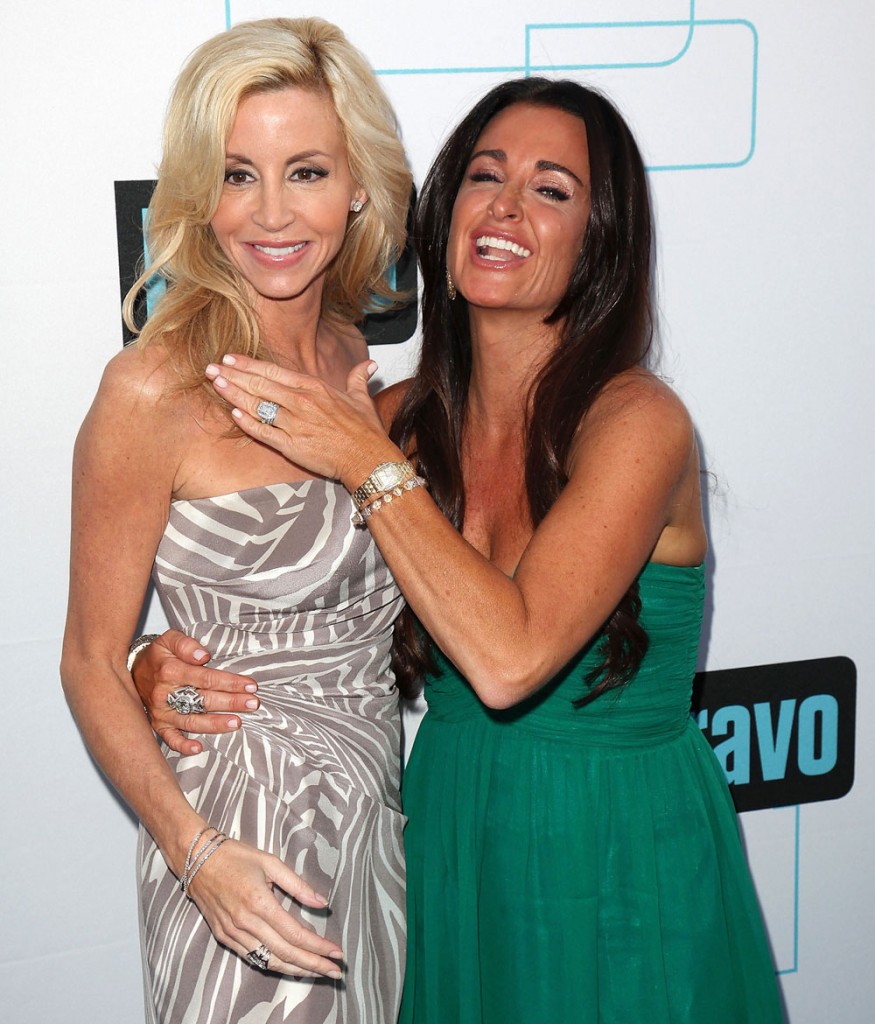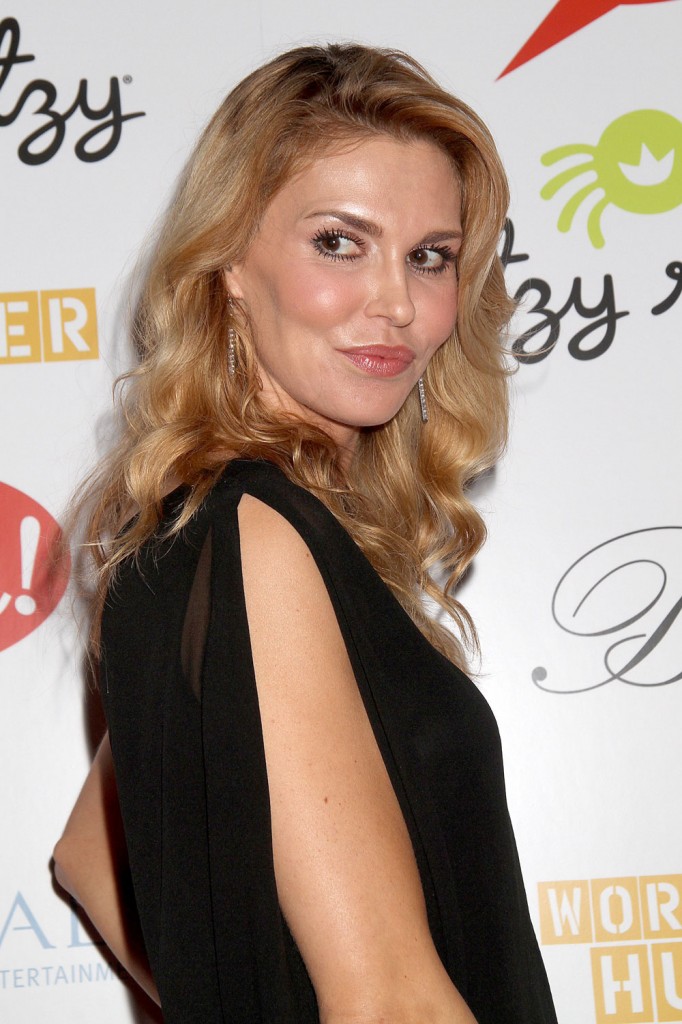 Brandi is shown out on 5/21/11 in the header. Credit: Fame. Camile and Kyle are shown on 3/30/11. Brandi is shown on 10/11/10. Credit: WENN.com