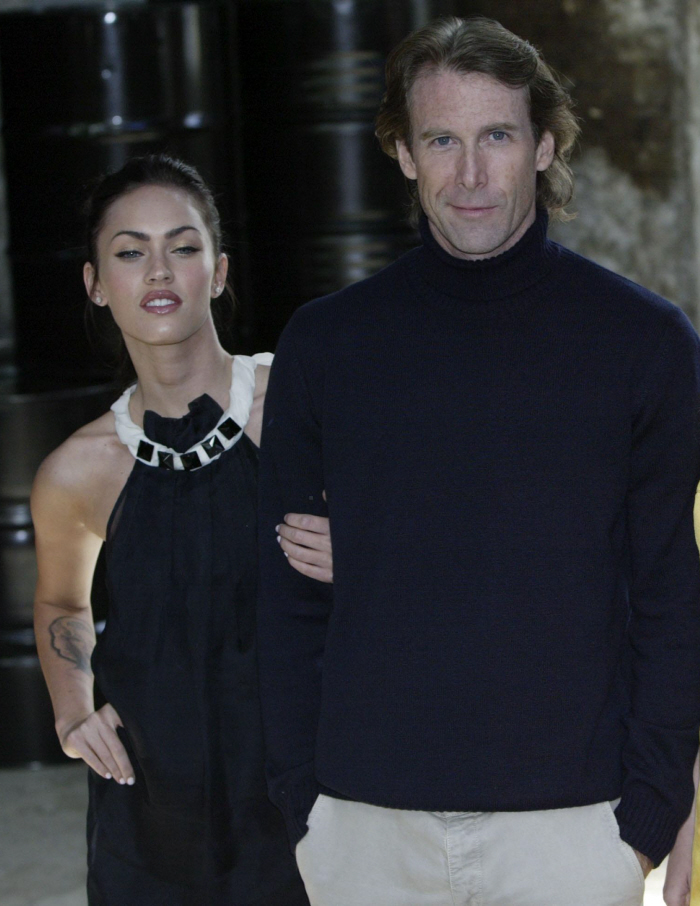 As we get closer to the release of the new Transformers film, many people have been discussing how Megan Fox's replacement, Rosie Huntington-Whiteley, looks even WORSE than Megan Fox. While Megan will never be confused as a good actress or even a nominally intelligent person, in the clips that we've seen of Rosie, she looks absolutely awful, actress-wise. Some have been giving credit to Megan: at least she was watchable, I guess? For me, I can give Megan credit for being watchable, but only in the way that you watch a car crash. I remember all of the dumb crap Megan Fox has said over the years. She is severely stupid, and she is epically unprofessional, like the time she compared Michael Bay to Adolf Hitler. For real. If she didn't have a legion of fan-boys drooling over her, Megan would have been thrown out of Hollywood long ago.
Anyway, the sleazy, gross director of the Transformers films, Michael Bay, has a new story about why Megan Fox left the franchise. For a while, we played a game of "Was Megan pushed or did she jump?" and it basically came down to "both". Megan wanted out of the franchise that made her a household name, and it was assumed that Michael Bay – and the crew, who wrote an angry open letter to Fox – wanted Fox gone too. Bay now says that it's not on him: Steven Spielberg was the one who ordered Bay to fire Fox. And it was all about those Hitler comments.
Steven Spielberg demanded Megan Fox be fired from the latest Transformers film after she insulted its director, it has been revealed. The Hollywood legend was outraged after the screen beauty compared Michael Bay to Hitler during a press interview. The 25-year-old actress was quickly dumped from the film and replaced by British model Rosie Huntingdon-Whitley.

Fox had tried to claim she left the third in the series of the films to pursue other acting opportunities. But ahead of the July 4 premiere of Transformers 3 director Bay has revealed for the first time he was told to get rid of the actress.

He said: 'You know the Hitler thing. Steven (Spielberg) said, fire her right now.'

Spielberg is executive producer of the film which stars Shia LaBeouf. Fox had appeared in the first two Transformers films and the roles helped her be named one of the sexiest women in the world. She had been cast in the third film but shortly before production began she gave an interview to the British magazine Wonderland.

In it she said Bay wanted to be like Hitler on his sets. Other crew members from the film hit back on a blog comparing Fox's acting to that of a porn star.

In an open letter posted on Michael Bay's website the crew member wrote: 'Michael found this shy, inexperienced girl, plucked her out of total obscurity thus giving her the biggest shot of any young actresses' life. He told everyone around to just trust him on his choice. He granted her the starring role in Transformers, a franchise that forever changed her life; she became one of the most googled and oogled women on earth. She was famous! She was the next Angelina Jolie, hooray! Wait a minute, two of us worked with Angelina – second thought – she's no Angelina. You see, Angelina is a professional. We know this quite intimately because we've had the tedious experience of working with the dumb-as-a-rock Megan Fox on both Transformers movies.'

The film's screenwriter Ehren Kruger told GQ magazine that Fox didn't seem interested when she arrived for rehearsals for Transformers: Dark of the Moon. He said: 'She seemed like an actress who didn't want to be part of it.'

LaBeouf told GQ:' She started s*** talking our captain. Which you can't do.'

Bay said he wasn't hurt by the Hitler comment.
[From The Mail]
Is this just Michael Bay trying to abdicate responsibility because Rosie's bad acting is about to blow up in his face? Or is Bay just being a truth-teller and letting us know that Steven Spielberg thinks Megan Fox is offensively stupid too? Probably a little bit of both. It wouldn't surprise me if Spielberg – the executive producer of a franchise that has made a ridiculous amount of money for DreamWorks – was the one to make the final call on letting Megan go. And if this is case, Megan made an extremely powerful enemy in Spielberg.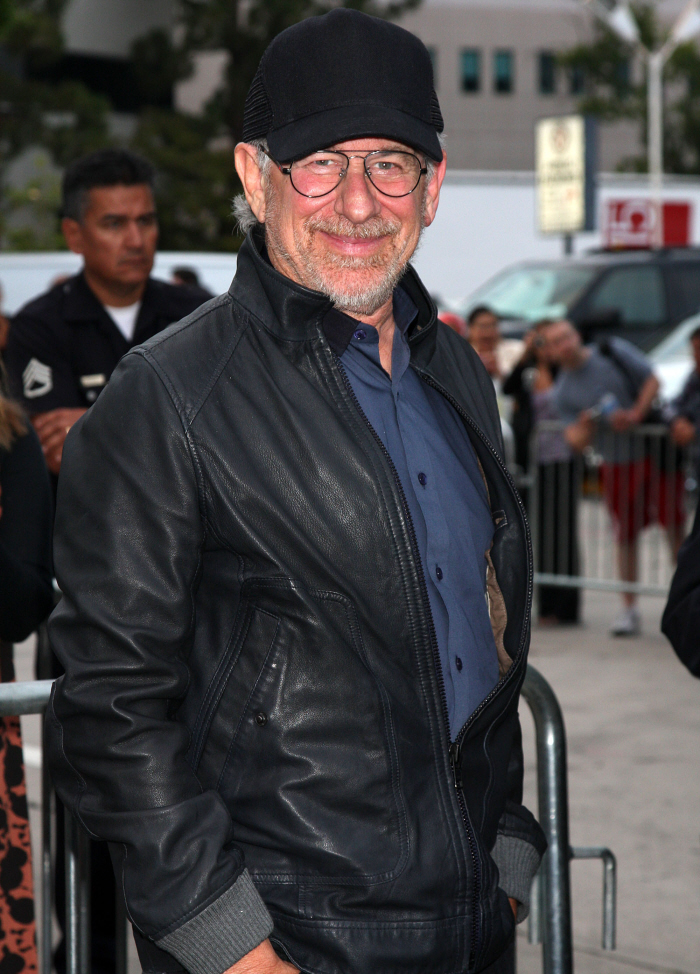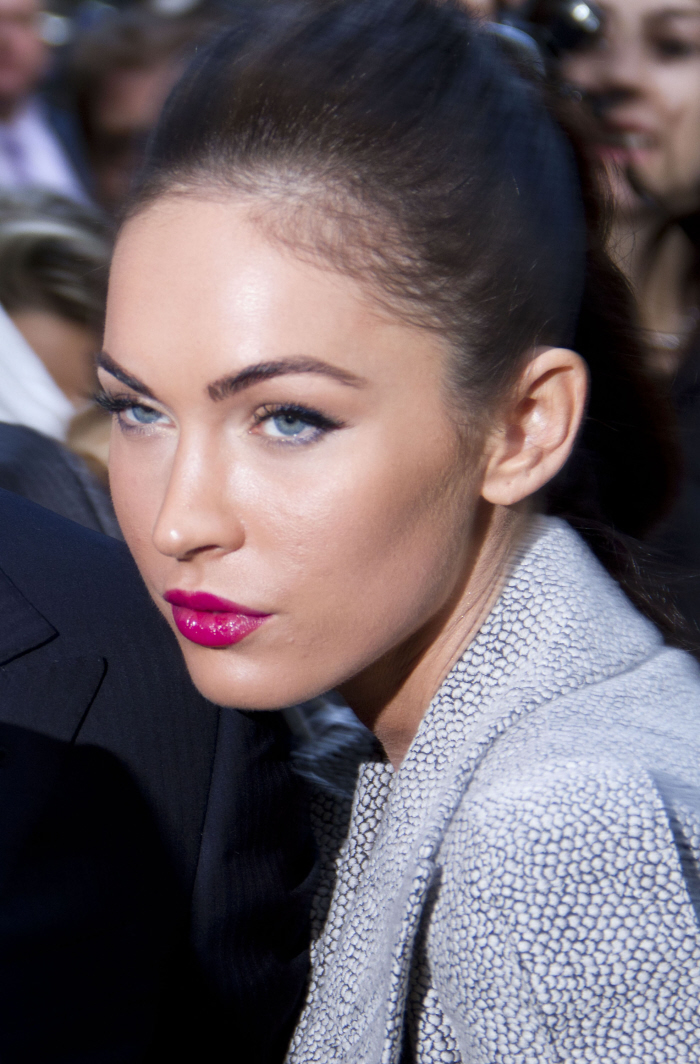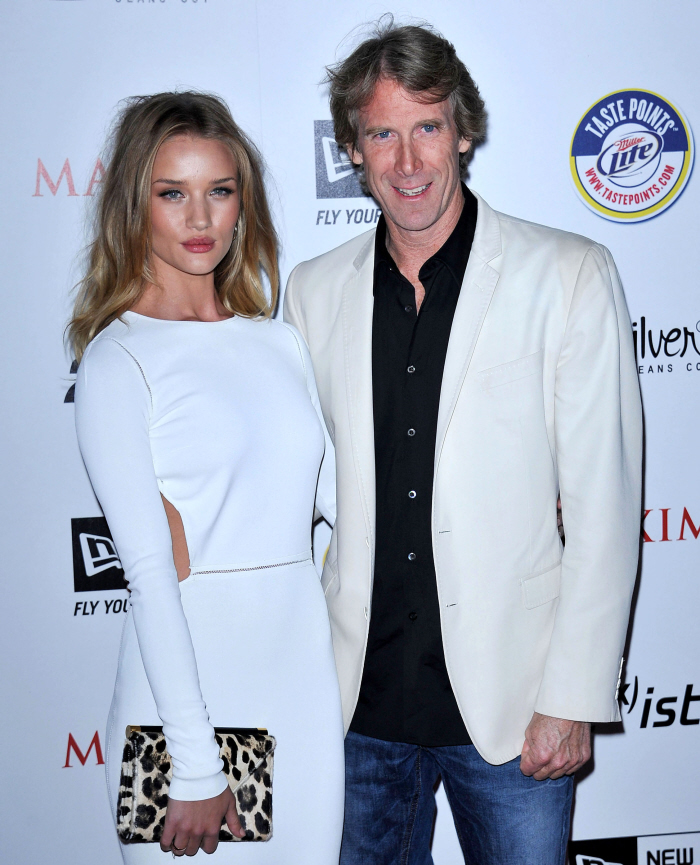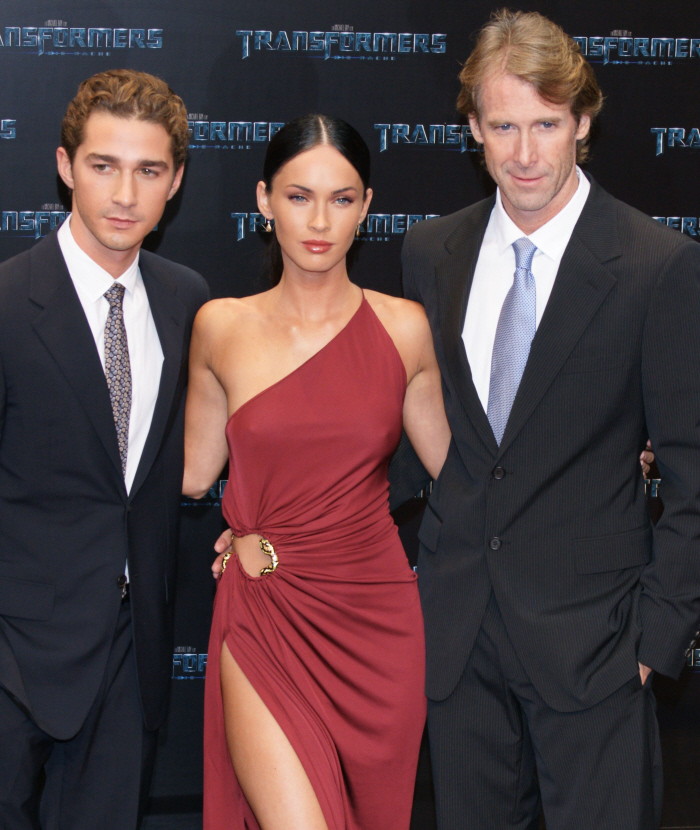 Photos courtesy of WENN.