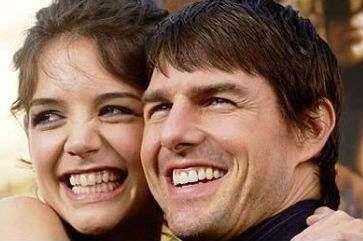 Tom Cruise and Katie Holmes' long-awaited baby has arrived. "Suri," a baby girl, was "born" on 3:00 am on Tuesday morning:
Tom Cruise, 43, and his fiancee, Katie Holmes, 27, joyously welcomed the arrival of a baby girl, Suri, today.
"The child weighed 7 pounds, 7 ounces and was 20 inches in length. Both mother and daughter are doing well.
"This is the first child for Mr. Cruise and Ms. Holmes. Mr. Cruise also has a daughter, Isabella, 13, and a son, Connor, 11.
"The name Suri has its origins in Hebrew meaning 'princess,' or in Persian meaning 'red rose'
Tom said in an interview with Diane Sawyer last week that he and Katie opened the baby name book and that was the first name that popped out at them. It's not a bad name as far as celebrity child names go. A reader at DListed points out that Suri is an anagram of the middle letters in "Cruise."
Here are pictures of Cruise in a Spanish-language "Magazine" [via]