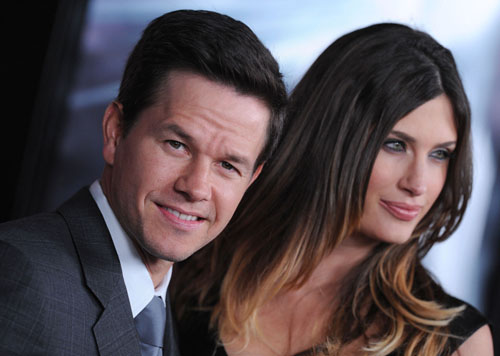 Mark Wahlberg and fiancee Rhea Durham at the "Max Payne" premiere in Hollywood. Photo credit: Griffinbauer.
When Mark Wahlberg appeared on the Jimmy Kimmel show, threatening to punch SNL comedian Andy Samberg in the nose over his impersonation of Wahlberg in a skit, everyone went into a tizzy, calling the actor a hothead with no sense of humor. Turns out Marky Mark was just joking- and proved it this weekend in an extended cameo on SNL. At the very beginning of the show, Wahlberg approached SNL producer Lorne Michaels, demanding to know where Samberg was. Then later in the show, Wahlberg had an on-screen confrontation with Samberg in which he made fun of himself, and even talked to a donkey just like Samberg did in the previous week's bit.
My guess is that Wahlberg had already been recruited by SNL writers to appear on this week's show before he was a guest on Jimmy Kimmel and was setting us all up for the big joke. It wasn't really all that funny – but at least we know that Wahlberg doesn't take himself that seriously. Mark must be in a good mood these days, with his action flick based on a video game, "Max Payne" sitting at number one at the box office.
Max Payne, the videogame adaptation starring Mark Wahlberg, shot up an easy win at the box office, even as two of the weekend's other new releases — The Secret Life of Bees and W. — performed nicely, finishing in line with their respective estimates.

The No. 1 action flick grossed $18 million from Friday through Sunday. Although not quite on par with the debut totals of some other game-based movies, like the most recent Resident Evil films, which blew away more than $23 mil in their premieres, Max Payne's premiere number is a marked improvement on the first-weekend sums of Wahlberg's previous two gun-totin' flicks, last fall's cop drama We Own the Night ($10.8 mil) and early 2007's Shooter ($14.5 mil). And here's another sort of backhanded compliment: It's a good thing the movie earned as much as it did this weekend, for its lamentable CinemaScore grade of C portends a limited audience in the coming weeks.
Hey, Marky Mark: say hi to your mother for me!
Here's the SNL video of Mark Wahlberg and Andy Samberg's "face off."

Photos of Mark Wahlberg and Rhea Durham at "Max Payne" premiere from Bauergriffin. Photo of Andy Samberg catching a cab in New York from Bauergriffin.