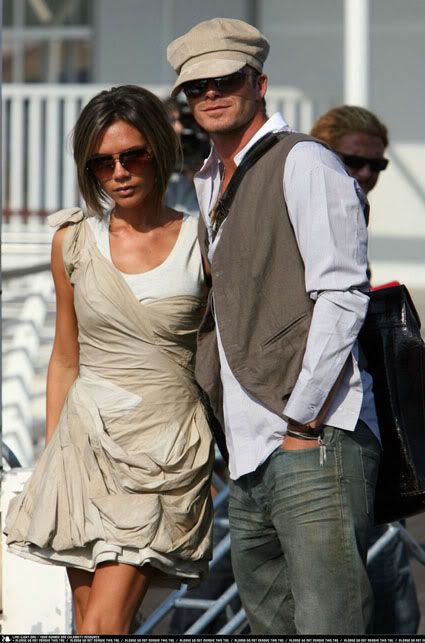 The Beckhams are in Venice to promote their new fragrance line. In a press conference interview they denied that Victoria is pregnant, but made no secret that they'd like another child and would like to try for a girl. David said that Tom Cruise's daughter, Suri, is gorgeous and after seeing her pictures it makes him want a girl even more. Victoria said that she'd like to get pregnant again when the time is right, most likely next year
Victoria said : "People keep asking when I'm having the next baby but it's tricky, having three young boys. I'm thinking next year would be a good time to try. I would like another one."
But the 32-year-old mum was quick to dismiss rumours she is already expecting baby number four, especially following David's gaff in Spain where he mistakenly told a journalist she was pregnant.
The Real Madrid ace is getting increasingly broody, as he revealed seeing pictures of Tom Cruise's daughter Suri made him feel all gooey. He said: "Suri is gorgeous. I have spoken to Tom loads since the birth but it was the first time I had seen Suri.
"It made me really want a baby girl, so fingers crossed we will have one."
The axed ex-England Captain also vowed that his International football career is not over as he declared: "I'll be back."
Victoria looked casually elegant in an off the shoulder Miu Miu dress, while David coordinated in a matching cap and a slightly darker vest thrown over an untucked shirt and jeans.
Pictures [via]