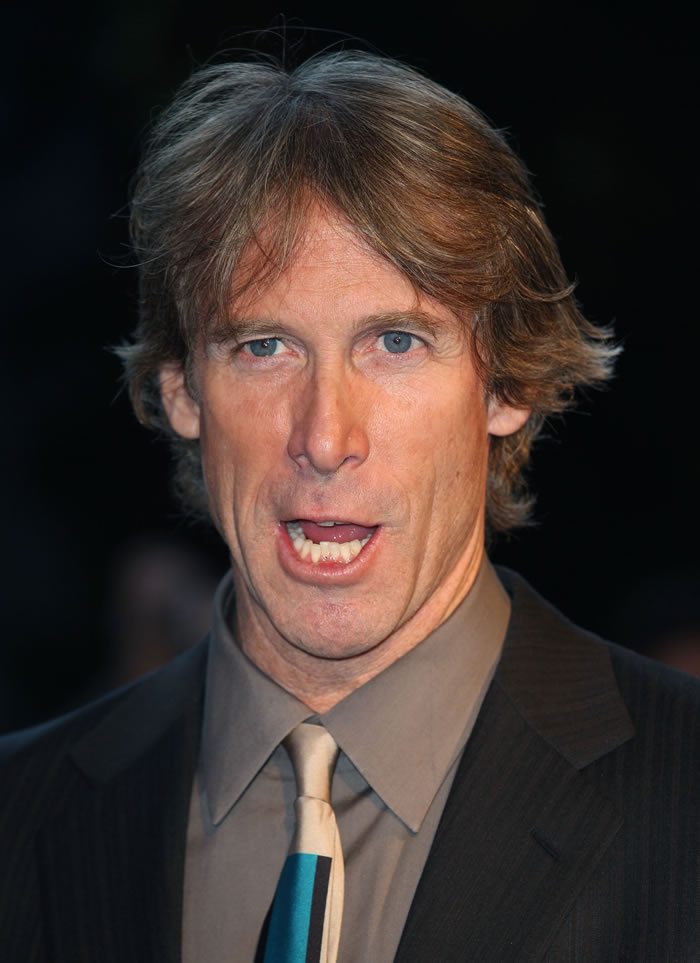 For whatever reason — and I'm thinking that Paramount must have paid handsomely for this service in light of the impending release of Transformers: Dark of the Moon — GQ has published a so-called complete "oral history" of Michael Bay. Kaiser already covered the Megan Fox stuff, but GQ has finally presented its audience with the entire eight-page almanac, which is positively epic in its sweeping vision of douchetasticness and purports to "reveal the secret genius behind a true Hollywood visionary."
Within this article, more than sixty people chime in to lend their support to "the most underappreciated man in show business." Included in this ass-kissing plethora are fellow directors, producers, actors, and Bay's mommy, all of whom are engaged in a quasi-heroic effort to both mythologize and humanize Bay. Here are a few highlights:
On Bay's Directing "Style"

Ben Affleck: I think Michael is actually an auteur in the true sense of the word. Every movie he makes reflects his personal creative vision. You may like it, you may not–but those movies are him without compromise. There's something to be said for sticking to your guns.

Steven Spielberg: He has the best eye for multiple levels of pure visual adrenaline.

John Turturro: He likes blowing things up

George Lucas: Michael's films are immediately identifiable.

Ehren Kruger (screenwriter): He's like this cross between General Patton and Willy Wonka. He's in command of a massive army, all in the effort to create the ultimate Everlasting Gobstopper.

Michael Bay: I'm, like, a true American.
A true American, really? That's not even worth arguing over, so now let's travel back to Bay's (not so) humble beginnings:
On Bay's Early Work Directing Music Videos:
Bay: This guy called me in from Capitol Records–he was a hard-ass marine, kinda scary in the meeting. He said, "If you can wrap this Donny Osmond video up for $165,000…" Meanwhile, I'm like two weeks out of school. The most I've ever spent is $5,000. I ended up getting paid $500. But I got to make my first thing.

Harriet Bay: I remember going out to watch him shoot it. It was in the Mojave desert, and there's like 200 people. It's this big deal. It was so exotic. It was the first time he got to use a helicopter. And he whispers in my ear, "Mom, can you believe I'm getting paid to do this?"

Fuller: The first time I saw Michael on a bigger set, he was doing a video, and there was the hottest blonde girl I've ever seen in my life, and she's got a wind machine on her. She's dancing, she looks hot, she's wearing a short skirt. He's shooting her from a low angle. And he looked at a few of us, and there was this look in his eyes, like he had reached nirvana. It was childlike wonderment.

Scott Gardenhour (producer): There was no question Michael would go on to do other things, and that they wouldn't be small.

Bay: I had gotten movie offers and turned them down. I took my time. They sent me Saving Private Ryan, but I wouldn't have known what to do with it.
Oh man, can you imagine what a sh-tstorm Saving Private Ryan would have been with Bay at the helm? Perish the thought.
On Why He Was The Go-To Director For Transformers

Adam Goodman (President, Paramount): Transformers are essentially cars that change into robots, and who better at shooting cars than Michael Bay?

Spielberg: I couldn't think of a better director to turn a truck into a robot and make us believe it was really happening.

Bay: I thought it was a dumb idea.

Josh Duhamel: Michael poked his head [into a meeting] to say hello and started telling me about his next project, a movie called Transformers. And I go "Transformers? Like the cartoon from the '80s?" and he's like "Yeah, yeah," and he's all excited about it. And I was thinking, This is the worst idea ever.

Alex Kurtzman (screenwriter): It's about a boy who's really obsessed with getting a car. That's when we saw Michael's eyes light up like he was a 12-year-old again.

Shia LaBeouf: When I met Mike, I was a seventeen-year-old boy. He was my f&*#king god.
Finally, let us not forget that Bay is not just a directing machine but also flesh and blood.
On Michael Bay, Ladies Man

LaBeouf: I've only seen Mike with two women in the six years that I've known him. He wants a family and has the heart for it.

Roger Barton (editor): My wife tries to limit my outings with him.

Jon Voight: He has his girlfriends, all of that stuff. He's an active guy with his gals.

Bay: Well, it was only two [blonds]. But that was two in a row. Normally I don't go out with blonds.

Harriet Bay: I said, "Oh, Michael, I guess you're going to be like Warren Beatty. He didn't get married until he was fifty." So Michael feels he's got three more years to go.

Bay: It's about finding a wife. I've had a lot of great girlfriends.

White: I just can't see him with somebody over 35.

Bay: I'm a serious guy, but I don't take myself so seriously. Some people are so serious. The persona comes from…I'm a frank guy.

John Malkovich: You know, it's an incredible amount of pressure. And sure, somebody could say "He's a junkie for that," or "He likes the authority," but I always think, God, that must be so lonely.

Shia LaBeouf: Mike is a vulnerable guy. He's the guy who laughs at a joke, then asks you why it's funny.

Scarlett Johansson: I ran into him leaving a party once and asked him if I could be the Easy-Bake Oven Transformer. He looked at me in all seriousness and said, "There isn't one."
[From GQ]
The article then goes on for several more miles of unbelievable buttkissing from all angles. While this may seem like a lot of excerpting, believe me when I say that it doesn't even scratch the surface. If you have the stomach for it (not to mention an excess of free time), the rest of the article will figuratively "blow" your mind in its blatant disregard for any reality outside of explosions and slo-mo running sequences. There is, however, an interesting tidbit about why Bay feels that he really made Will Smith the movie star that he is today because of Bad Boys. While that may or may not be true, one thing is for certain: Michael Bay really is King of the Dipsh-ts. And he might very well be the guy with the pretty blonde dangling from his arm, but there's no question to the fact that she was paid to be there.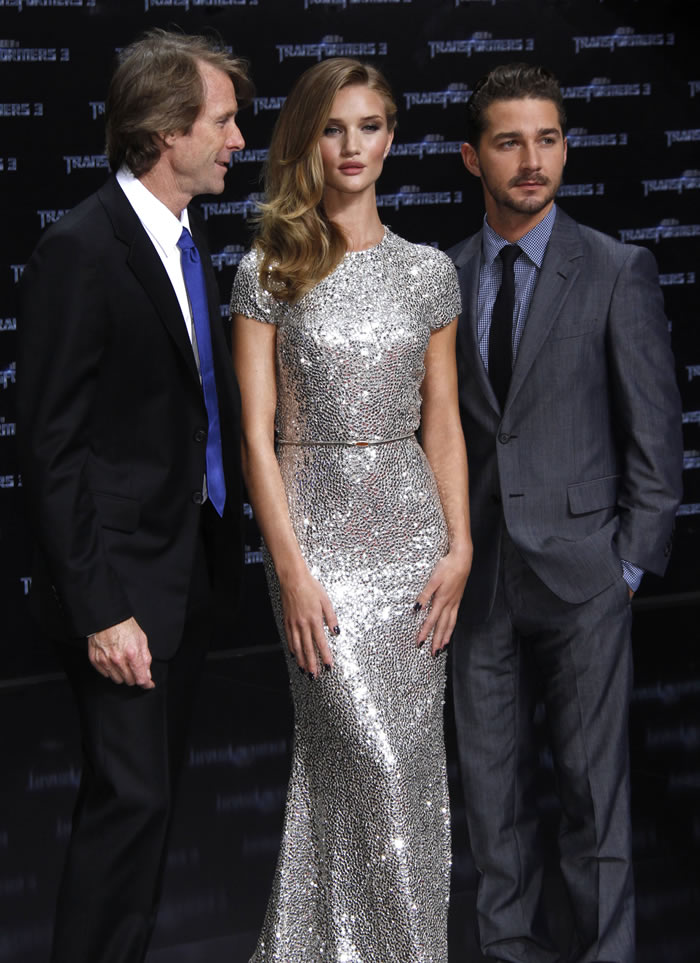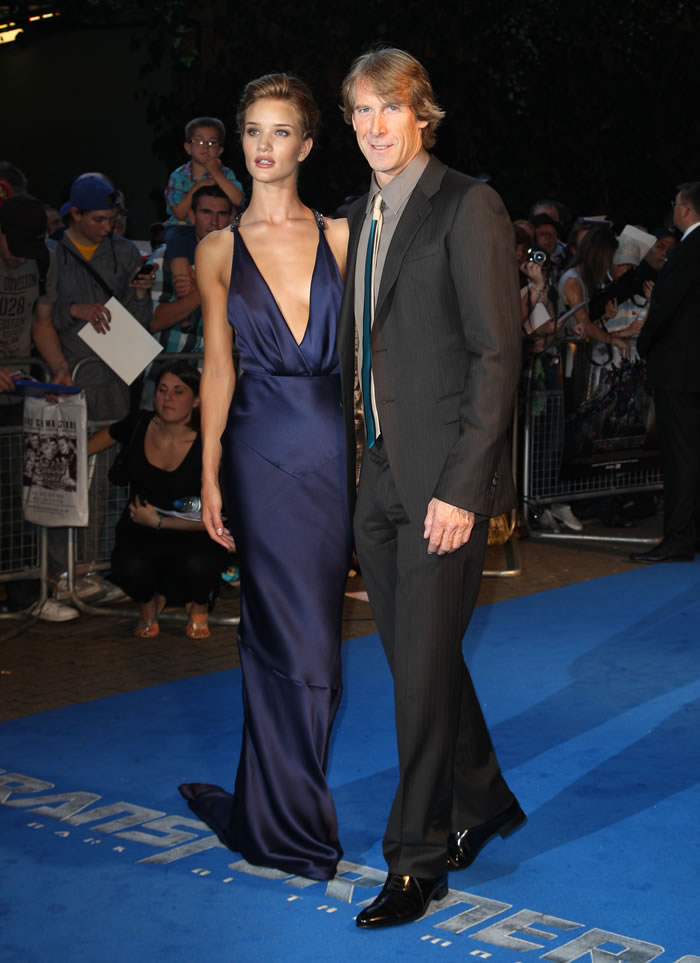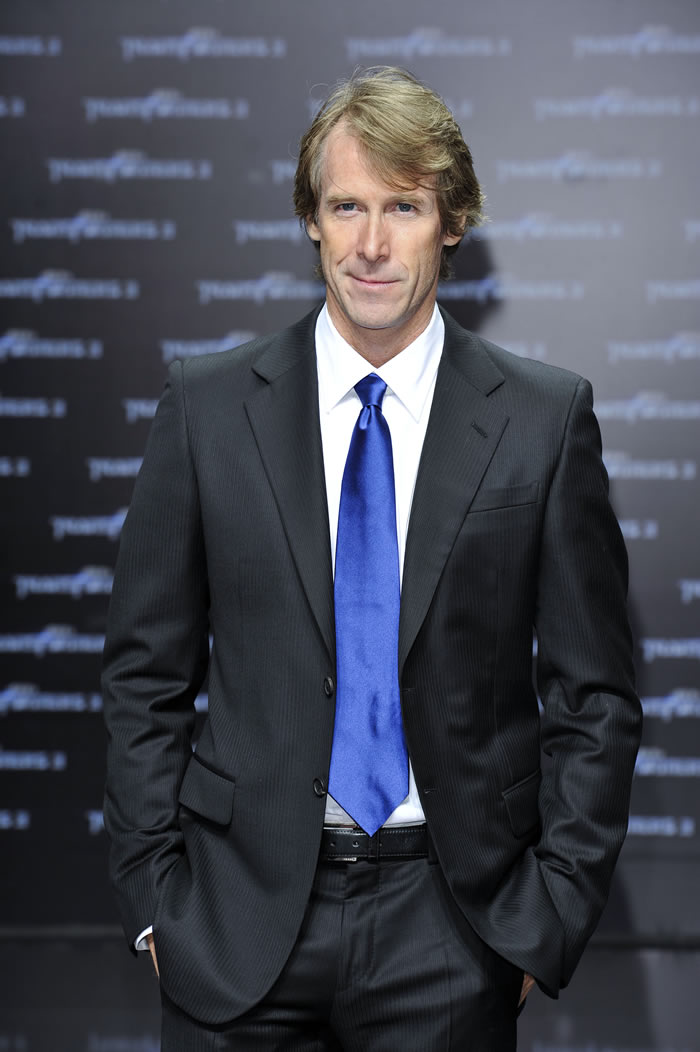 Photos courtesy of Fame Pictures