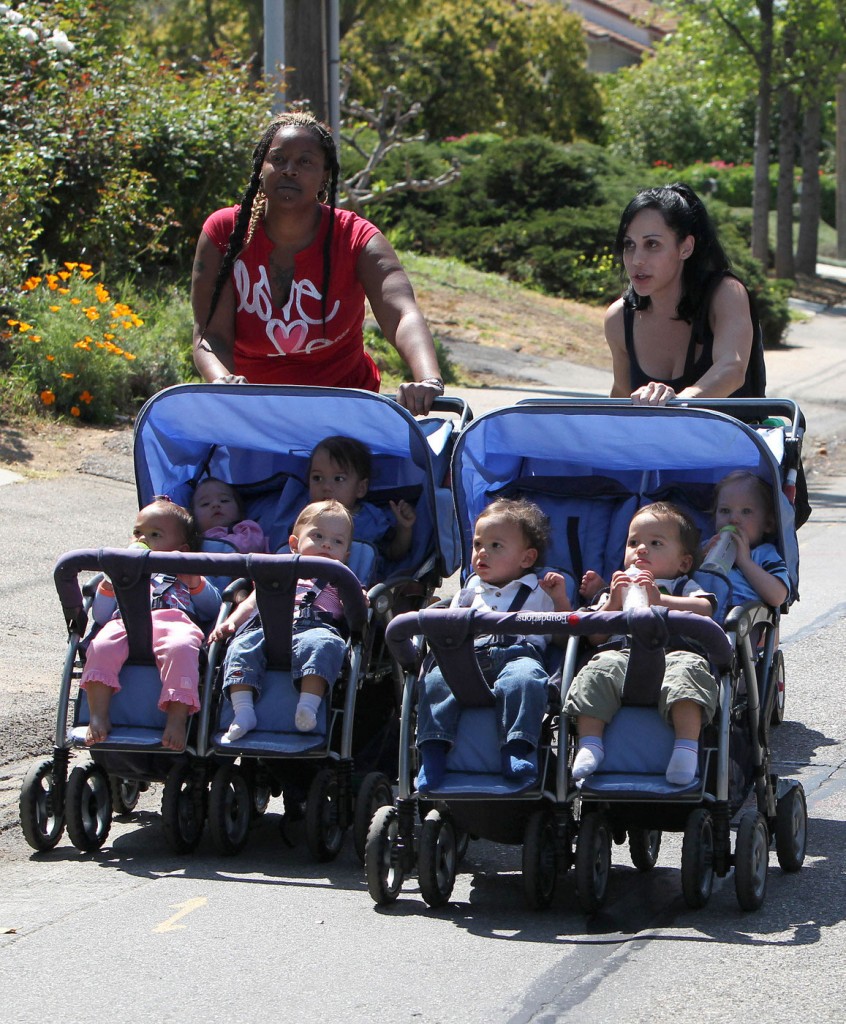 Octomom Nadya Suleman is going off the deep end, or I guess she's been there for a long time and is finally splashing around. She has a new interview in In Touch weekly [via The Daily Mail] in which she sounds even more unhinged than usual, going on at length about how awful her kids are, how she wishes she never had them and how she hates her life as single mom to 14 kids. Her bank account is overdrawn and she's of course relying on public assistance again to make ends meet. She also says she thinks of suicide and will spend hours locked in the bathroom to get away from her kids. This is not at all surprising given this woman's storied history, but the question is – will it be enough to get social services involved?
She is the mother of fourteen children, who gave birth to the longest surviving octuplets in U.S history.

But in disturbing comments sure to alarm social services, Octomom's Nadya Suleman has said she 'hates' her eight babies.

The 36-year-old single mother also calls her six older children 'animals'.

'I hate the babies, they disgust me,' she told InTouch magazine. 'My older six are animals, getting more and more out of control, because I have no time to properly discipline them.'

In a picture taking by the magazine, one child is seen eating dry-wall in her run-down home.

Suleman says that her dream of having a big family has now turned into her worst nightmare as she struggles to take care of her huge family.

'The only way I can cope is to lock myself in the bathroom and cry. Sometimes I sit there for hours and even eat my lunch sitting on the toilet floor. Anything to get peace and quiet,' she said.

The reality TV mother has even considered suicide.

'Some days I have thought about killing myself. I cannot cope,' she said.

In another breath, Suleman tries to insist that she still has love for her children, but says in hindsight she wishes that she never gave birth to any of them.
'Obviously I love them – but I absolutely wish I had not had them,' she said.

The reality TV mother is also in financial hot water, especially when it comes to her home in La Hambra, California.

Up until recently, Suleman has managed to avoid being kicked out of the property for months, even though she has been facing foreclosure since last year after failing to meet monthly payments.

But now the man who sold the property to Suleman's father Ed Doud has recoiled and taken serious actions to get her and her children removed.

The mother says she has not got a penny to her name and cannot even effort to put food on the table.

'My bank account is overdrawn by $300 and I have no money to pay for the children's school, food or the mortgage.'

Suleman, who is currently on unemployed and public assistance programs, may however have found a way to boost her income.

She recently filmed an episode of a new TV celebrity dating show called Celebridate, for the cable network HDNet.
[From The Daily Mail]
This woman did this to herself through a series of calculated moves that she's defended to any outlet that will listen to her. She doesn't deserve our sympathy, but her poor kids do. Is she saying these awful things so that she can get rid of them? What kind of mother "hates" their babies and finds them disgusting? It's not like she's raising them alone, she has nannies!
Meanwhile Octomom participated in a celebrity boxing match last night in New Jersey. There's an interview with her on Radar ahead of the boxing match. I'll admit I only watched a few minutes of it, but she sounds completely different than she does in In Touch and basically spouts her typical b.s. psychobabble. She goes on at length about her choice to have kids, says fitness is her passion, acts like her life is fine, and claims she never wanted the fame that came along with having eight kids at once. The bitch lives in California and has 14 kids. How is she flying to New Jersey to be in a boxing tournament? She's telling In Touch she's suicidal but everything is fine once she does another interview. She should be committed.
Nadya is shown with her kids on 3/28/10. She's also shown at an event on 5/31/11. Credit: Pacific Coast News