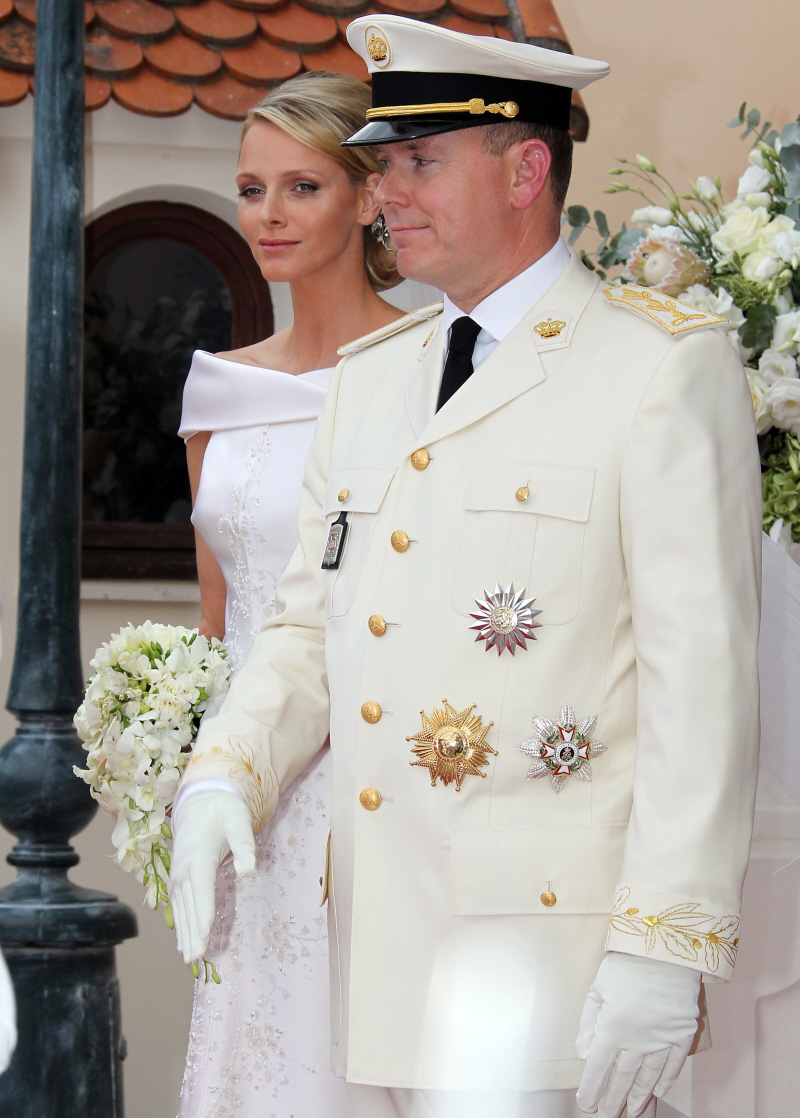 Last we heard, the French papers were still doing a post-mortem on how badly everything was going for Prince Albert and Charlene Wittstock. The claims over the weekend involved: Charlene Wittstock trying to escape, physically escape, the engagement and Monaco three different times. Once, she even made it to the South African embassy in Paris, I think. The last "escape" attempt involved palace officials confiscating her passport just days before the wedding was supposed to go through. Oh, and now we might have the instigator for all of this drama: Prince Albert likely fathered yet another kid, this one while he was technically "with" Charlene. The palace official claimed that Charlene's first "royal duty" was going to be standing by her new husband's side for the paternity test… on her honeymoon. Ridiculous. If that didn't take the cake, there are now new reports that Albert is doing everything he can to ensure that Charlene doesn't try to do a runner on the marriage – suffice to say, their honeymoon isn't going well. At least they're in South Africa – you can see pretty photos of their honeymoon resort here. Basically, Albert seems to be telling her that if she just provides him with a legal heir, after that, she can do whatever she wants.
Prince Albert of Monaco is set to use a £4,600-a-night hotel suite to try to 'persuade' his new bride that their marriage can work. It follows at least three alleged attempts by Princess Charlene to escape from the principality over the past year, right up until their £55million wedding last weekend.

She is said to be dreading the results of DNA tests, which may show that Albert has fathered at least one other illegitimate child to add to the two he already has with two other women. But now the 53-year-old Prince is believed to be taking the 33-year-old former Olympic swimmer on a massively expensive honeymoon in her home country of South Africa.

Sources in Monaco say they will book into the Oyster Box Hotel in Umhlanga, which is on the Indian Ocean. It is less than half-an-hour's drive from Durban, where Charlene used to train, and often enjoyed by newlyweds.

Its website reads: 'Constructed in 1869 and originally used as a navigational beacon, a beach cottage known as the "Oyster Box" was first converted into a hotel in the 1930s.'

Albert, who is a billionaire, is believed to have booked the Presidential Suite, which is set on two floors and includes an ornate-leafed bed, its own swimming pool and a freestanding marble bath overlooking the Indian Ocean. The suite, which has its own terrace overlooking the sea and a private dining area which can seat ten, is priced at £4,600 a night.

On Thursday, the royal couple are also expected to attend an International Olympic Committee banquet in their honour at the hotel.

A senior Palace source in Monte Carlo said: 'It's a perfect place for a pair of newlyweds, and may well be all that Charlene needs to make her feel certain that marrying Albert was exactly the right thing to do. William took Catherine to a very expensive beach resort for their honeymoon following the British Royal Wedding, so why not Albert and Charlene?'

Results of the DNA tests are unlikely to be released during the couple's South Africa honeymoon, and this is because Charlene could refuse to return to Monaco if they point towards Albert having been unfaithful, the source admitted.

Sources said the Monaco palace had hoped the glitzy wedding – attended by a host of celebrities and European royalty – would 'overshadow' new claims about secret children fathered by Albert. Instead, Charlene was in floods of tears at one point, while her husband looked on impassively.

If an 'arrangement' has been reached it may be that Charlene's principal aim will be to produce a legitimate heir for Albert in return for a multi-millionaire lifestyle.

Albert has a six-year-old son named Alexandre through Togolese former air hostess Nicole Coste, and a 19-year-old daughter, Jazmin, with Tamara Rotolo, an American estate agent.

Despite confirmation of the DNA tests, Charlene's father, photocopier salesman Mike Wittstock said: 'I am so disappointed that people believe this nonsense'. Describing the joy he felt at his only daughter marrying a multi-millionaire Prince, he added: 'It feels as if we've just won the World Cup.'
[From The Mail]
Poor Charlene. Do you think she would actually go through with an annulment? If she doesn't move fast, I suspect she's going to be stuck. If she stays and tries to stick it out, what are her options? Vanity Fair has a good piece on what she should be doing – practical stuff for the modern princess, like "make nice with the press" and "get your own team in place."
Meanwhile, a lot of you were talking about this post from Lainey a few days ago – Lainey put up this video, below, of Charlene sobbing during the wedding.
Many people criticized Albert for looking like a jackass by not being more affectionate or concerned for his new bride as she has a kind of breakdown. I don't know, though… I think he was just trying to get her to put on her professional face – this is a business transaction to him. I'm not saying he's right or anything, I'm just saying that I understand his perspective – which is, she messed up a public appearance in which stoicism and professionalism are key. This poor girl – I'm feeling more and more that she was chosen as his bride because she was seen as an "empty vessel," a piece of fluff to simply provide an heir and keep her mouth shut. With all of the stretching and reaching to find a way to compare Kate Middleton to Princess Diana, HERE is your comparison – Charlene finds herself in a remarkably similar position as Diana did. Let's hope Charlene rallies like Diana.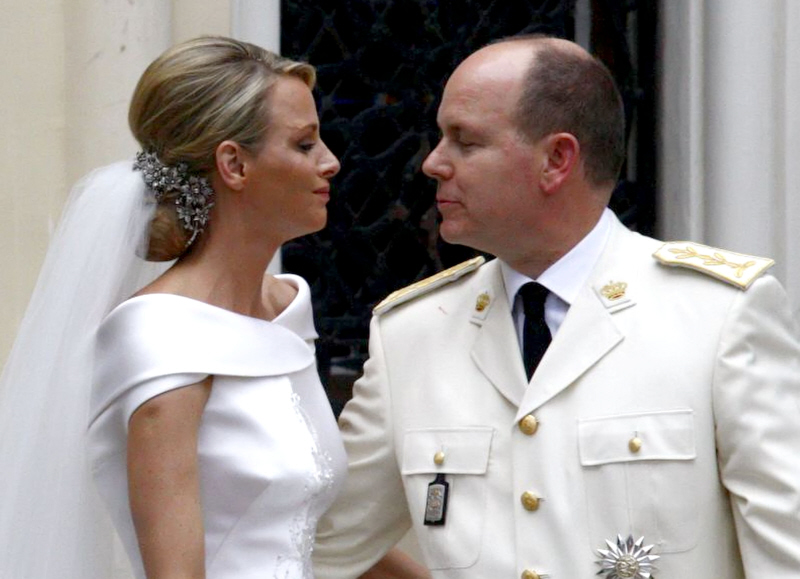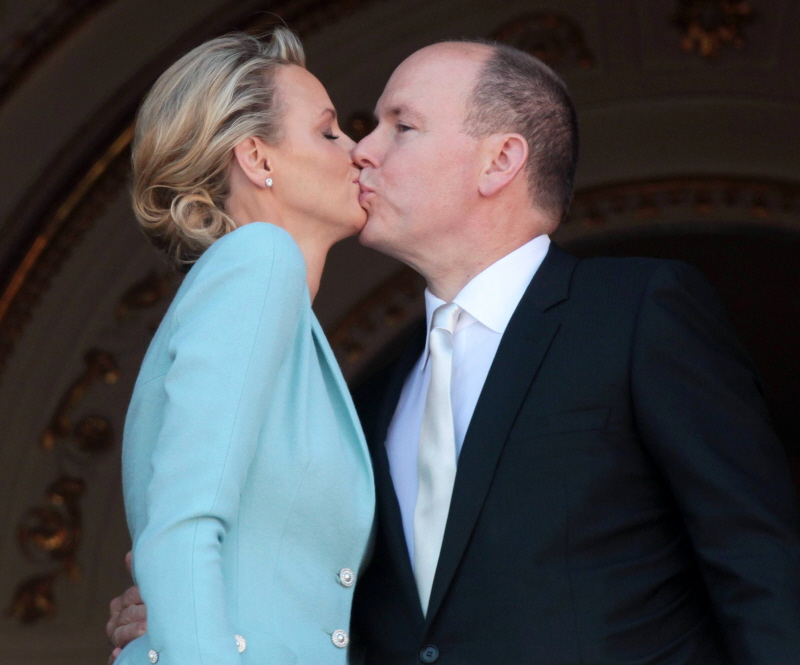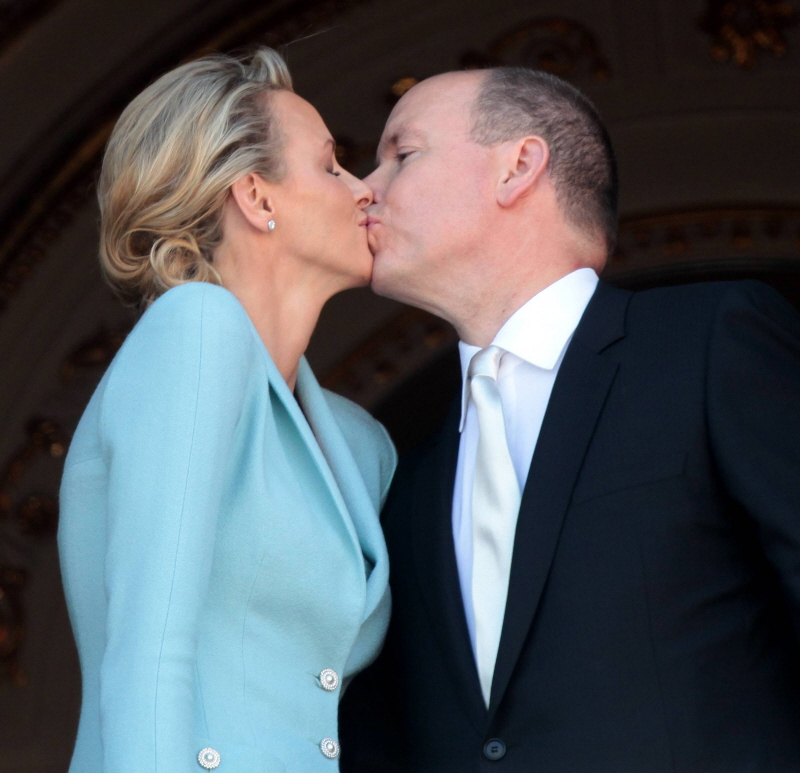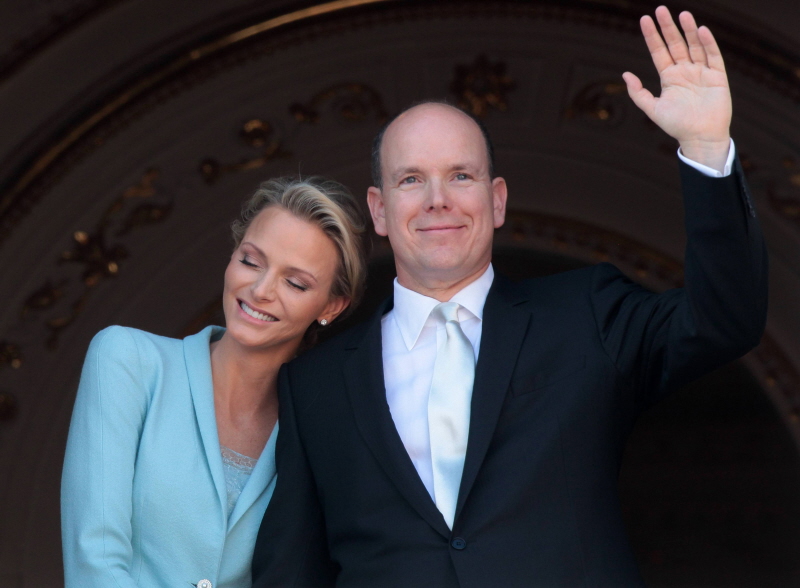 Photos courtesy of Fame & WENN.