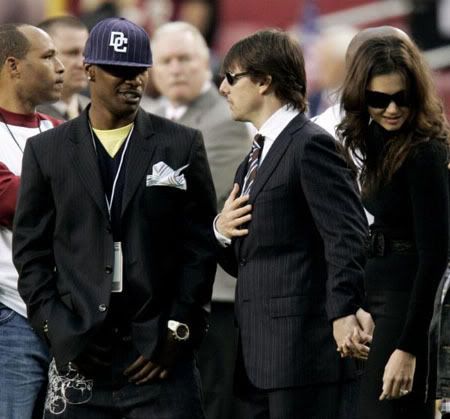 Tom and Katie have been spotted on high-profile outings multiple times in the past few days. TMZ reports that the famous couple's choices are highly orchestrated, and that it's no coincidence that they're turning on the cuddly charm for the paparrazi right after Suri's big Vanity Fair spread came out:
If you think that the slew of recent public appearances by Tom Cruise and Katie Holmes are just a coincidence, think again: Sources tell TMZ that
this week is just the beginning of a carefully crafted, all-out image-remaking offensive that the couple has launched, culminating in a long-delayed wedding
. But powerful Hollywood bigwigs tell TMZ it's not going to work with them.
The TomKat PR machine has been in fullest attack mode all week, and the latest charge came when Katie and Tom did lunch with the mothers TomKat for the second time this week at the Beverly Hills Hotel. The supposedly feuding families looked notably chummy and happy for the photographers. And in just one week, the couple have managed to use the top-rated newscast and late-night show as well as the most visible hotel and restaurant in Hollywood to attempt a complete image overhaul, not to mention a 22-page spread in Vanity Fair.
But TMZ is told that Cruise has mouthed off to various Hollywood bigwigs at various venues, including dinners at restaurants, about the evils of certain drugs, knowing that family members of these bigwigs are taking them. They are outraged, and don't believe the new, softer side of Tom for a minute.
TMZ reported this on Sunday, and they seem to be dead on as Tom and Katie have since attended Isabella's soccer match with Tom's Mom, and were photographed at a restaurant later that night. Next they were spotted with Jamie Foxx at a Washington Redskins game. One of the major "Plan D" investors in Tom's new production company is Redskins owner Daniel M. Snyder, making Tom and Katie's visit more business than recreation.
Sky News analyzes Tom and Katie's soccer-side PDA in comparison to their kissy-face antics before Suri was born, and comes to the conclusion that they're still crazy, um, about each other, but that the blush of fresh love has faded a little.
Here are more pictures of TomKat than you can probably stand. They're shown at the Minnesota Vikings vs. Washington Redskins Game in Washington, going out to dinner in Santa Monica, and at Isabella's soccer game with Tom's Mom (One of my fellow gossip bloggers pointed out that Tom is holding both his momma and fiance's hands at the same time. I would link it if I could remember the source.)
Tom must have gained a few pounds, because he's looking rather jowly.
Pictures from WhereIsSuri.