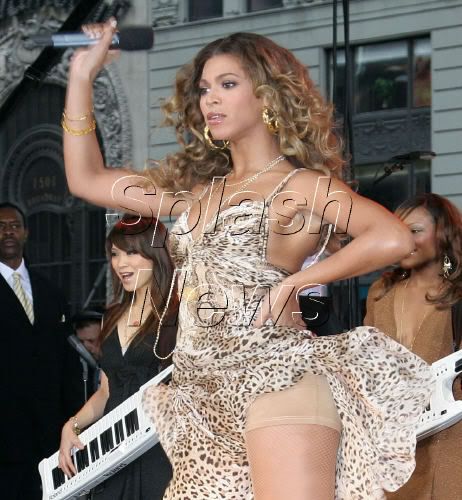 It looks like Beyonce owes her figure to more than just drinking spicy water for two straight weeks. She revealed a figure-hugging pair of pantyhose while performing on Good Morning America.
She also rode the NY City Subway to a CD signing this week. The other passengers weren't buying it. Check out the incredulous look one woman gives her.
In an interview on the annoying woman's talkshow, "The View," Beyonce said that she never talks about marriage with her boyfriend, Def Jam president Jay-Z, and that she's relieved that she doesn't get as much gossip coverage as other celebrities.
She said, "It doesn't drive me crazy. I understand. I was a fan of other celebrities and I wanted to know (if they were getting married). I was interested. It's a part of my job. We've never talked about it and it's kind of protected our relationship. I think it's kind of kept us out of a lot of drama in the tabloids. Even though we're still in them, it's not as much as some celebrities."
There is something to be said for the lack of drama in Beyonce's life, which may explain why she's not in the gossip rags as much. She's been with Jay-Z for a while, and breakup, marriage, and career conflict stories don't seem to phase them. They haven't broken up or gotten engaged, so there's not a lot to talk about except speculation.
Here are pictures of Beyonce courtesy of SplashNews and Celebrity Pictures.